Norway turmeric cushion
€54
100% organic cotton, yellow triangles on one side, black ones the otherl
A cushion made entirely out of organic cotton, and printed with triangular patterns inspired by the 1950s.
The green piping goes very well with the black and yellow, and adds to the overall quality of the cushion, while concealing the slide fastener along one of the four edges.
This down-filled cushion has a removable cover and can be dry-cleaned.
Characteristics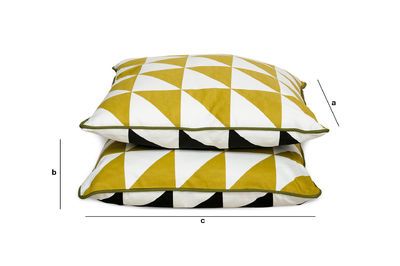 Weight and Dimensions
0,92 kg
50,00 x 50,00 x 15,00 cm (Length x Height x Width)
Material Details
Stackable Product
Easy to combine
Dense inner padding
Verified order of 01 January 1970
The colors of the cushion are as on the picture
The ideal room according to PIB
Products similar to norway turmeric cushion