This article focuses on the historical elements surrounding the coffee table and shabby chic design. It sets out and explains what exactly the shabby chic style posits, why shabby chic coffee tables are so popular in the contemporary field of interior design, and whether or not there is space for the shabby chic coffee table in the future, taking into account the numerous, ever-expanding competition that the style faces. It is important to start with some background information surrounding not only the shabby chic style, but also the coffee table as an iconic piece of furniture.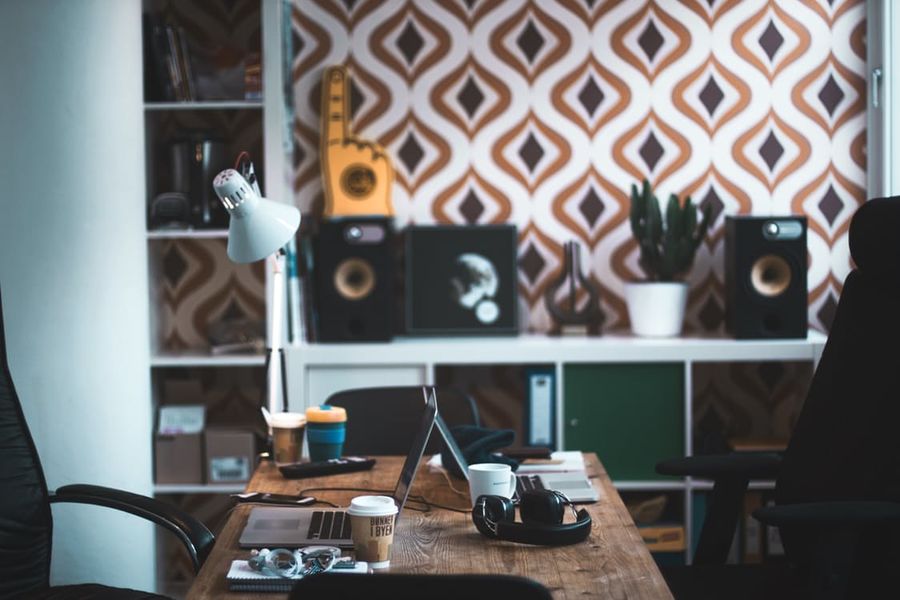 Shabby chic coffee table with matching decor
Shabby chic: A background
What is shabby chic?
You may have seen in previous PIB articles which focus on shabby chic furniture and design exactly what the style posits. Of course, you may have implemented this style into your home already. Shabby chic furniture, in a nutshell is, more often than not, new or relatively new furniture which has been made to appear older than it is, with rustic signs of wear and tear. The wood may have been distressed in order to look like an antique, for example, or the metal may have an archaic, rustic appearance which has been hand crafted to look natural. It has been said that shabby chic furniture is often painted numerous times throughout the years in a faux painting-esque style; this painting style replicates the appearance of materials such as wood, metal, marble and stone. The shabby chic style is not, however, limited solely to these materials.
From where does the shabby chic style originate?
According to the journalist Jenny Coad, the term shabby chic was coined in The World of Interiors magazine as recently as the 1980s. It was not until the 1990s, however, that the term was used more frequently amongst the numerous designers who were able to witness a revolutionary surge of decorative style, with a range of paints and effects. The faux painting style, however, has been used for over a thousand years, in caves and the tombs of Ancient Egypt. Apparent thus far is that the shabby chic style posits a blend, but not a contrast, of the old and the new.
The shabby chic coffee table
The origin of the coffee table
The coffee table is an item of furniture which is deemed a necessity today in most households, not just in the U.K, but across Europe and the Western world. In terms of use, the coffee table as we know it today, varying in size and shape, was used initially towards the latter stages of the Victorian era. These tables were up to 27 inches high, however, and used more for practicality than as a decorative accessory. The idea to lower coffee tables may well have originated from the Ottoman Empire, based more than anything else on the tables which were used in tea gardens. Low coffee tables in Britain, however, may have replicated Anglo-Japanese style popular in Britain during the 1870s. This is modern history in comparison to previous use, however. Tables of similar shape were, supposedly, utilised by the ancient Greeks following the Roman conquest of North-East Africa.
The origin of the shabby chic coffee table
The shabby chic style, as stated previously, is a relatively new design, at least as we now know it. Of course, antique furniture has always existed, but shabby chic design possesses different characteristics. . The shabby chic coffee table is a result of years of experimentation in shape, size and material usage. Whilst the shabby chic coffee table is not limited to specific materials, it must have a certain, distressed finish in order to be truly shabby chic. Taking into account that shabby chic coffee tables are tables which have been painted several times, and undergone numerous finishes, it can be argued that they do not have a fixed, specific origin.
What does the future hold for shabby chic coffee tables?
Is there a future for shabby chic design?
Is there a future for shabby chic design and, more specifically, the shabby chic coffee table? In one word, absolutely. This style is becoming more and more popular, because it is a style and finish that can be replicated onto furniture of any size, shape and design. Shabby chic finishes can be applied to Scandinavian and industrial pieces, whilst shabby chic pieces can be mixed with any wooden, fresh, vintage or Scandinavian interior. The surge in popularity for the shabby chic coffee table since the 1990s continues to grow, and shows no signs of slowing down.
Will coffee tables always be a necessity?
Coffee tables in the home are not just practical, but also a decorative accessory. They can also be used as footrests (which is not always advisable), magazine and glass holders, book stands, coaster holders and much more. They can also be placed in most parts of any lounge or living room, even if said room is redecorated or refurbished. This adaptability means that the coffee table will not disappear from the field of interior design in the near future.
Take the popularity of the shabby chic style in contemporary society and mix it with the popularity of the coffee table. You are presented with an item of furniture in a particular style which will not date because its style does so deliberately. Who has ever thrown a piece of antique furniture away for being too old? The distressed, archaic appearance of shabby chic coffee tables is unique, and it blends well with almost any form of interior design.
Moreover, shabby chic design does not stop at coffee tables. In the living room, a shabby chic bookcase can be a perfect match to your interior. Generally, all kinds of the rustic shabby chic dresser are interesting, especially if you combine them with rustic shelves. This "old school" kind of furniture is really appreciated in shabby chic design.