The vintage look finds its inspiration in factories and workshops, in their large spaces, and their raw materials that definitely compose the vintage coffee table.
The vintage coffee table, a retro table to suit with a design leather sofa
The loft spirit appears in this industrial culture, that will be a new way to design one's home, one's way of life and way furnishing one's interior. In a small making workshop, a print shop, or yet again a production factory, it is possible to create a user-friendly and atypical place. These exceptional places witness the history of the industrial era, allowing them to bring a considerable vintage touch when transforming into a dwelling place. Coffee tables, wardrobes, and all sort of furniture transform and adapt to these unusual dwelling places. Simple objects are expected in the layout of the space in order to appreciate the massive tone and its piercing light thanks to large industrial windows..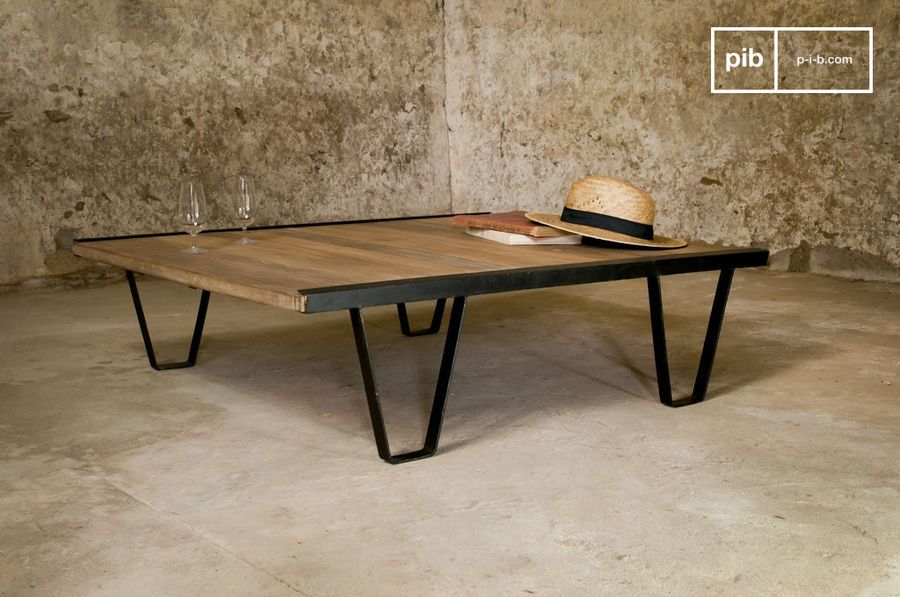 Bay Teck coffee table
Characteristics of the industrial coffee table
Some rules of the industrial decoration are to be respected, such as the use of sustainable and massive materials. The industrial coffee table can be designed with metal, wood furniture, or by combining the two materials, but also concrete, or even painted cement. The hues are naturally grey metal or concrete, the blackboard color effect, the red brick, and the natural wood color, that can be combined easily with a living room coffee table. The industrial retro coffee table is simple and effective , it is composed by pure and straight lines. Around an industrial coffee table, many necessary accessories must be present to create a loft atmosphere : the factory industrial floor lamps such as the Jieldé, black or white blackboards, a metallic workshop clock and many more. Loft style industrial cupboard, such as metal cabinets, are a great choice for the living room. Mixing styles will also be possible with modern interiors, where some industrial objects might be placed, such as a coffee table designed with a former trolley of a vintage train station, or even a dining table formally used as working table..