Starting in the Eighties, industrial decoration joined the new home decorating trends, at the same time as loft style. The specific design codes of factories and warehouses were rethought so they would integrate all the rooms of a classic home.
This style is still ever present in our interiors through both architecture and decoration. Brick walls are considered decorative, the floor becomes concrete and, workshop-style bay windows with impressive dimensions are very sought after, as are apparent metal beams.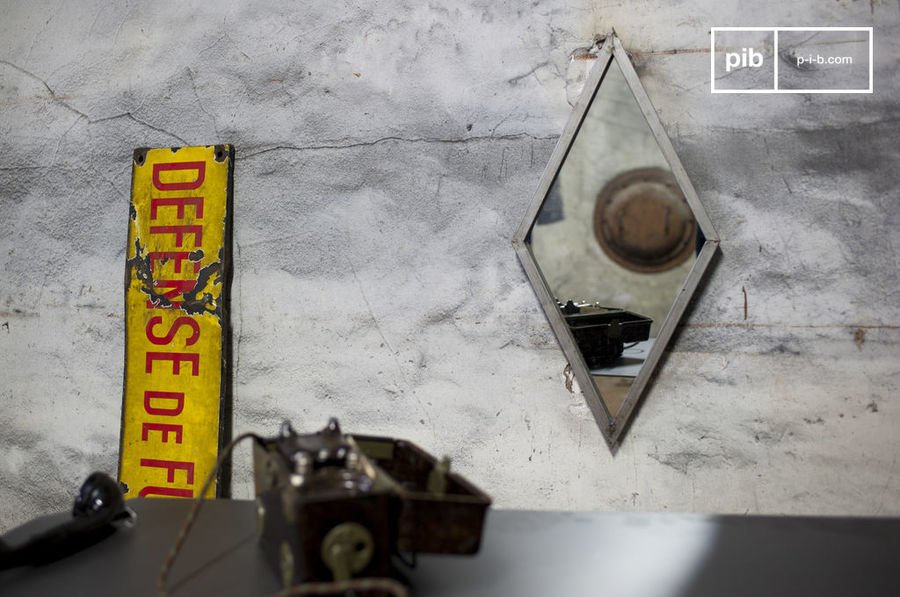 Diagone Mirror
The characteristics of industrial decoration
In terms of decoration, factory style is recognisable by its heavily industrial aspect. Concrete, steel and robust unfinished wood, are the main materials used in our furniture, which ranges from pieces table with scaffolding lines, to a metal storage cabinet. Imposing industrial lighting to hang above work surfaces or dining tables. Enamelled plaques or metal letters on your walls instead of the traditional pictures or mirror. All these principles have been well respected by followers of this trend and are found in the reproductions of industrial furniture and accessories available at PIB.
Industrial decoration at PIB
PIB has selected furniture that combines the practical nature of new furniture with vintage retro silhouettes. You will find online lighting as used in mid-century industrial premises, reclaimed solid wood coffee tables, and all our retro wire-mesh accessories, which you can use to add the finishing touches to your industrial furniture and decoration.