Industrial furniture, a basis from factories
For more than 30 years now, and after total rejection of metal as decorative material in homes, industrial design has finally established a bridgehead in our interiors to add the cachet of industrial vintage style.
Prior to this, interior design ideas were already the main style of fittings for factories and warehouses, for several decades. Industrial furniture is made of more robust and durable materials, the best adapted to a factory worker's tasks and environment.
Industrial furniture such as seating, lighting, or industrial shelves such as storage lockers, was clearly perfectly functional and designed for manual labour. Each piece was created for a certain function and well-defined usage, and hence is built to last all kinds of rough treatment.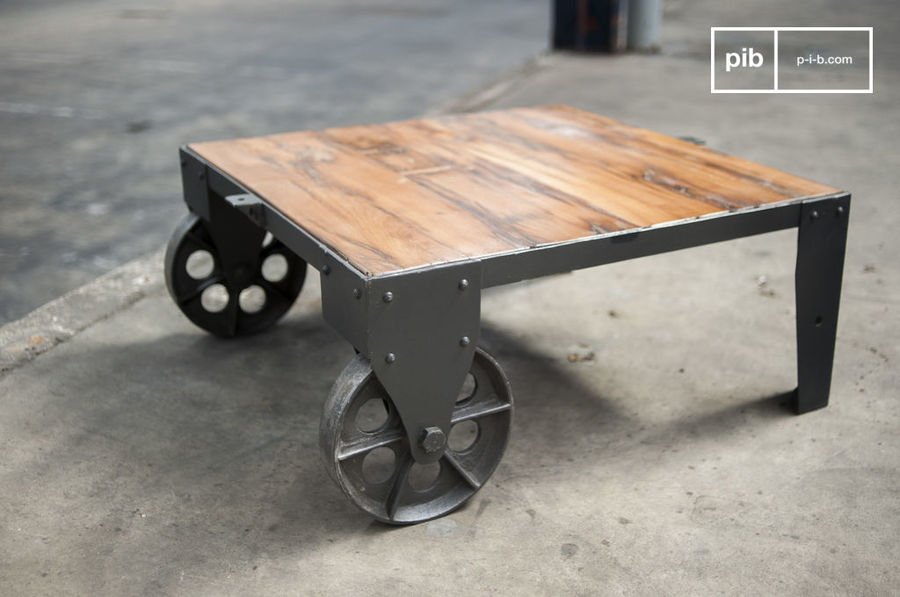 Railroad cart coffee table

>
Industrial design at the home
Many people have rapidly fallen for industrial design. Industrial furniture was first used in major loft-style spaces, formerly factories or warehouses.
When these spaces were renovated as homes, it was clear for the people living there that the industrial design style of these interiors had to be respected and even accentuated.
Metal and solid wood furniture thus took up residence in this familiar environment.
The Formica kitchen dresser has been transformed into a industrial design metal cupboard with leaf-drawers, traditional chairs have become industrial stools, and workers' office chairs now go round a robust industrial dining table made of steel and wood. A metal sorting vintage desk are in vogue to add originality to a room, and on account of their sturdiness. industrial table lamp, very functional for workers, are used as bedside table or study lights, or even set on a coffee table. Designers very quickly picked up on this trend and designed a complete range of industrial furniture that could go with all interiors.
This tendency led to reworked smaller pieces that could be turned into home decor in an apartment with more classic dimensions so that industrial design enthusiasts could take delight in this new decorative movement.Industrial design is now ever present and mixed in with all decorative settings. It is clear that metal furniture, disdained in the past, is now used more than wooden furniture.
>