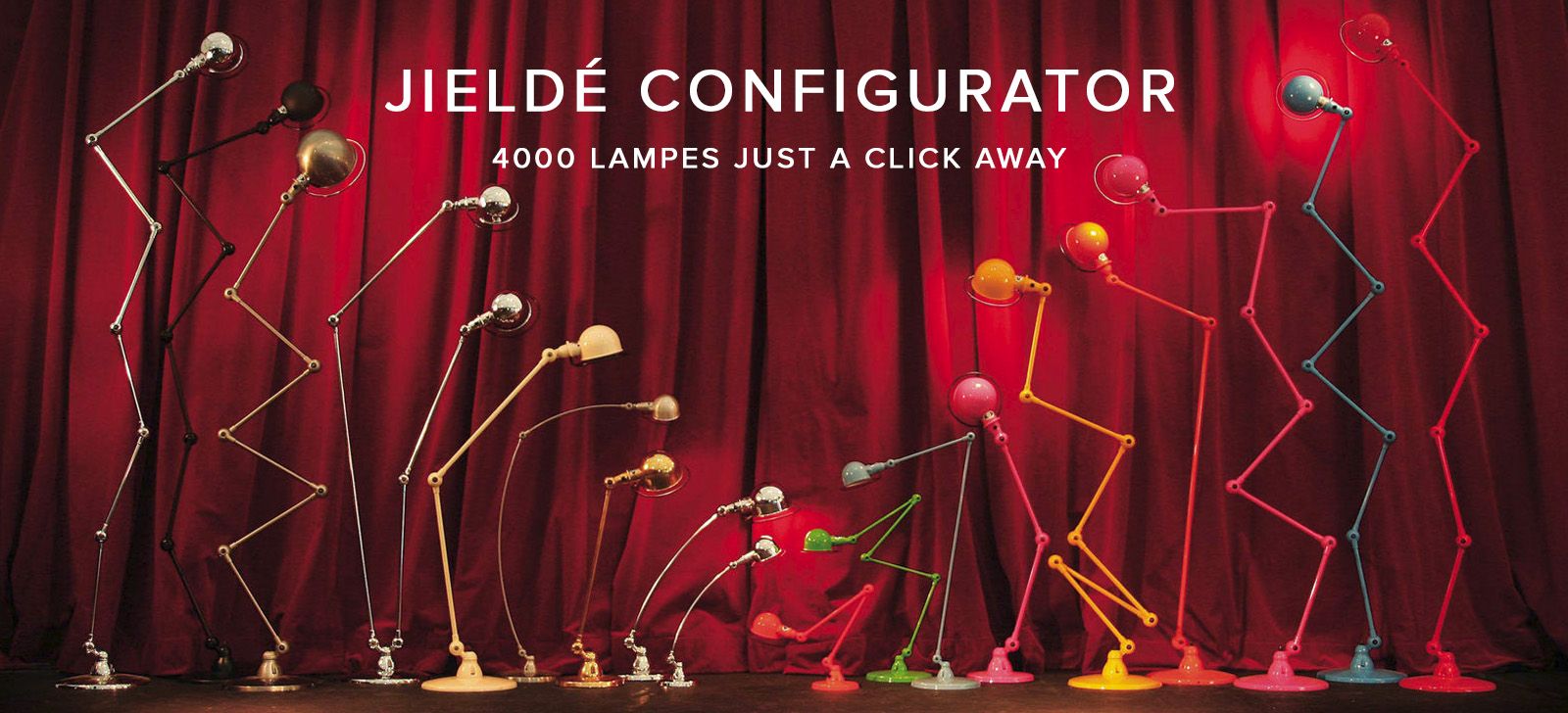 Order a Jieldé Lamp that matches you
In 1950, Jean-Louis Domecq (J.L.D), a mechanic from the region of Lyon in France, decided to make his own light model, based on two main keywords: "simplicity and robustness". He then proceeds to design an articulated and orientable lamp, integrating an innovation that will make the success of his invention: the absence of an electrical cord in the articulations of the lamp. Since 1953, the manufacturing of Jieldé lamps has been going on to equip all sorts of machines, then it extended its reign to home interiors by the 1990's, becoming one of the French Lamp Design icons.
Fancy a Jieldé Lamp? Three possibilities: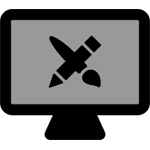 Choose your own finish
and model of lamp

Use the configurator to design the exact model that you need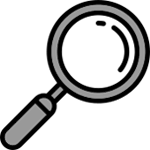 Browse the Jieldé Lamp
selection available

Order an existing model from our website and receive it fast at your home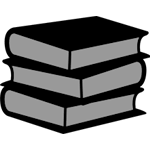 Learn everything
about Jieldé Lamps

Discover all sides of this mythical lamps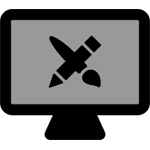 Create your own model
In addition to PIB's selection of models, which are mostly shipped within a few days, all Jieldé models and colours are available on command, received at your home in a 6-7 weeks delay Design the ideal Jieldé Lamp by using the following table, then validate. You'll receive your invoice as a proforma within 48hrs. Besides, shipping costs are free!
THE JIELDÉ COLLECTION
THE JIELDÉ COULOURS
Ivory
RAL.1015
Sulfur Yellow
RAL.1016
Mustard
RAL.1003
Orange
RAL.2004
Red
RAL.3020
Burgundy
RAL.3005
Pink
RAL.4003
Fuschia
RAL.4008
Blue
RAL.5012
Pastel Blue
RAL.5024
Granit Grey
RAL.7026
Mouse Grey
RAL.7005
Olive Green
RAL.6003
Apple Green
RAL.6018
Water Green
RAL.6019
Khaki
RAL.7002
Vespa Green
Chocolate
RAL.8017
Bronze
RAL.1036
Silver Grey
RAL.9006
Chrome Plated
Brushed Steel
Black
RAL.9011
White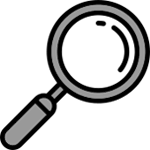 PIB's model selection
About fifteen models and finishes have been selected for their style close to the essence of our ranges. Most of them are on stock, shipped within 48hrs.
Click here to browse our selection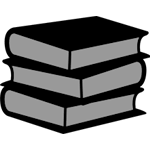 Learn everything about this mythical lamps
Discover the history of the brand, their production methods and the specificity if articulated Jieldé lamps.
Click here to browse our guide.
JIELDÉ LOFT COLLECTION
Jieldé Lamp d6000
| | |
| --- | --- |
| Use: table lamp | Socket: porcelain E27 and E26 |
| Reflector: 150 mm | Power: 60 w |
| Switch: Yes | Internal Colour: white |
| Arms: 1 arm of 60 cm | Cord: yes |
| Vice: no |   |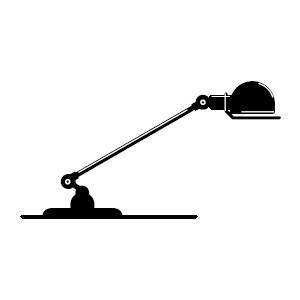 Jieldé Lamp d6440
| | |
| --- | --- |
| Use: table lamp | Socket: porcelain E27 and E26 |
| Reflector: 150 mm | Power: 60w |
| Switch: yes | Internal Colour: white |
| Arms: 2 arms of 40 cm | Cord: yes |
| Vice: no |   |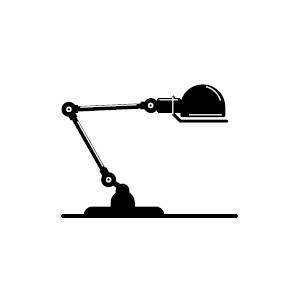 Jieldé Lamp d6060
| | |
| --- | --- |
| Use: table lamp | Socket: porcelain E27 and E26 |
| Reflector: 150 mm | Power: 60 w |
| Switch: yes | Internal Colour: white |
| Arms: 2 arms of 60 cm | Cord: yes |
| Vice: no |   |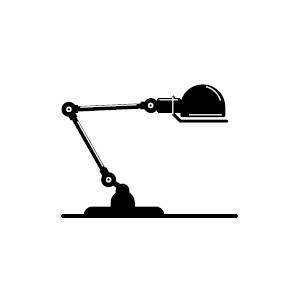 Jieldé Lamp d4040
| | |
| --- | --- |
| Use: vice lamp | Socket: porcelain E27 and E26 |
| Reflector: 150 mm | Power: 60 w |
| Switch: yes | Internal Colour: white |
| Arms: 2 arms of 40 cm | Cord: yes |
| Vice: 72 mm |   |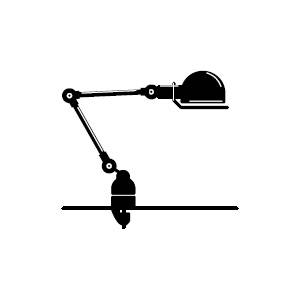 Jieldé Lamp d1200
| | |
| --- | --- |
| Use: table lamp | Socket: porcelain E27 and E26 |
| Reflector: 150 mm | Power: 60 w |
| Switch: yes | Internal Colour: white |
| Arms: 1 arm of 120 cm | Cord: yes |
| Vice: no |   |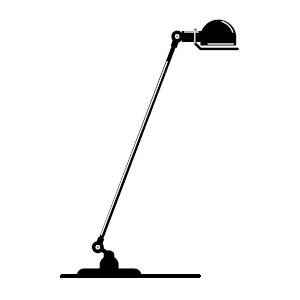 Jieldé Lamp d1240
| | |
| --- | --- |
| Use: table lamp | Socket: porcelain E27 and E26 |
| Reflector: 150 mm | Power: 60 w |
| Switch: yes | Internal Colour: white |
| Arms: 1 arm of 120 cm and 1 arm of 40 cm | Cord: yes |
| Vice: no |   |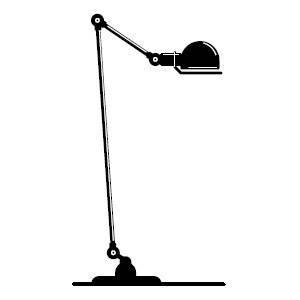 Jieldé Lamp d9406
| | |
| --- | --- |
| Use: table lamp | Socket: porcelain E27 and E26 |
| Reflector: 150 mm | Power: 60 w |
| Switch: yes | Internal Colour: white |
| Arms: 6 arms of 40 cm | Cord: yes |
| Vice: no |   |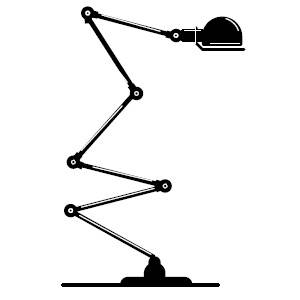 Jieldé Lamp dd7460
| | |
| --- | --- |
| Use: table lamp | Socket: porcelain E27 and E26 |
| Reflector: 150 mm | Power: 60 w |
| Switch: yes | Internal Colour: white |
| Arms: LOFT D1240 + LOFT D6060 | Cord: yes |
| Vice: no |   |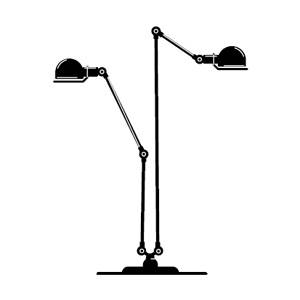 Jieldé Lamp d4401
| | |
| --- | --- |
| Use: wall lamp | Socket: porcelain E27 |
| Reflector: 150 mm | Power: 60 w |
| Switch: no | Internal Colour: white |
| Arms: 2 arms of 40 cm | Cord: no |
| Vice: no |   |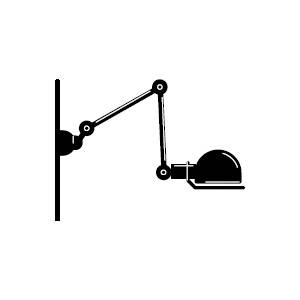 Jieldé Lamp d1000x
| | |
| --- | --- |
| Use: wall lamp | Socket: porcelain E27 and E26 |
| Reflector: 150 mm | Power: 60 w |
| Switch: no | Internal Colour: white |
| Arms: n/a | Cord: no |
| Vice: no |   |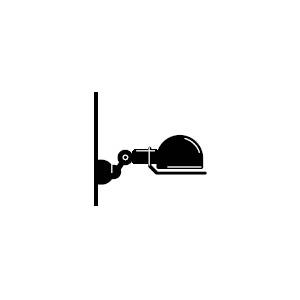 Jieldé Lamp d4001
| | |
| --- | --- |
| Use: wall lamp | Socket: porcelain E27 |
| Reflector: 150 mm | Power: 60 w |
| Switch: no | Internal Colour: white |
| Arms: 1 arm of 40 cm | Cord: no |
| Vice: no |   |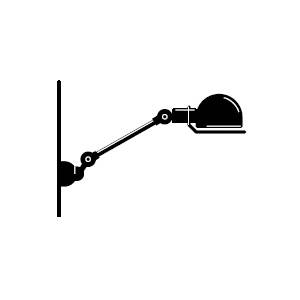 Jieldé Lamp sky4224
| | |
| --- | --- |
| Use: ceiling lamp | Socket: porcelain E27 and E26 |
| Reflector: 150 mm | Power: 60 w |
| Switch: yes | Internal Colour: white |
| Arms: 2×2 arms : 40+25 cm and 25+40 cm | Cord: no |
| Vice: no |   |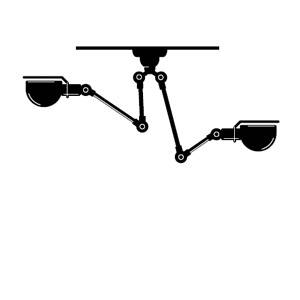 JIELDÉ SIGNAL COLLECTION
Jieldé Lamp si333
| | |
| --- | --- |
| Use: table lamp | Socket porcelain E14 |
| Reflector: 100 mm | Power: 25 w |
| Switch: yes | Internal Colour: white |
| Arms: 2 arms of 30 cm | Cord: yes |
| Vice: no |   |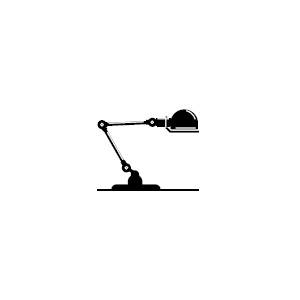 Jieldé Lamp si433
| | |
| --- | --- |
| Use: lamp post | Socket: porcelain E14 |
| Reflector: 100 mm | Power: 25 w |
| Switch: yes | Internal Colour: white |
| Arms: 4 arms of 30 cm | Cord: yes |
| Vice: no |   |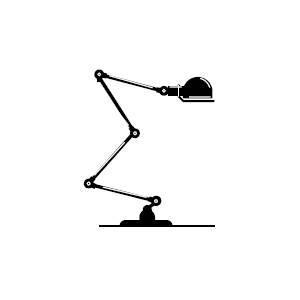 Jieldé Lamp si833
Use: lamp post
Socket: porcelain E14
Reflector: 100 mm
Power: 25 w
Switch: yes
Internal Colour: white
Arms: 1 arm of 35 cm
and 1 arm of 80 cm
Cord: yes
Vice: no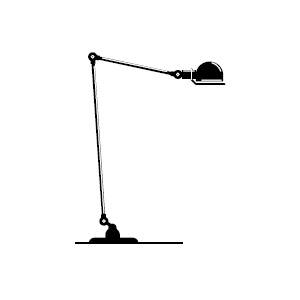 Jieldé Lamp si400
| | |
| --- | --- |
| Use: table lamp | Socket: porcelain E14 |
| Reflector: 100 mm | Power: 25 w |
| Switch: yes | Internal Colour: white |
| Arms: 1 arm of 40cm | Cord: yes |
| Vice: no |   |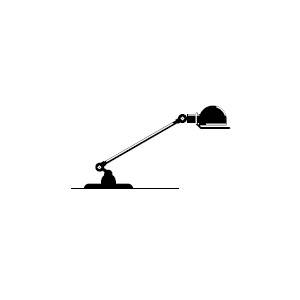 Jieldé Lamp si300
| | |
| --- | --- |
| Use: wall lamp | Socket: porcelain E14 |
| Reflector: 100 mm | Power: 25 w |
| Switch: no | Internal Colour: white |
| Arms: n/a | Cord: no |
| Vice no |   |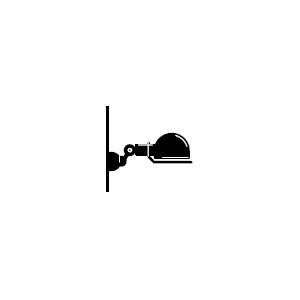 Jieldé Lamp si301
| | |
| --- | --- |
| Use: wall lamp | Socket: porcelain E14 |
| Reflector: 100 mm | Power: 25 w |
| Switch: no | Internal Colour: white |
| Arms: 1 arm of 30 cm | Cord: no |
| Vice: no |   |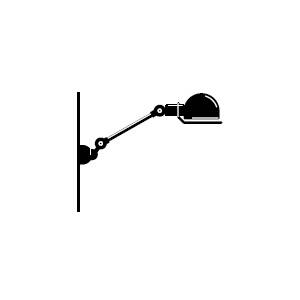 Jieldé Lamp si331
| | |
| --- | --- |
| Use: wall lamp | Socket: porcelain E14 |
| Reflector: 100 mm | Power: 25 w |
| Switch: no | Internal Colour: white |
| Arms: 2 arms of 30 cm | Cord: no |
| Vice: no |   |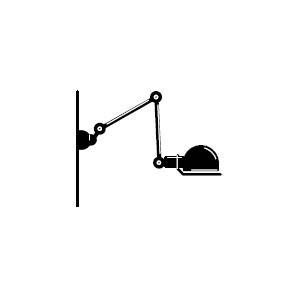 CURVED JIELDÉ LOFT COLLECTION
Jieldé Lamp c1260
| | |
| --- | --- |
| Use: table lamp | Socket: porcelain E27 and E26 |
| Reflector: 150 mm | Power: 60 w |
| Switch: yes | Internal Colour: white |
| Arms: 2 curved arms of 120cm + 60cm | Cord: yes |
| Vice: no |   |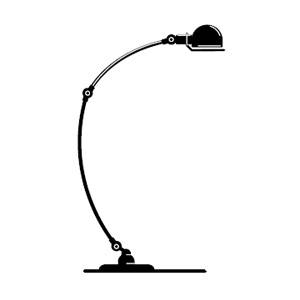 Jieldé Lamp c6000
| | |
| --- | --- |
| Use: table lamp | Socket: porcelain E27 and E26 |
| Reflector: 150 mm | Power: 60 w |
| Switch: oui | Internal Colour: white |
| Arms: 1 curved arm of 60 cm | Cord: yes |
| Vice: no |   |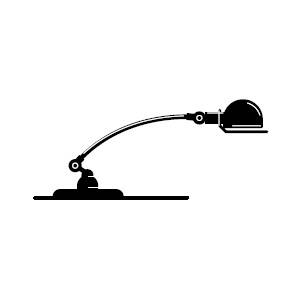 JIELDÉ LAK COLLECTION
Jieldé Lamp lak6440
| | |
| --- | --- |
| Use: table lamp | Socket: porcelain E27 and E26 |
| Reflector: 150 mm | Power: 60 w |
| Switch: yes | Internal Colour: white |
| Arms: 2 arms of 40 cm | Cord: yes |
| Vice: no |   |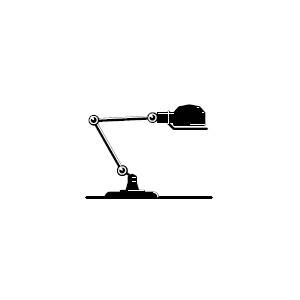 Jieldé Lamp lak4040
| | |
| --- | --- |
| Use: vice lamp | Socket: porcelain E27 and E26 |
| Reflector: 150 mm | Power: 60 w |
| Switch: yes | Internal Colour: white |
| Arms: 2 arms of 40 cm | Cord: yes |
| Vice: 72 mm |   |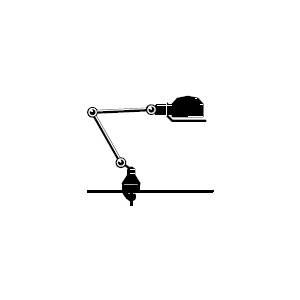 Jieldé Lamp lak1240
Use: lamp post
Socket: porcelain E27 and E26
Reflector: 150 mm
Power: 60 w
Switch: yes
Internal Colour: white
Arms: 1 arm of 120 cm
and 1 arm of 40 cm
Cord: yes
Vice: no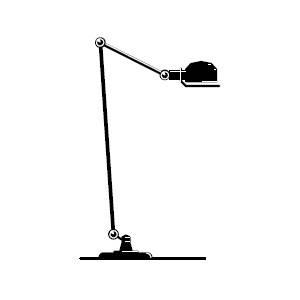 Jieldé Lamp lak9405
| | |
| --- | --- |
| Use: lamp post | Socket: porcelain E27 and E26 |
| Reflector: 150 mm | Power: 60 w |
| Switch: yes | Internal Colour: white |
| Arms: 5 arms of 40 cm | Cord: yes |
| Vice: no |   |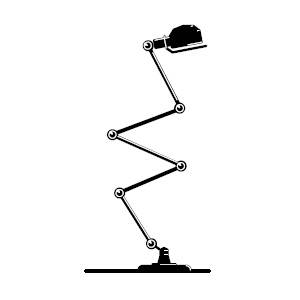 Jieldé Lamp lak4401x
| | |
| --- | --- |
| Use: wall lamp | Socket: porcelain E27 and E26 |
| Reflector: 150 mm | Power: 60 w |
| Switch: non | Internal Colour: white |
| Arms: 2 arms of 40 cm | Cord: no |
| Vice: no |   |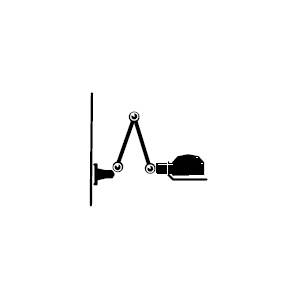 Jieldé Lamp lak1000x
| | |
| --- | --- |
| Use: wall lamp | Socket: porcelain E27 and E26 |
| Reflector: 150 mm | Power: 60 w |
| Switch: no | Internal Colour: white |
| Arms: n/a | Cord: no |
| Vice: no |   |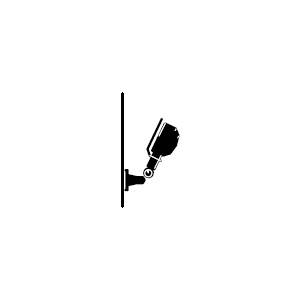 Jieldé Lamp lak4001x
| | |
| --- | --- |
| Use: wall lamp | Socket: porcelain E27 and E26 |
| Reflector: 150 mm | Power: 60 w |
| Switch: no | Internal Colour: white |
| Arms : 1 arm of 40 cm | Cord: no |
| Vice: no |   |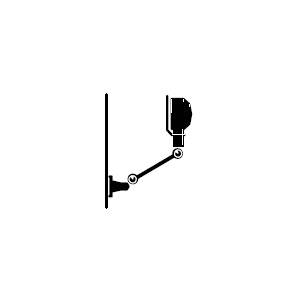 CURVED SIGNAL COLLECTION
Jieldé Lamp sic833
Use: lamp post
Socket: porcelain E14
Reflector: 100 mm
Power: 25 w
Switch: yes
Internal Colour: white
Arms: 1 curved arm of 80 cm
and 1 curved arm of 35 cm
Cord: yes
Vice: no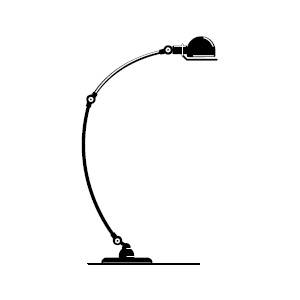 Jieldé Lamp sic400
| | |
| --- | --- |
| Use: table lamp | Socket: porcelain E14 |
| Reflector: 100 mm | Power: 25 w |
| Switch: yes | Internal Colour: white |
| Arms : 1 curved arm of 40 cm | Cord: yes |
| Vice: no |   |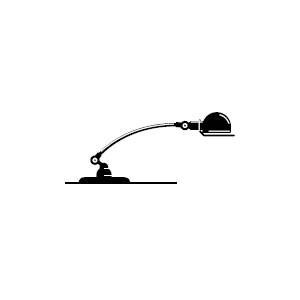 JIELDÉ AUGUSTIN COLLECTION
Jieldé Lamp a540
| | |
| --- | --- |
| Use: ceiling lamp | Socket: porcelain E27 and E26 |
| Reflector: 540 mm | Power: 150 w |
| Switch no | Internal Colour: silver or gold |
| Arms: n/a | Cord: 2,5 m with the electric domino |
| Vice: no | Hight: 597 mm |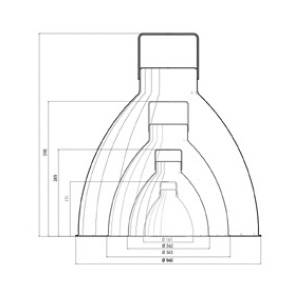 Jieldé Lamp a360
| | |
| --- | --- |
| Use: ceiling light | Socket: porcelain E27 and E26 |
| Reflector: 360 mm | Power: 100 w |
| Switch: non | Internal Colour: silver or gold |
| Arms: n/a | Cord: 1,5 m with the electric domino |
| Vice: no | Hight: 398 mm |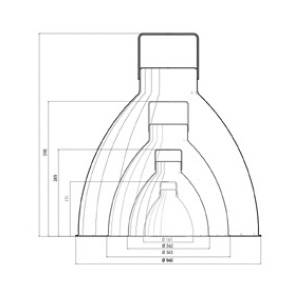 Jieldé Lamp a240
| | |
| --- | --- |
| Use: ceiling light | Douille : porcelain E27 and E26 |
| Reflector: 240 mm | Power: 75 w |
| Switch: no | Internal Colour: silver or gold |
| Arms: n/a | Cord: 1,5 m with the electric domino |
| Vice: non | Hight: 265 mm |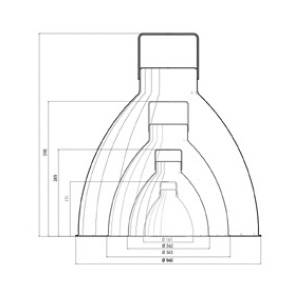 Jieldé Lamp a160
| | |
| --- | --- |
| Use: ceiling light | Socket: porcelain E14 |
| Reflector: 160 mm | Power: 40 w |
| Switch: no | Internal Colour: silver or gold |
| Arms: n/a | Cord: 1,5 m with the electric domino |
| Vice : no | Hight: 171 mm |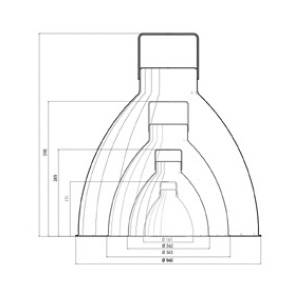 JIELDE BEAUMONT COLLECTION
Jieldé Lamp b360
| | |
| --- | --- |
| Use: ceiling light | Socket: porcelain E27 |
| Reflector: 450 mm | Power: 100 w |
| Switch: no | Internal Colour: silver or gold |
| Arms: n/a | Cord: 1,5 m |
| Vice: no | Hight: 280 mm |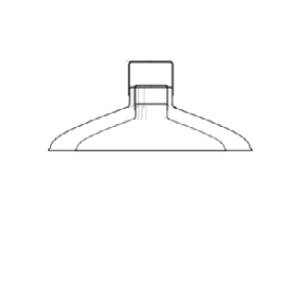 Jieldé Lamp b240
| | |
| --- | --- |
| Use: ceiling light | Socket: porcelain E27 |
| Reflector: 300 mm | Power: 75 w |
| Switch: no | Internal Colour: silver or gold |
| Arms: n/a | Cord: 1,5 m |
| Vice: no | Hight : 185 mm |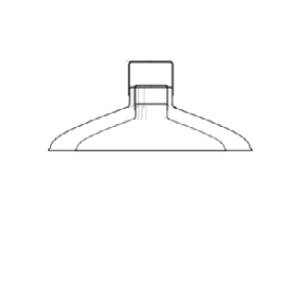 JIELDE CLEMENT COLLECTION
Lampe Jieldé c360
| | |
| --- | --- |
| Use: ceiling light | Socket: porcelain E27 |
| Reflector: 360 mm | Power: 100 w |
| Switch: no | Internal Colour: silver or gold |
| Arms: n/a | Cord: 1,5 m |
| Vice: no | Hight: 520 mm |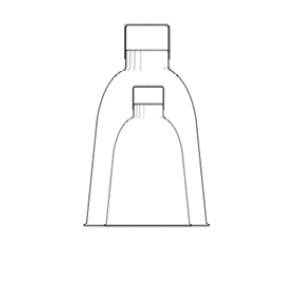 Jieldé Lamp c240
| | |
| --- | --- |
| Use: ceiling light | Socket: porcelain E27 |
| Reflector: 240 mm | Power: 75 w |
| Switch: no | Internal Colour: silver or gold |
| Arms: n/a | Cord: 1,5 m |
| Vice: no | Hight: 345 mm |