Industrial style aficionados know this name. Iconic both for its beauty and practicality, the Jieldé lamp has become an icon of French Industrial style . However, in order to fully understand the significance of this unique brand and their craftsmanship, we have to go back to the beginnings.
The one and only Jieldé lamp
What is the Industrial design?
Industrial design might seem like a quite modern decoration tendency, however, the real Industrial design began on the 19th century, during the called Industrial Revolution. Indeed, during those years the factory system began to rise with machine tools and the metal industry at its peak. This major turning point in the world's history began in the United Kingdom, to spread to continental Europe. It arrived in France in the early 19th century, and iconic monuments such as the Eiffel Tower, opened to the public on 1889, or the Grand Palais that celebrated its grand opening on the 1900's Universal Exhibit.
However, Industrial design as a décor trend began in the 1990's, when old factories and warehouses began to be reused as lofts and other residences. Indeed, owners felt the nostalgic vintage vibe of their new homes and started seeking to revive the retro beauty of those great times in their furniture and decoration.
Industrial lighting was originally conceived to stand up to hazardous and adverse environments such as factories, oil refineries, barns and warehouses and some of them were even designated as explosion proof. Nowadays, their raw, strong yet chic design is praised for their practical side and their ability to give a strong esthetical edge otherwise ordinary spaces. A single lamp, reclaimed from an ancient factory, can light up an entire kitchen while offering a unique vintage style to the interior.
Jean-Louis Domecq, where it all began
It's 1950 and a mechanic living in the French region of Lyon is tired of searching for the perfect lamp to light up his working areas and machines, so he decides to draw one. He's criteria is quite simple, yet tricky: a lamp which combines both robustness, practicality and a simple design to adapt itself to his working needs .
His name is Jean-Louis Domecq, and after several attempts of trial and error, he fixes his final design in April 1950, one that is simple, robust and articulated to allow an adaptation to all of his workstations. He thus designed a modular articulated lamp, with an innovation that will make his patent an international success: the electricity is transported through the joints of the lamp, without any need for wires. The electrical circuit is completed with a pair of copper wafers, this allows to turn the arms of a Jieldé lamp without any restriction around the joint, without any wires to get tangled up and a safer in high-use conditions.
Between 1951 and 1952 Jean-Louis Domecq industrializes the production of his lamp, and in 1953 he creates the iconic company, whose name is the phonetic version of his initials: JLD (Ji eL Dé). Since that date, the production of Jieldé lamps has been going and evolving to equip all kinds of appliances, from tooling machines to lab instruments, while keeping pace with electrical standards.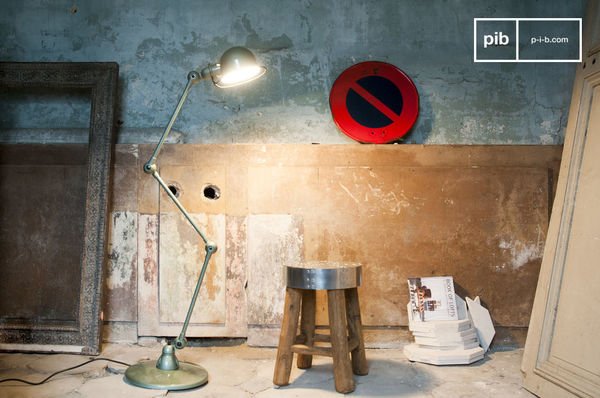 Jieldé, French star of the Industrial style lighting
The Jieldé family, a variety of retro lighting
Jean-Louis Domecq died in 1983, so he could not see his successors get the called "Standard" model off the purely industrial context in the 1990's and its evolution to a floor lamp, reading lamp or wall lamp. New bright colours for different models and collections began to expand the Jieldé family, shall we take a quick look at them?
Jieldé Loft lamp
The historical Jieldé lamp was renamed the Jieldé Loft in 1987 and a number of variations were created with a different number of arms and lamp fixation bases. The six-arm model has a unique design but note also the existence of a wall lamp, with or without any arms. This collection raises the feel of the original design to meet the demands and standards of modern consumers and environments.
Jieldé Signal lamp
The Jieldé Signal collection created in 2006 offers a more refined version of the original lamp, with slimmer arms that are 10cm shorter, and a small 40 Watt screw socket. Similar to the Loft collection, the Jieldé Signal is now available with curved arms for its models. This collection has smaller, colourful models that are perfect for a home environment.
Jieldé Augustin lights
The Jieldé Augustin ceiling light was also designed by JL Domecq to meet his own needs, but it was only introduced in 2010. The Jieldé Augustin was made to be the ideal robust, and aesthetic, workshop ceiling light, from its construction to the beautiful palette of colours available. The suspension models vary in dimensions and are a perfect match to accompany the Loft or Signal collection.
Practical and robust, let Jieldé light up your room!
Born from a man's quest for perfection and inspired from a heavy industrial and mechanical environment, the Jieldé brand has escalated to the top of the French Industrial style lighting to the great delight of Industrial style aficionados. Let the strong character of this indestructible lamp, straight out of the Jieldé premises close to Lyon, charm and enlighten your interior. Practical, simple and robust by nature, Jieldé lamps will bring back the retro grace of the age of industrial factories combined with a highly practical and mechanical spirit to your interior.
Each Jieldé lamp is still made by hand with the same old gestures and numbered with a riveted company plaque, which makes each one a unique item and a true work of art.
PIB Home offers a selected assortment of Jieldé lamps with different finishes, chosen for their rough industrial character, and which will fit in with all interior decorating styles. We also offer to order the whole Jieldé collection with finishes ranging from the most sober to the most colourful, to match your interior decoration. So feel free to browse around our website and contact us to check availability!