It's very important to choose the right type of wood for your retro dining table. What has to be considered is the use. How often will you use it? Do you have kids? How easy is each type of wood to clean etc. To give you a guide on how to choose your dining table read through this section with my ideas and inspirations. One of my favorite wood types is the walnut wood, I just love the variation of color and it fits perfectly into any living room! Check out the selection of different wood types to find exactly what you need.
Different types of wood
You may think that a piece of wooden furniture is just a piece of wood , but there are many different types of wood out there, and each has unique characteristics and qualities. This means that different wood types are suited to different uses so how do you know which one is right for your project? Here is an overview of the different types of wood that are mostly used to produce dining tables. I think it is very important to know the pros and cons of each to make the right choice in terms of your usage.Pine wood is an inexpensive, lightweight wood that can be yellowish or whitish with brown knots. It's often used for rustic pieces, like a shabby chic table. The pros are that it's quite cheap, and it takes paint well, so it's great for kids' furniture. Pine develops a nice, rustic patina from age and use, and it resists shrinking and swelling. On the other hand it's a softwood, so it's prone to scratches and dents.Maple wood is a creamy white hardwood that sometimes has a reddish tinge. One of the hardest wood species, maple is often chosen for heavy-use items. The positive points about Maple wood is that it is affordable and ultra-durable. It can take a beating and look great for years. Because it takes dark stains well, maple is often stained to mimic a pricier wood, like cherry or mahogany.Oak wood is a hardwood that tends to be very grainy. There are two varieties: red oak, which ranges from light brown to pinkish red with a swirling, waterlike pattern, and white oak, which has a tiger-stripe grain with yellow rays and flecks. The pros are that it is very durable and often cut in a way that makes it resistant to warping. Because of its visible wavy grain, it has a distinctive look. A clear finish nicely highlights the grain. A negative side effect is that stains can overly darken and exaggerate the grain, so it can end up looking two-toned. Walnut wood is a straight-grained hardwood that ranges from chocolate brown (when it's from the center of the tree) to yellow (from the outer portion of the tree). A top pick for head-boards, ornate shabby chic dining table, and mantels, walnut is typically clear-coated or oiled to bring out its color. An advantage of this wood is that it is very strong and stable. Additionally the colors are very beautiful. Because of this high quality wood it is very costly.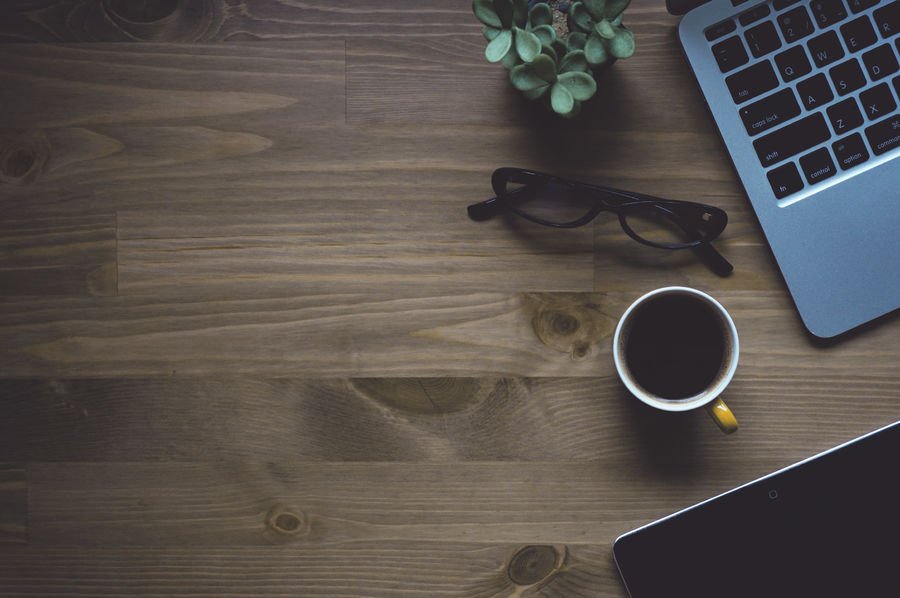 work station in beautiful natural wood
Different styles of dining tables
Creating a spectacular dining room starts with the perfect table. There are so many different designs and styles. Let's break it down to help you find the right shape, size, material and style for you. For minimalists the perfect vintage table would be a basic wooden industrial dining table. If you have your home designed in a countryside style a shabby chic dining table would be the best fit. Since shabby chic tables have a battered table top, it makes it look vintage and antique. You are a nature lover? The excellent choice would be a natural wooden scandinavian dining table which shows the beauty of the tree.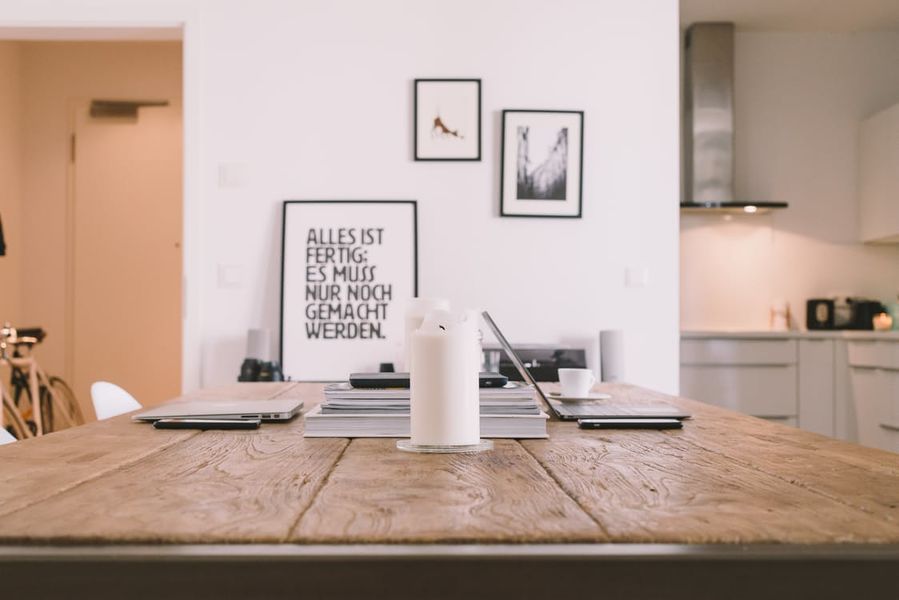 wooden dining table with candle and decorations
Different types and shapes of dining tables
Are you more of a traditional person? Then go for a round table! They allow you to face every person on the table and makes it easier to pass around food and drinks. A round table is much more social and the perfect choice for a family. In addition they fit easier in small dining rooms and they are more efficient in terms of space. Lovers of classic and modern design should go for a marble table. It is easy to clean and looks fancy. What about a modern retro table? In this case you should pick an oval dining table. It's a compromise between a round table and a rectangular dining table. Last but not least: bar tables. Why not use a bar table in your kitchen for small snacks or breakfast? This is also a very good alternative for people that don't have enough space. Especially used by young households and people who like to invite for drinks and snacks. A bar table is always a good idea!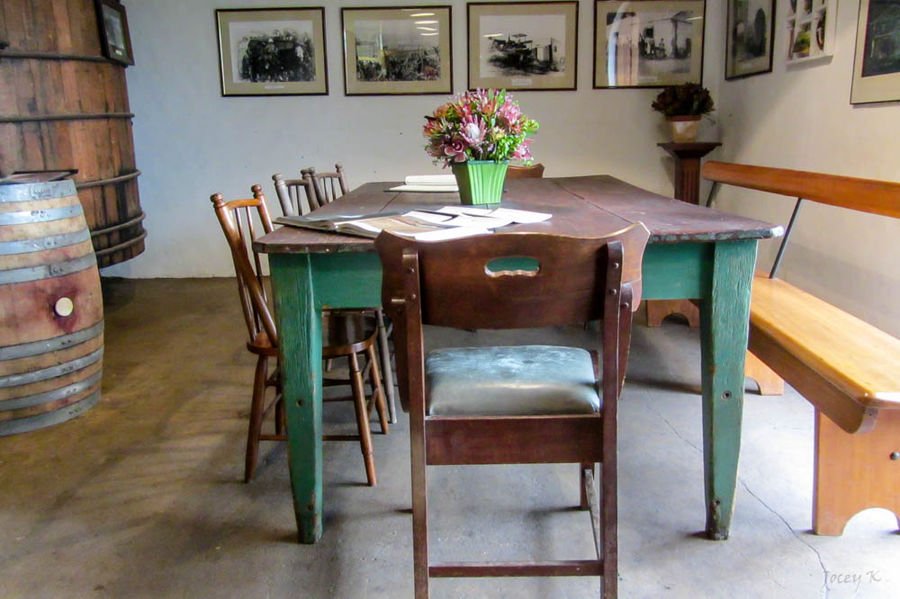 old and antique dining table
What furniture can be used with a wooden dining table?
The good thing about wooden dining table is you can't do anything wrong! Any type of interior style can be perfectly combined with a wooden table. So no more trouble designing your living room.
Chairs that can be combined with a dining table
Our next question is what chairs can I combine with a wooden dining table? The mix in material is a great look, it can be seen across many different interior styles - Scandinavian, Shabby Chic and Industrial. There are endless possibilities between mixing colors, sizes, styles and textures. My decoration tips: - Mix dining table chairs: take the same model but mix it with different colors - Use chairs in all white or all black to match with your wooden dining table - Mix dining table chairs in different styles modern and vintage. shabby chic chairs can be used with an industrial table and vice versa. In my opinion, it is interesting to consider replacing, to some extent, normal chairs by benches. Traditionally, the industrial bench is the perfect match for steel and wood tables. On the other hand, for a lighter-looking table, a scandinavian bench will fit perfectly.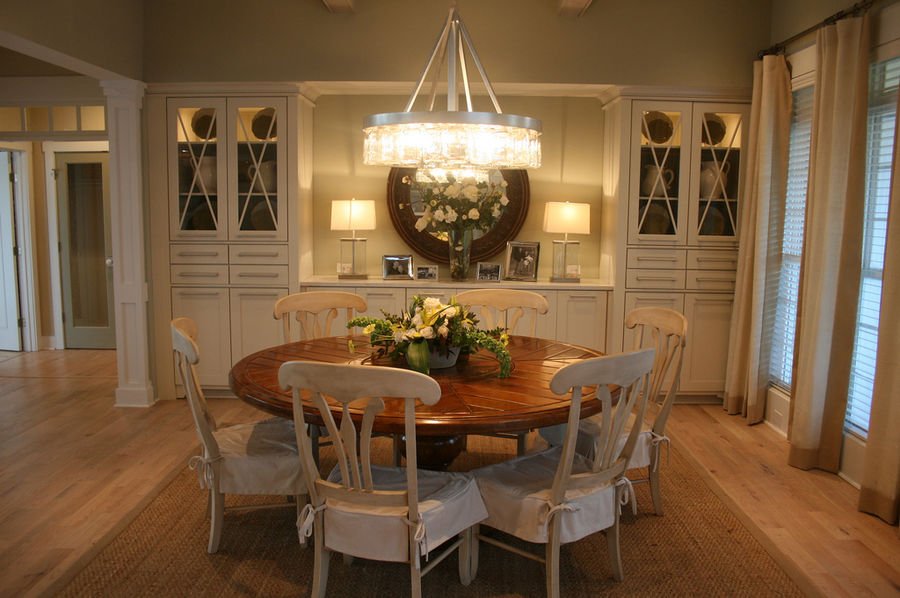 round dining table
Furniture that fits in a living room
What do we need in a living room? We already have our wooden dining table and our chairs. So what's missing? confortable shabby chic sofa, retro armchair, adapted vintage lighting and vintage home accessories. For a cozy atmosphere decorative object are a must have. A carpet, picture frames and a vintage bookcase to transform your home in a trice into a comfy place.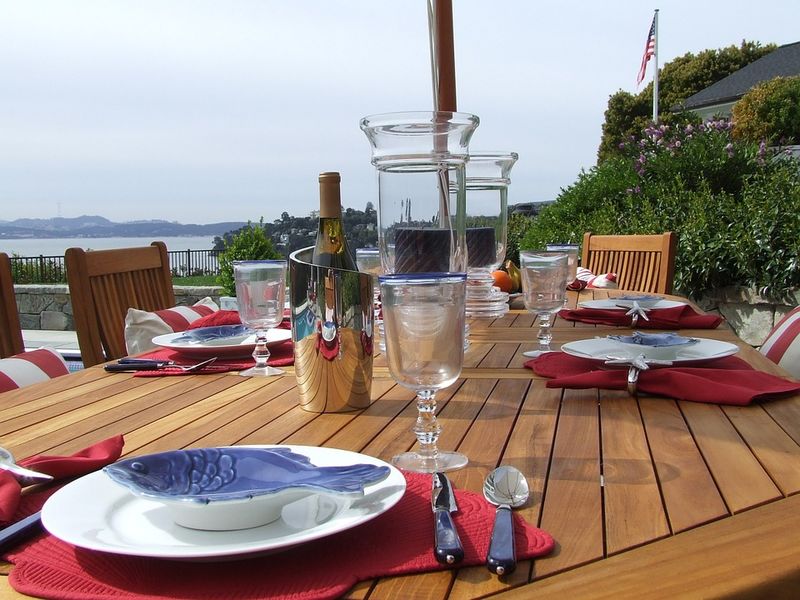 wooden setting in sea background
How can I decorate my wooden dining table?
Depending on the season, dining tables can be decorated with x-mas decoration, Easter deco and many more. Flowers and candles - with candle lanterns - are always a good idea to decorate a dining table!
Decoration objects that can be placed on a dining table
A vase fits perfectly to any wooden dining table. Vases are a good decorative object to place flowers and therefore get some color in your apartment. Furthermore, flowers add a romantic touch to your interior style! Candles are also a way to decorate your dining table, especially in winter time they spread a Christmas flair.
wooden table with modern chairs
Decorative accessories in shabby chic, industrial and Scandinavian style
Depending on your overall interior design it is also important to choose table decoration and accessories that fit to your furniture. Shabby chic deco for a countryside table top, industrial deco for a modern table top and Scandinavian deco for a natural finished table top.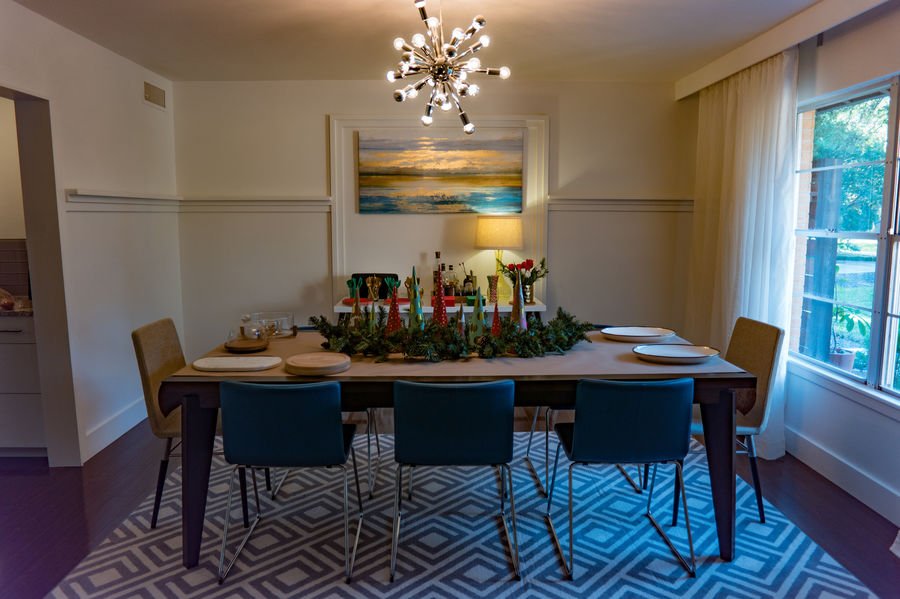 chairs and tables
When buying a dining table make sure you consider your choice of wood as well as the style. In terms of sizes and shapes make sure you have enough space in your living room! And don't forget your table deco which makes each table more personal. Whatever dining table you decide to get it will be a great input to every living room.