Nöten ash bench
£420
Practical seating with the elegant lightness of Scandinavian design
The Nöten bench is the epitome of typical Nordic lightness. Simple but refined, it has a good ability to adapt to its surroundings. The perfect hall seat, you can also use it to put clothes or a suitcase on, or clothing in a bedroom. Whatever room is finds a home in, it will constitute a very beautiful piece of totally contemporary Scandinavian design.
Length to armrests: 73cm
Also available with a walnut finish: EUR390. Contact us for details.
Characteristics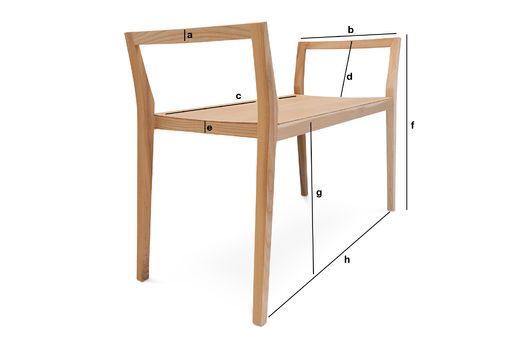 a. 3 cm
b. 40 cm
c. 73.5 cm
d. 21 cm
e. 3.5 cm
f. 63 cm
g. 43 cm
h. 88.5 cm
Weight and Dimensions
11,00 kg
89,00 x 63,00 x 40,00 cm (Length x Height x Width)
Material Details
Easy to combine
Natural finish
Ash wood
Verified order of 08 July 2016
Very good product, well designed and well finished, suitable for its use
The ideal room according to PIB
Products similar to nöten ash bench