Stool Pampelune with natural finish
£145
Stool Pampelune with natural finish
The charm of massive elm wood
Entirely made out of elm wood, a wood similar to that of Oak but more sturdy, the Pampelune stool with natural finish assures great comfort thanks to its padded seat and its "X" shaped seatback.
This shabby chic wooden stool is extremely sturdy and perfect for daily usage. Assembled and varnished by hand, its finish is impeccable.
The stability of this stool is granted by its 4 feet in massive elm wood and the footrest that makes the whole structure more solid while enhancing the comfort of this seat.
At your place or in a public place, this stool will bring a retro touch in any room.
The Pampelune stool with natural finish is a charming furniture thanks to its beautiful country chic design.
Characteristics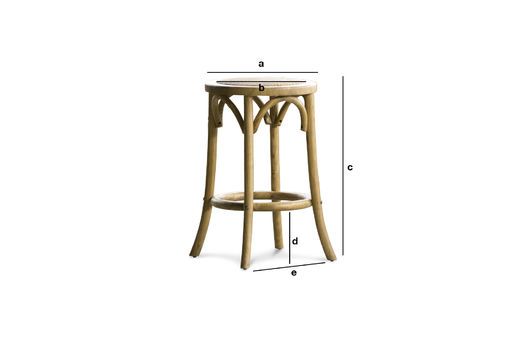 a. 37 cm
b. 30 cm
c. 66 cm
d. 19 cm
e. 30.5 cm
Weight and Dimensions
3,30 kg
37,00 x 66,00 x 37,00 cm (Length x Height x Width)
Material Details
Solid wood
High resistance
Timeless aesthetic
Varnished finish
Elm wood
The ideal room according to PIB
Products similar to stool Pampelune with natural finish