Sonia chest of drawers
£720
Large drawers, old wood and retro charm
Entirely made of old polished wood, the chest of drawers Sonia has the charm of a piece of secondhand furniture, displaying the practicality of a recent design.
Irregularities of the recycled pine wood, combined with its varnished brass handles make this furniture a durable and charming product.
You will appreciate the finish of this shabby chic sideboard with its drawer bottoms made of solid wood.
Characteristics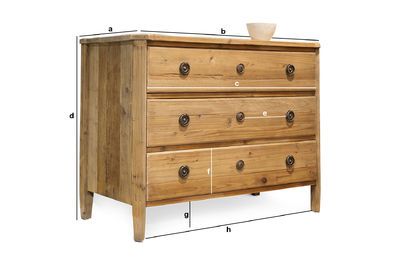 a. 50 cm
b. 105 cm
c. 95 cm
d. 81 cm
e. 25 cm
f. 19 cm
g. 13 cm
h. 95 cm
Weight and Dimensions
22,00 kg
107,00 x 80,00 x 50,00 cm (Length x Height x Width)
Material Details
Solid wood
100% wood product
Elements of brass
Verified order of 01 January 1970
a bit expensive
The ideal room according to PIB
Products similar to sonia chest of drawers