Stockholm three-drawer block chest
£300
Stockholm three-drawer block chest
Bedside table or drawers for a desk
Practical and totally retro, the Stockholm block chest of drawers plays on the contrast between pastel colours and natural wood.
Made entirely out of acacia wood, this solid wood chest of drawers is very robust: a purchase guaranteed to last.
The legs can be removed for easy transport.
According to arrivals, some of these pieces of furniture do not have the wooden boards dividing the different drawers for a simpler effect. Drawers are therefore slightly larger than on the visuals. Please contact us if you are interested in the particular products we have in stock.
According to the arrivals, the drawers slide on a rail made of wood or metal.
Characteristics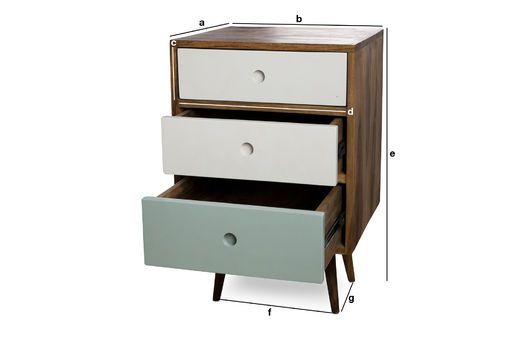 a. 45 cm
b. 45 cm
c. 14 cm
d. 41.5 cm
e. 71.5 cm
f. 31 cm
g. 34 cm
Weight and Dimensions
26,00 kg
45,00 x 71,00 x 45,00 cm (Length x Height x Width)
Material Details
Solid wood
High resistance
100% wood product
Acacia wood
Verified order of 01 January 1970
Use it to extend the buffet we already had! Makes it perfect!
Verified order of 01 January 1970
Beautiful product therefore I am very happy
Products similar to stockholm three-drawer block chest