Mini-disk pendant light
£80
Silver-plated brass very open pendant light
This brass suspension light has a beautiful silver-plated finish. Used alone, or aligned as a group above a bar, table or headboard, you will get a decent spread of light thanks to its disk shape.
Works with a standard E27 large screw light bulb.
A cap to hide the fixation system, with the same finish as the lamp shade, supplied.
Characteristics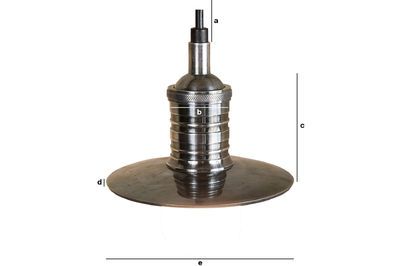 a. 130 cm
b. 4.5 cm
c. 10.5 cm
d. 0.2 cm
e. 13.5 cm
Weight and Dimensions
1,50 kg
14,00 x 8,80 x 14,00 cm (Length x Height x Width)
Material Details
100% metal product
Adjustable height
Elements of brass
Silver plated
Verified order of 01 January 1970
Nice product and quality
Verified order of 01 January 1970
Great product!
Verified order of 01 January 1970
Beautiful little hanging light. Very good lightning
Verified order of 01 January 1970
Very good quality of product. I recommend
The ideal room according to PIB
Products similar to mini-disk pendant light