Double Black Lamp
£170
Vintage lamp with a Nordic touch
The decidedly retro curves of the double black lamp will bring a vintage touch to your interior. It can just as easily fit into any Scandinavian and retro style interior as well as in a more classic style interior.
The Double Black lamp is an original deco fixture. It's altogether practical and its two light sources will brighten your home.
This lamp is made of brass and requires the use of two E14 type bulbs.
Characteristics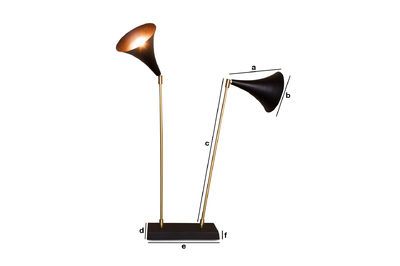 a. 18 cm
b. 15.5 cm
c. 55.5 cm
d. 14 cm
e. 25 cm
f. 3 cm
Weight and Dimensions
1,10 kg
29,00 x 67,00 x 29,00 cm (Length x Height x Width)
Material Details
Easy to combine
100% metal product
Brushed finish
Elements of brass
The ideal room according to PIB
Products similar to double Black Lamp