Coffee table Brown'n White
£450
Coffee table Brown'n White
Vintage elegance, contrast of colours
This coffee table made of varnished solid rosewood is a perfect example of a typical Scandinavian furniture piece with clean lines.
The coffee table Brown'n White has a practical and original drawer that can be opened on two sides. Thanks to this system you can stow away your remote controls and magazines in a way for you to easily reach them from each side.
Height from floor to underside of the plate: 25 cm.
Dimensions of drawer: 53 x 53 x 6 cm.
Characteristics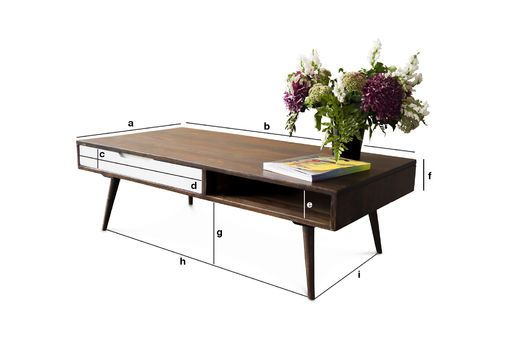 a. 6.5 cm
b. 120 cm
c. 8.5 cm
d. 67 cm
e. 9 cm
f. 11.5 cm
g. 25 cm
h. 103 cm
i. 52 cm
Weight and Dimensions
22,00 kg
120,00 x 35,00 x 60,00 cm (Length x Height x Width)
Material Details
Solid wood
100% wood product
Varnished finish
Rosewood (Sheesham / Palisander)
Verified order of 22 June 2017
Very beautiful table, the wood is of high quality, perfect finishing
Verified order of 19 November 2016
Completely satisfied with this coffee table!
Verified order of 08 November 2014
Good quality product
Products similar to coffee table Brown'n White