Regular coffee table
£280
Steel and raw wood on an atypical sober line.
This industrial coffee table carries with it the industrial style that will help it fit in with any kind of loft interior, the Regular coffee table is nonetheless also at ease on the parquet of an old flat or on the tiles of a country style house.
Its upcycled antique wood platter gives a unique aspect to each Regular coffee table as you can see usage spots and traces on the wood. It is still protected by varnish that makes it easier for you to clean your table.
Finally, you'll consider the robustness of the Regular table, ensuring a sustainable purchase to every client.
The two tables visible on the photos are sold separately.
Characteristics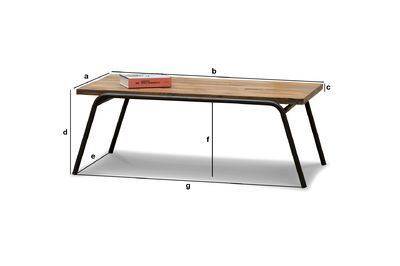 a. 55 cm
b. 114 cm
c. 4 cm
d. 43.5 cm
e. 55.7 cm
f. 39.5 cm
g. 90 cm
Weight and Dimensions
8,80 kg
110,00 x 41,00 x 60,00 cm (Length x Height x Width)
Material Details
Solid wood
High resistance
Unique piece
Multi-purpose
The ideal room according to PIB
Products similar to regular coffee table