Lampshade Paimpol grey
£80
The charm of crochet work in grey and orange
No matter with which lamp stand you want to combine the lampshade Paimpol, it will bring trendy vintage flair into every room.
This lampshade creates shabby chic table lamps that produce a comfortable and warm ambience that is reminiscent of elements of scandinavian interior.
Also available in orange and white. See "models".
Characteristics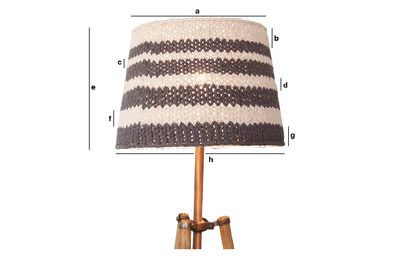 a. 35 cm
b. 5 cm
c. 2 cm
d. 3 cm
e. 32 cm
f. 4 cm
g. 5 cm
h. 46 cm
Weight and Dimensions
0,88 kg
45,00 x 32,00 x 45,00 cm (Length x Height x Width)
Material Details
Easy to combine
High-quality materials
The ideal room according to PIB
Products similar to lampshade Paimpol grey