4,8/5,0
Unrivalled customer satisfaction
Personal
assistant
FREE SHIPPING
6 Magical Days
Free shipping from 300 GBP
Also benefit from exclusive offers on a selection of products

THE 70s STYLE - Individualistic approach to postmodernism
It is easy to dismiss the 1970s as "the decade that taste forgot" yet to overlook its contributions in architecture, furniture design and interior decorating is also a shortcoming.
The Transition of the 70s
It is easy to dismiss the 1970s as 'the decade that taste forgot'. It was the period of transition from Mid-century Modern into Post-modernism. The clean lines and gentle curves with understated palette of neutral colours in design as well as the minimalistic approach of modernism in architecture with the cold façade and austere interieur were finally rebelled against. The 70s witness the changing in the design towards something more genuine, more personal, messier, with character and organic forms and retro inspiration. Since it was situated on the edge of two eras, the 70s style no longer follow the 60s momentum with its futuristic outlook yet it hadn't had enough time to mature well into a defined set of characteristics. Yet to overlook its contributions in architecture, furniture design and interior decorating is also a shortcoming.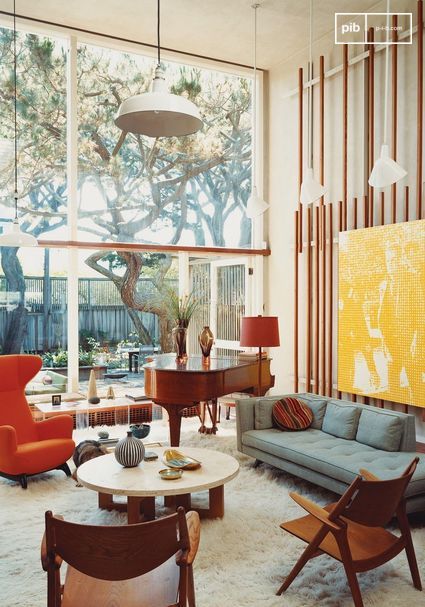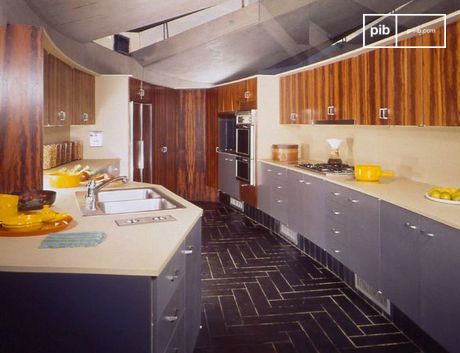 "Houses were designed as organisms that mesh with their surroundings, living, breathing, and changing together."

Judith Miller, Furniture
Social context
There were many reasons in the social and political movements that led to the changes in style and design, in fashion and architecture. The 70s were marked by the increased cynicism and individualism in proportion with the rising Interest and inflation rates which caused unprecedented unemployment. In 1973, in reaction to the West's support for Israel, the Middle East countries imposed sanctions, oil supplies were cut, firing a worldwide energy crisis. Consumer confidence crashed the bottom and by the 1975, a global economic recession was looming. On top of the depressive prospect, global warming and other environmental damages were pointed out by scientists.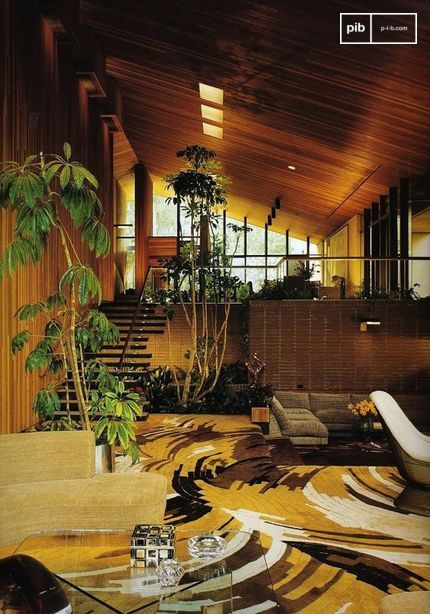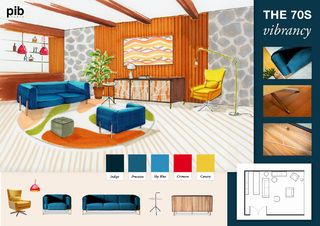 Create a fun, bold and intricating living space with an abundant range of colours, textures and materials.
THE 70s STYLE - Individualistic approach to postmodernism - 23-Sep-2021
The age of contradiction
The decade is a study in contradiction: austerity and decadence, drab earth tones and campy colors, nature-loving hippiedom, and high-tech futurism. The two main strands co-existed in harmony and tension. The first one was broadly called "Anti-design", with designers taking their creations to the extreme in order to express their frustration against society, diverging themselves from the quest for refinement and perfectionism in modernism. Bright, clashing colours with cartoon-like forms were their attempt to appeal to the customers.
The other strand was "High Tech", named after a book of the same name by Joan Kron and Suzanne Slesin. This was a homecoming to the severe, rational principles of early Modernism, prompted by the belt-tightening going on within the furniture industry. Designers also claimed that their pursuit of timeless, durable designs would counter the culture of disposability that was destroying the earth.
The 'High-Tech' style of the 1970s had nothing to do with computers and more to do with construction and engineering. Its development was partly a response to manufacturers' demands for a skeletal style that cut back on materials and was easy to mass-produce. The Swiss architect Mario Botta (an ex-employee of Le Corbusier) began producing furniture from perforated sheet steel that resembled machine parts, while in Britain Rodney Kinsman worked on a range of terse, rational design also made in metal.
Craft-based style
Running counter to the High-Tech style was the Craft Revival movement. In Britain, John Makepeace opened his Parnham House Workshops in Dorset in 1977 and created meticulously crafted objects, often highly ornamented, which sold for vast sums of money. Makepeace's Ebony and Nickel Shiver chair (1978) was representative of his philosophy on design: it was made of 2000 separate pieces of ebony.
On the other hand, this decade's style was greatly influenced by the back-to-nature movement, which arose from both a hippie rejection of consumerism and materialism and a renewed environmentalism following the 1973 oil crisis.
Éléments du style
Asymmetry
Plastic laminates
Marbles
Recycling
Appropriation
Handcrafts
Humour
Cartoon looks
Casters
Characteristics
Bold, explosive colours
Transparent materials (glass or plastic)
Metal (chrome, polished steel)
Scandinavian teak and pine furniture
Fun, asymmetric patterns
Thick and chunky masculine furniture
Crafts revival and hippiedom (macramé. string art, embroidered wall hangings, afghans)
New energy-efficient technologies
The 70s is indeed an interesting phase of cultural, social impacts with designers trying to figure out their way towards making their marks. It represented a reaction against sleek mid-century modernism in favour of "playful embellishment and radical experimentation with form. Self-expression and individuality were hallmarks of the time.