By the 70s, modernism, accused of being cold and mass-produced, devoid of character, craftsmanship and personality, was dead. Postmodernism pioneers embraced the historical styles that had been rejected before. They adopted an experimental approach to give the vintage styles a whole new approach, twisting and exaggerating them for fun and ravelled effects. The overall ambience is anti-conformist, futuristic and the flashier the better.
This is a great decade to test different styles with abundant choices of colours, textures, and patterns, a little bit extra but mainly fun and intricating. In order to achieve the look, you first have to cast aside those academic definitions of styles and be bold and ready to let yourself loose in choosing what works for your home.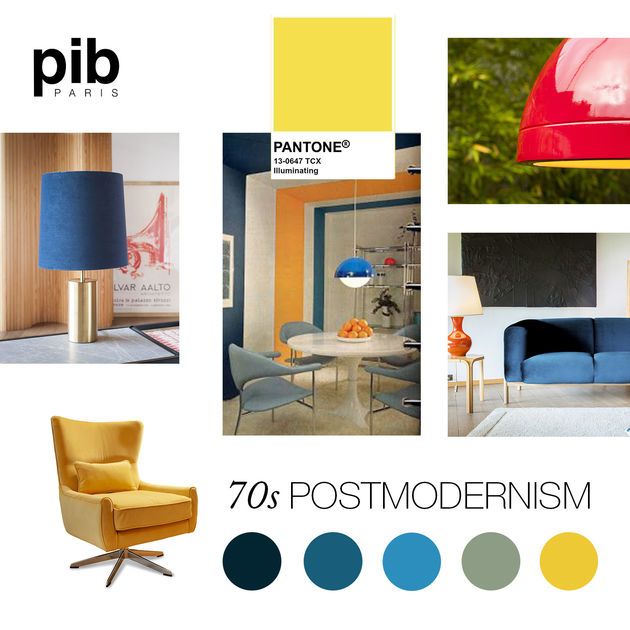 The 70s is a blooming decade of individualism and self-expression
TIPS AND TRICKS
Colour palette
The 70s is a playground for colour lovers. Bright and saturated colours brought about joy and life to a living space, as opposed to the more nuanced neutral colour palette from the Mid-century modern movement. Warmer tones, often used in analogous, ranging from sunny yellow to vivid orange to vibrant red, were in style, adding lavishness to the décor. A pop of turquoise or petrol blue on your décor will serve well as a centre of attention. Cooler shades of grey, blue and silver can also be employed with moderation.
Patterns and textures
Decorative patterns tend to have graphic and geometric shapes and flamboyant designs. They can be both symmetrical or asymmetrical, often rounded, continuing the way paved by the 60s yet bolder and deliberately more eccentric. Textile prints were inspired by oriental or fur motifs such as panther or ocelot in fanciful colours of blue, pink, violet and orange.
Materials
The 70s is extravagant in materials. The trick to make it work is to layer them. Stones and wood panelling can alternate for a living room's wall. Exposed wood beams or structured ceilings create a sense of space. Long-haired carpet flooring or rugs of tonic patterns add warmth and comfort. On furniture, materials used were often synthetics, with shining and translucid effects such as inox, Plexiglas, resin?
Furniture
The 70s might seem to leave an impression of a maximalist approach to interior design. However, the furniture that dominated the decade were actually considered soberer than its counterpart from the wild 60s. Seating options are less experimental and more ergonomic. The clean, pure design of modernism was still embraced but with a more free-spirited state of mind where you can have one or two things standing out as the statement pieces yet the rest are more subtle in comparison. A bohemian lamp next to a High-tech armchair with a colourful ethnical-styled rug under can create an interesting, relaxed composition.
There is rather a fine line between eclecticism and ?bad taste? that one should consider the options with great care in order to achieve an authentic 70s look for a modern home. Yet once you have mastered the basic foundation it will be a very fun and exciting journey.