Industrial chic style is back in fashion for more than a decade now and it is here to stay, offering a unique, eccentric element to interior decoration. Often seen as rough, masculine, and edgy, it is actually very versatile and can be toned down to suit any taste. Eco-friendly, time-honoring, it emphasizes salvaged and recycled materials and proudly exposes the architecture of the building with bare bricks and metal structures, water pipes, and ceiling beams. The most appealing part is that you can thrift for less while building the most creative interior for your home.
An invitation to the home after WWII
After public places, industrial style furniture finally entered the home thanks to the democratization of war technology and the demand for more affordable, portable, and stackable design. The advantages of industrial pieces in metal helped them to find a place in a young and avant-garde society after the war. The 'Tail of Whale' chair, with its signature back support that gave it its name, was renovated from the Nicolle metal chair right after the war. The 'Navy 1006' on the other hand is famous for its innovative curvy seat using the same technology used for American submarine fleets. Meanwhile, the Mullca (1950) combining metal structures and wooden seats and backs quickly dominated the schools all over the country thanks to its robust and economic form. In 1969, Prisunic launched the first furniture collection in steel, setting the new standards of style, quality, and price for the new future of design.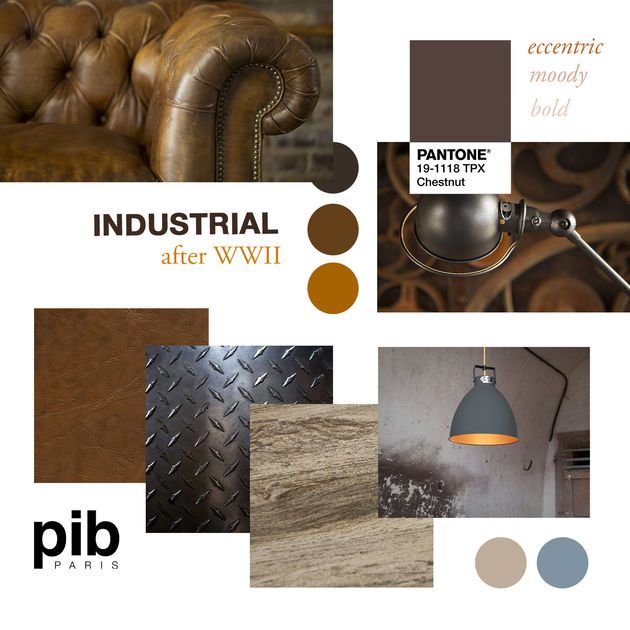 TIPS AND TRICKS
Begin with a minimalist approach
Even though the industrial chic style is not synonymous with minimalism, they share certain characteristics such as ?quality over quantity, frill-free, keeping accessories minimal. It's also easier to start small and see how things work for you before adding more furniture or layering lightings. The end goal is not an austere living space nor an extravagant one but to carefully select pieces that get along well with each other.
Use open plan with smart separations
A screen can suggest a replacement of a wall in order to provide more privacy in the bedroom, a rug next to the kitchen counters signifies the place of hearth and warmth, a tall shelf that can both display books and decorations and serve as the division of a home office. A big sofa against a wall occupied by one big-scale artwork or otherwise full of frames can be a visual definer of a social space for gathering and relaxing. Strategic placement of different types of flooring (tiles, hard-word parquets, cement, etc.) is another wonderful method to indicate different areas.
Ensure adequate lighting
A comprehensive lighting system should consist of overall, ambiance and task lighting options. An entry doorway would need an overhead light but also can be accented with a small lamp on the console table to add a soft glow. Kitchens and studies favour task lighting while living rooms will definitely benefit from beautiful chandeliers as a statement in the middle of the room, surrounded by ambiance lights from the four corners.
Recognise the important of flooring
Sometimes when planning a renovation project, the furniture part takes up all the time and effort and leaves others unattended. Make sure that you give flooring enough thoughts and carry your idea in mind as you go along with the décor. With the industrial style, you can go bare with cemented floors that display texture and natural colors or consciously choose to keep an old wooden parquet intact that reveals the traces of time. Adding rugs and carpets is also a nice touch to unify furniture pieces. Spice up a living room with an animal print rug to achieve a wild and free look.
Above all, choose comfort
You don't have to go overboard with designs from different periods or include all the aspects of the style in order to integrate the industrial approach into your interior. Even when a piece of furniture fits perfectly in your deco yet you have to suffer from discomfort in exchange for its beauty, it will not be worth having it in the long run. There are always other options that can satisfy both categories out there.
Though the industrial style is usually referred to as urban loft-like apartments, it is actually very flexible and adaptable to be integrated into most living spaces to give a bit of spice for a charismatic look without having to change the whole decoration. It fits right in with rustic modern and bohemian styles, and with creativity, can work alongside well with vintage decor or even with mid-century modern furniture.