The impacts of the rather short-lived school of Bauhaus are outstanding. 100 years after the first opening, the Bauhaus has significantly changed the landscape of architecture and design. Its main goal was to unify art, craft and industry pushed forward clean, streamlined industrial designs for mass production. Its promotion of geometry and radically simplified forms and the focus on practicality and functionality without any unnecessary embellishments paved the way for the International Style that has been dominating almost every metropolitan city in the world since the 50s of the last century. Almost any minimal, functional design that you come across these days are influenced by the timeless style of Bauhaus.
Much beautiful as they are, a house full of Bauhaus-inspired pieces without specific purpose might give out a cold, sterile atmosphere. Bringing the Bauhaus spirit to your home requires certain boldness and creativity necessary to not only spice up your living space with a modern designer touch but also display interesting contrast when juxtaposed with other styles.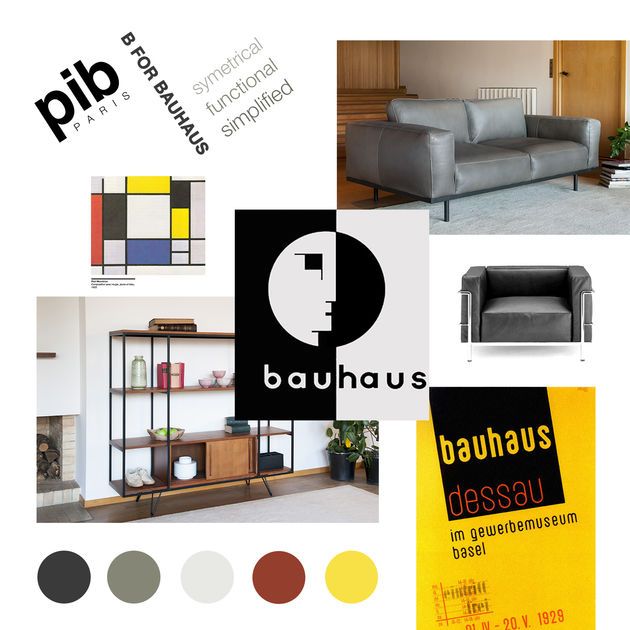 Bauhaus is one of the most influential design movements in the last century.
TIPS AND TRICKS
Furniture
Bauhaus furniture is ultra-modern to the extreme compared to the other common styles found a few years earlier or even of the same period like Art-Deco. So modern and fresh it can never be out of style. Even today, the iconic staples of the grandmasters in furniture design like Wassily Chair by Marcel Breuer, famously known for the hygienic shapes and the tubular steel structure or the Brno Chair by Mies van der Rohe with the elegant yet understated curves and sober brown leather are still sought after. They fit in any modern setting and look as sleek as they had been designed just yesterday.
Geometry
Strict geometry and strong forms are fundamental for any Bauhaus furniture. First and foremost, they are designed to be functional, stripped down to the basic shapes. Square, circles, cylinders, spheres are what you should look for. The design is simple and seamless so that the lines and forms can stand out and be admired for themselves. They are designed to economize materials and time as well as maximize the use of space. Those features formerly intended for industrial style can be extremely graceful and versatile for modern living.
Materials
The Bauhaus masters intended their designs to be aesthetically pleasing but also easy to produce and cost-effective so as to be accessible to all. Therefore, industrial materials are preferred: tubular stainless steels, lacquered acrylic glass, nickel-plated brass, silver, solid oak wood are the first choices to present a modern flair. These were considered unconventional and revolutionary at the time since they made mass production possible with industrial techniques and conveyed best the spirit of the style.
Colour palette
Renowned for a simple understated palette of colours like black and white, with occasion tan and brown shades of leather and wood, the Bauhaus style can surprise you with its braveness with a strong, colourful display of blues, reds and yellows. The nesting tables by Josef Albers and the baby cradle by Peter Keller are the best examples of how colours can be used to liven up the design with such joy. Keep it close to primary colours with saturated tones to brighten up the space.
Decorations
Artworks in a home are as vital as art itself in the philosophy of the Bauhaus. They are directly related to and fuelled by life. Even though the style requires some restriction on the number of items on display, decorations and artworks included, it is essential to keep in mind that it is not necessarily minimalism. Prints with pops of colours or high-quality textiles with graphical patterns work very well with a clean, pared-back space, adding a lot of warmth and character.