The 20s - 30s Industrial Style Furniture
Industrial style has been back to the stage the last decades and still maintains its popularity today. Its distinctive look is impressive and original. Worn-out surfaces, bare concrete floors, distressed furniture, and aged overhead lightings emit a laid-back, rustic feel with a unique taste. Their beauty lies in the stories told and implied by their imperfections.
Among all periods of industrial furniture design, the 20s - 30s particularly stands out and attracts a great deal of attention due to their originality, very functional and made to last but this period was the start of the integration of industrial design to public space and households. Comfort and aesthetics started to be considered and incorporated together with the practicality and streamlined forms and shapes. Chairs and armchairs made of tubular steels like the park chairs for the Luxembourg garden employed softer curves. The 'Nicolle' stools are still widely appreciated since their first production in 1933. Alongside it, the classic Mullica ?510? chair in wood and steel, stackable, light, practical, has been a staple piece for schools and other public places as well as large dining rooms. Meanwhile, lighting options at the beginning of 20th-century electricity witnessed the blooming of glass light bulbs and sheet metal shades. Classic pieces in this period would be the Gras by Bernard-Albin, the mother of all articulated metallic lamps, or the famous table lamp Anglepoise by George Carwardine that was popular in studios and factories.
In order to achieve the authentic look, several elements should be considered and customized to pull off the style with confidence.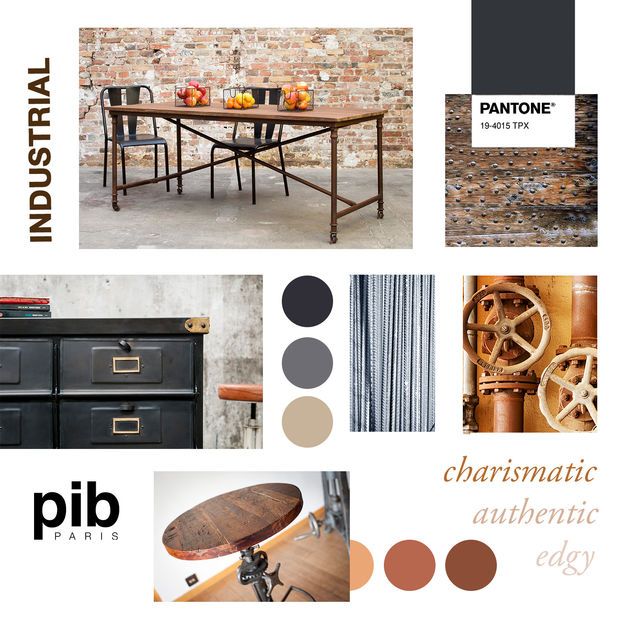 A living space full of character and interests
TIPS AND TRICKS
1. Open floorplan
Industrial chic makes use of the old industrial buildings, factories, and warehouses with large open space that gives this style its iconic airy space with almost no defining structure. This is typically true if you think about loft apartments where everything is merged into one single living space with few to no internal structures. In order to avoid clutters, it is important to separate areas of different purposes, the living room from the dining room, the kitchen from the bedroom, a sectional can often be employed to help create internal barriers for each area.
A screen can suggest a replacement of a wall in order to provide more privacy in the bedroom, a rug next to the kitchen counters signifies the place of hearth and warmth, a tall shelf that can both display books and decorations and serve as the division of a home office. A big sofa against a wall occupied by one big-scale artwork or otherwise full of frames can be a visual definer of a social space for gathering and relaxing. Strategic placement of different types of flooring (tiles, hard-word parquets, cement, etc.) is another wonderful method to indicate different areas.
2. Exposed architectural features
After the industrial buildings were vacated, the remnants such as brick walls, pipes, beams, and ductworks were left behind without being built-in or hidden, for both financial and logistic reasons. Once reclaimed, instead of being covered up, these characteristic features of the style have been widely embraced and celebrated for their unique, untamed exterior compared to other more polished styles. Initially an architectural feature, it has become an integral part of industrial interior design which takes into account the wish to preserve the original purpose of the space. The warm orange and red colours of the bricks, the natural comfort of the old woods as well as the rusty but functional metal elements make it a perfect background to layer on the furniture.
3. Authentic, raw materials
A good neutral palette that is tilted towards darker shades like blacks and greys is a common choice for a charismatic, masculine, dramatic feel whereas warm neutrals that consist of browns and tans of wood and leather is an inviting note to soften down the rugged edges. Accent colors like jewel tones of deep forest green or burnt orange can brighten up the space. Dots of red and yellow here and there will keep the space off the uniform, moody look. Whites in the industrial style are carefully selected, often already displayed in the structure of the room or to be introduced with caution.
4. Neutral colours
Details are as important as the overall impression. Whether it's sunburst or spiral motifs, tapered table legs or ivory inlays, floral marquetry, or stained decorative glass, choose the ones that speak to your heart. The smallest features can be the best showcase of personality.
A space is only well designed if it can be well-lived. So choose things that suit your everyday needs but also embody your character,
5. Reclaimed, reused, recycled, refurbished
Industrial style has a reputation for cherishing the time-honoured history of things. The chosen pieces are often picked up at flea markets and garage sales or retrieved from the attic of your family house. Yet be careful and avoid making your place a museum of trinkets. Minimize the non-essentials items around the house and limit the accessories for display.
Though the industrial style is usually referred to as urban loft-like apartments, it is actually very flexible and adaptable to be integrated into most living spaces to give a bit of spice for a charismatic look without having to change the whole decoration. It fits right in with rustic modern and bohemian styles, and with creativity, can work alongside well with vintage decor or even with mid-century modern furniture.