First appearance of the leather armchair
The famous Club leather armchair first appeared at the beginning of the 20th Century, and it is now an icon of vintage furniture.
Contrary to what is commonly held, the leather armchair was initially designed in France.
The first models were created along with the advent of new tapestry techniques.
Until that date, so-called style armchairs prevailed; from the time of Louis XIII to the Art Deco period, they had austere straight lines and were not really ergonomic.
When it first appeared, the Club leather armchair was rightly called the 'comfortable' leather armchair as opposed to the 'style' armchair.
From the outset, this leather armchair (like the leather sofas) was widely used in French and English gentlemen's clubs, reserved for men of the upper classes, hence the name Club.
The characteristics of the Club leather armchair
The silhouette of the leather armchair evolved throughout the 20th Century, traversing all the furnishing styles.
It was initially inspired by the Art Deco movement, in opposition to the curves and arabesques of Art Nouveau, which had been in vogue since the end of the 19th Century.
The contemporary and futurist precepts of Art Deco led to a leather armchair that was designed with great simplicity, as evidenced in its straight sleek lines.
Dozens of different silhouettes were imagined and designed as of 1920.
The "moustache", with its undulating edge to the backrest, or the "gendarme's hat" with a high back are still produced today.
However, the round-shape, which appeared in the 1930s, continues to be the emblematic incarnation of the leather armchair.
The production methods were revolutionary and called on the skills of numerous craftsmen: carpenters, fellmongers or even upholsterers played a part in manufacturing a Club leather armchair.They used double conical springs not only in the seat cushion but also in the backrest and armrests. Coir filling supplemented the suppleness of these springs for additional comfort.
Industrial progress led to the replacement of this padding method with no-sag springs or elastic webbing, together with synthetic foam.
The covering also evolved depending on the fashion of the time, but always kept the natural and long-lasting cachet of each different hide used.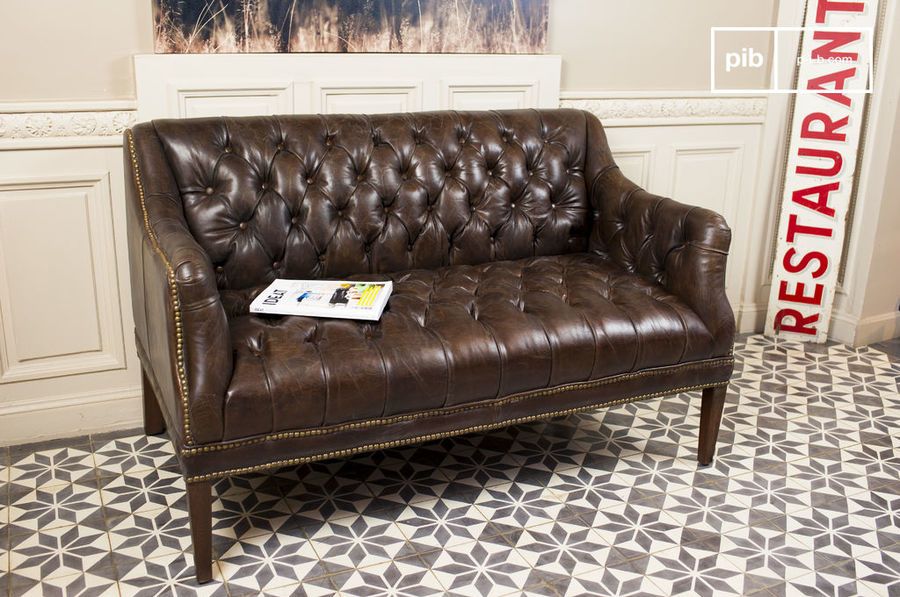 Doctor Freud Sofa