Nowadays, three main interior styles define contemporary elegance: Industrial, Shabby Chic and Scandinavian. But let's take a quick look at the industrial coffee table.
Retro Coffee Tables, nostalgic and graceful with the Industrial style
The place of the vintage coffee table within the industrial design
Nowadays we are quite used to seeing metal in our furniture, but there was a time when steel was almost exclusively used for weapons. Did you know that metallic furniture was first used in a home by a woman? It was the Russian Empress Elizabeth the Ist daughter of Catherine the Great who ordered for the first time metallic furniture in 1746. But it was during the Industrial Revolution of the 19th century when large scale steel factories flourished and with them, metallic architecture found its peak. This was beautifully illustrated by the amazing Crystal Palace constructed in only a few months by Sir Joseph Paxton to house the Great Exhibition of 1851 in London, and by the construction of the Eiffel Tower in Paris in 1889. Another interesting fact that might have contributed to the rise of metallic furniture was the hygienic concerns that were extremely wide-spread in Europe during that same century. Metallic furniture gave a sense of ventilation and kept away some wood related bugs, which rally helped in the idea of creating an illness-free environment, especially in the bedroom.
The Industrial Style became a decoration trend by the middle of the 20th century, when "loft-living" became a trend, by the conversion of a great number of ex-industrial buildings, warehouses and factories into residences. Many of these renewed spaces kept their Industrial Style intact, and the proud owners started to seek out that retro, nostalgic touch of what once was a great era. Therefore, furniture started to be made to match that retro ambiance, and produced in rawer, robust materials such as raw wood and metal.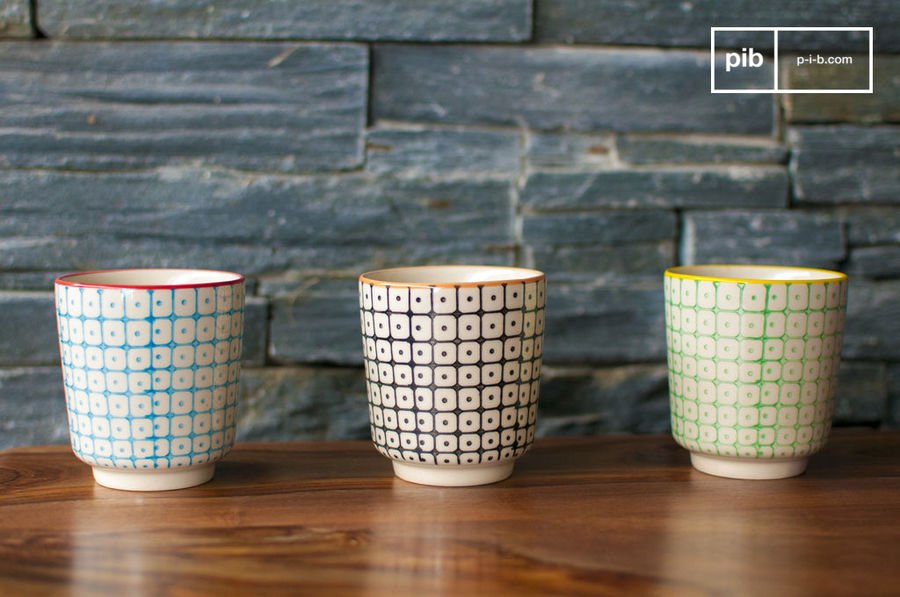 3 Brüni Espresso Cups
Style, strength and character for your interior
Born and inspired from the Industrial Revolution and from the forges of old steel factories, Industrial Style has a strong and very fashionable, retro and strong character. So that's exactly what you can expect to get from a retro Industrial coffee table! Feel the raw natural touch of the woods, impeccably combined to the undeniable strength of a metallic structure or frame. Industrial Style is all about the marriage of two main materials, both independently strong and yet even delicate when mixed together! Let your interior be transported to another time with the harmonic marriage of this pure, raw and elegant retro style design.
The natural patterns of the wood will delicately follow the fine metal work of the structures and frames of your Industrial coffee table. Retro and robust by nature, you'll bring back that nostalgic grace of the age of factories to your interior, a touch that will ally itself magnificently with any other décor in your room. Try it and you will see for yourself!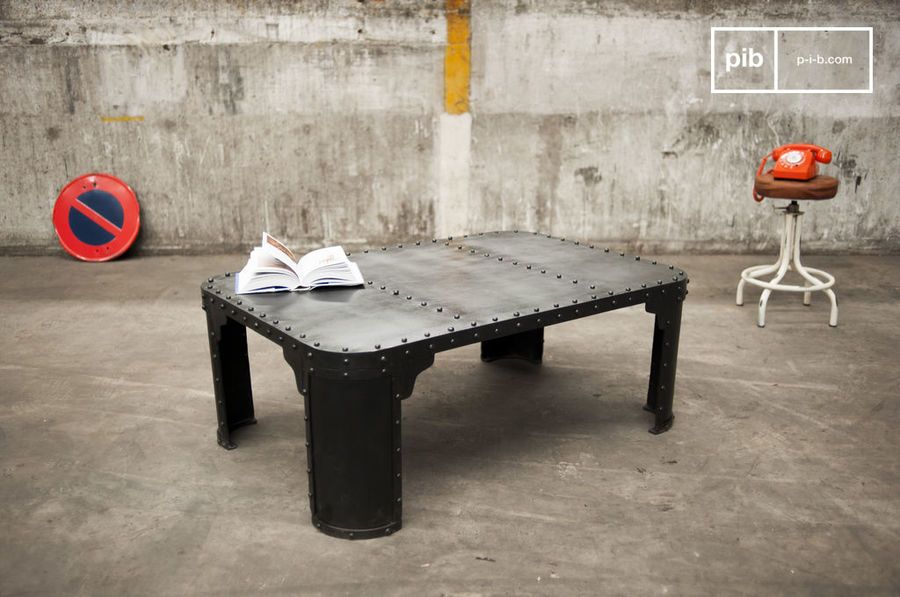 Coffee table Brigor
Add a retro vintage touch for all kind of interiors with a vintage Coffee table!
Side table : versatility of the Industrial furniture: perennially fashionable
Industrial furniture is extremely versatile and will allow you to create all kinds of variations into your retro decoration. Don't hesitate to mix different accessories from different styles to create your perfect ambiance. Try having the perfect hot beverage in a colourful Brunï Espresso Cup, which you can find in our Scandinavian section, and imagine yourself placing it on your retro table, next to your favourite book. Your imagination will be the limit to combine different styles and get your perfect interior.
retro furniture is an important characteristic of Industrial furniture, and its history, going back up to Imperial Russia, shows that Industrial furniture is perennial and as fashionable as it has always been. Much like the Shabby Chic design, the joyful nostalgia of this style will enchant your rooms, so why not combining them? Think of our bohemian Myers wired Cabinet placed in your living room, its wired doors echoing the metal parts of your Industrial Coffee Table, now that's a perfect retro match!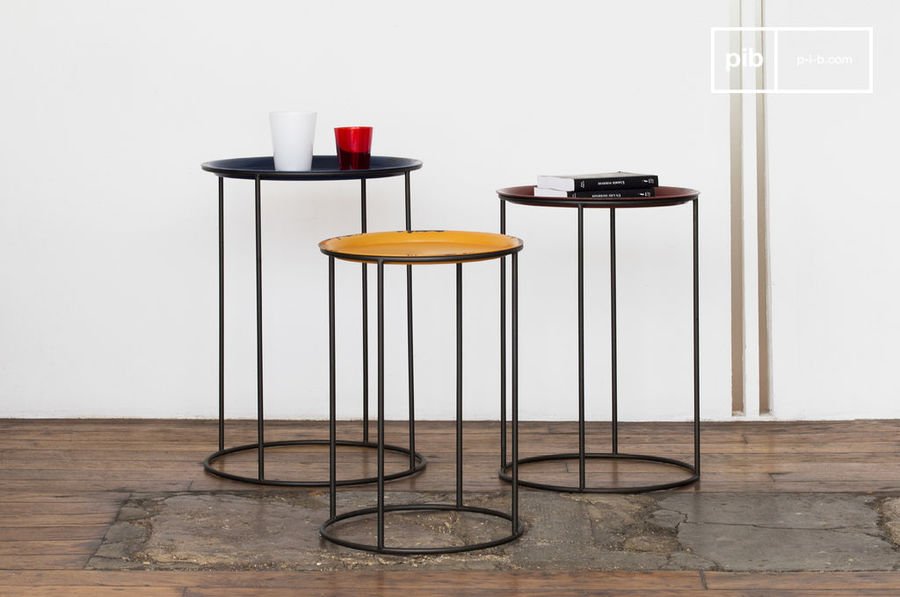 Tricolor Gigogne Table
Keep it mixed!
It is pretty clear that Industrial furniture has a perennial halo around it, just like steel in architectures and ancient woods in ancestral forests. But this style is also about harmony and marriage of two materials that might seem opposite at the first look: the natural wood with the man-forged metal, which is why you shouldn't be afraid to mix and match your styles to create the perfect retro interior!
You know which style is also all about harmony between materials? Scandinavian! Check out our wonderful Nordic selection to find a perfect fit with your Industrial square coffee table or round coffee table. Chose the Ora Table Lamp to boost the metal and natural mix to a jewel-like state with this beautiful golden metal lamp and its marble base. Or give a chrome touch to your living room with the copper-coloured Hanging Lamp Segal.
Whether you wish to accomplish that beautiful vintage contrast by mixing and matching, or you are going for the perfect Industrial look for your living room to echo your retro coffee table, PIB Home will provide you with some interesting options within our fine selection. So? Shall we take a look?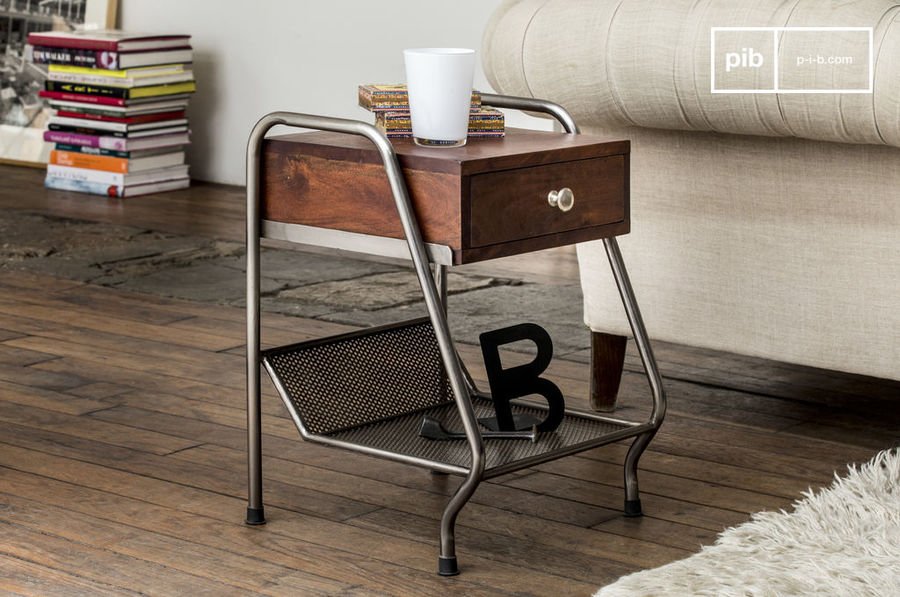 Virgile occasional Table