The retro trend encompasses many activities and artistic fields. Looking back to past values as an inspiration for how we do interior design makes it easier for us to make design choices today. Retro furniture represents an updating of looks from a carefree time, which caters to our love of nostalgia.
What is retro design?
Retro design refers to the French "Trentes Glorieuses" era, (1945-1975) when the Art Deco movement was very much to the forefront. During this time, living conditions underwent considerable improvements and buying power increased greatly, allowing people to decorate their homes according to their tastes rather than just their basic needs. For the first time, they could choose from a full range of products, decorative items and furniture such as nordic modern shelves and cupboards.
During this period, mass production was developed to lower costs. In addition, people were strongly drawn to acquiring totally new design objects. This represented a break with traditional interior design, which was considered outdated and old-fashioned. Retro furniture helped soften the ambient conservatism of the interior designs of the time, with its originality and innovative character.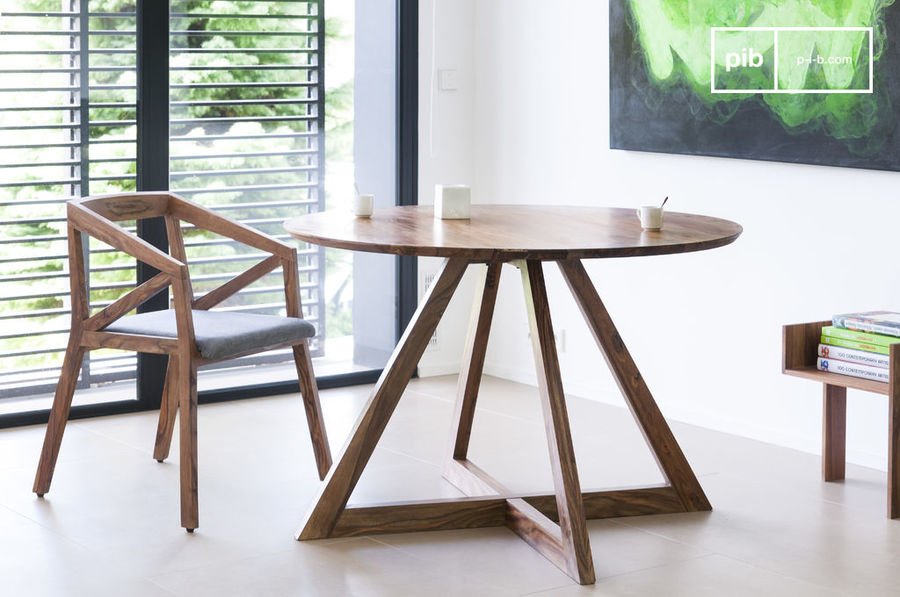 Retro table scandinave design
Finland, pioneer of retro furniture
The first Finnish designers and architects were strongly influenced by their own country and its inhabitants - a calm, but fundamentally hardy and tenacious people. Finns have a long history of having to grapple with tough environmental conditions, whilst still maintaining a very close relationship with their surroundings. The classic retro furniture of this era symbolizes this determined, innovative Finland. Designers used furniture and Scandinavian homewares as a means to show the national mindset. This means they are constantly looking to find a balance of beauty, utility and material. Wooden hardwood furniture has pride of place, thanks to the abundance of pines, elms and birches in the country. Finnish architects - know-how has endowed their country with wonderful traditional houses decorated with retro furniture items. Small furniture workshops have continued to produce designs inspired by the traditional aesthetic Finnish style, designs which can make a room special by the presence of just one piece of retro furniture. Prevailing artistic trends and environmental conditions meant that the Romantic movement was adopted very readily in Finland during the 19th century. It included such incarnations as "New Art", which manifested itself on Finnish furniture in the shape of gildings and floral shapes.
Retro Scandinavian furniture of the 20th century
The Finnish government's policy in the 1900s of establishing public workshops and factories and hiring designers gave real impetus to interior design and furniture-making including the retro sofa. Their aim was to produce a whole range of versatile furniture and objects, and most of all, to export mass-produced furniture to the rest of Europe. Retro furniture from the first half of the 20th century retained the "New Art" look but was adapted to the needs of mass production.
During the interwar period, shapes became more simple and modern, with "authentic" retro furniture look becoming preeminent. These designs were created with ergonomics, practicality and affordability in mind. In the aftermath of WW2, Finland had to find its identity once again through art. Designs reached new heights of aesthetic appeal and quality thanks to traditional workshops, which have underpinned vintage furniture creation in factories.
The new generation of young Finnish designers has also influenced the country's furniture design over the last few decades, with their greater openness to multiple outside influences from all over the world.
The success of retro nordic furniture style
retro style design epitomizes the northern European state of mind, one which has massively contributed to the development of design. Scandinavia has always possessed a huge fund of artistic and aesthetic know-how, enabling it to create what is seen as the last word in vintage decoration with top-quality materials.
This retro Scandinavian design has a vintage aspect about it which is very trendy today. 1950s interior design was dominated by natural colours and materials as seen in many retro chairs, lots of white and an emphasis on the practical. Retro-style designs are warm, thanks to the use of wood, a common feature of Nordic design.
Simplicity is the key driving force behind the creation of these unfussy designs, which sometimes use shades of white, a reminder of the snowy northern environment. To emphasis this kind of design and to create a cosy ambience, the careful use of lighting is essential.
Modern furniture from the 1960s
Nowadays, retro furniture such as coffee tables in a retro furniture style , tables or scandinavian sideboard continues to surprise and is just as popular as it was in the 60s. Designers are bound by nothing except their imagination, and even this seems to be limitless! The avant-gardist characteristics of these mid-century modern furniture designs? which manages to transcend the ages, yet still exhibit a distinctly modern flavour? is another facet of their universal appeal.