You have probably already spotted the living room decor trends of 2017, maybe at your friend's, in restaurants or bars, in stores and so on. Or maybe you already used them in your own interior. But you cannot avoid them, you can see them everywhere. And above all, these living room decor trends are so difficult to resist. When I am talking about the living room decor trends of 2017, I am talking especially about geometry in your interior, lots of green like plants and cactuses and a lot of accessories. But a country style interior is trendy as well, with wood and lots of marble.
Why is living room decor so important?
It is a question with a really simple answer; you spend most of your time in your living room. Not only when you are alone, but also with your friends, family and so on. Your interior is something very unique, no interior will ever be the same. You can do whatever you want, living room decor that meets your wishes en your own style. You can play with living room decor until you get tired. But it is also something very dangerous, because there never comes an end to buying decoration, you can never have too much living room decor.
Since you are spending so much time in your living room, it is important that you feel good in this room, and decoration plays a major role in your feelgood. It can never be too cosy and comfy. And of course everyone loves the compliments you will get about your living room decor from friends and family.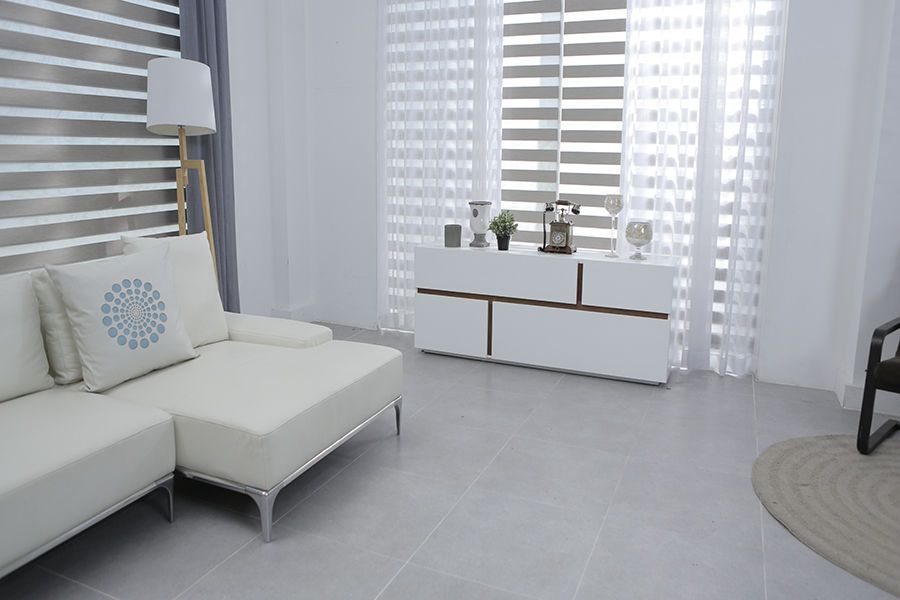 Modern white geometric interior
Different types of living room decoration
There are hundreds of different kinds of styles, one hipper than the other, but this changes with time. I will talk about three important kinds of styles: geometry, green (nature), and accessories.
Geometry
Geometry occurs frequently in houses this year. As well in your interior as in your decoration. Maybe you are already a geometry specialist, then you are already a trendsetter. But you can see also a lot of geometry in accessories. Think of pillows with geometric forms, wallpaper, a carpet, a vase, candles and so on. You can adapt this style to every kind of interior, so do not panic, you do not have to change your whole interior!
Green (nature)
This trend you have probably already spotted a million times. Cactuses, plants, flowers etc. brighten your living room immediately. Green looks not only very nice in your interior, you can also play a lot with the flowerpots. If you like colors, you can create infinite combinations. If you are more a sober interior lover, you can also choose flowerpots in the same color. And do not hold back because you are a forgetful gardener, then you can become best friends with succulent plants and cactuses because they do not need a lot of water.
Accessories
Accessories, accessories, accessories everywhere. How boring would your living room be without any accessories? Adding small things to your interior makes everything so much nicer. By adding shabby chic accessories to your living room decor, it gets immediately cozier. Think about candles, frames, lamps etc. You can choose them depending on your interior style.
Furniture for your living room
Country style
A country style interior consists of many soft colors. The living room decor is often white, beige, pastel and wooden furniture. Often they combine country style with beatiful scandinavian homewares and furniture. Integrating a little bit of nature is always a good idea for a country style interior.
Wooden furniture
Wooden furniture have always been hip, but there is coming more and more furniture on the market. Of course also geometric shaped designs, designs in different colors and so on. Wooden furniture is perfect as living room decor as they are easy to combine with every type of interior.
Marble furniture
Marble, you can see it everywhere. Not only as in furniture but also in accessories, even in telephone cases. It not only looks fresh but it looks nice as well. Actually it is an old pattern that is fashionable again. Think of a nice marble retro side table, you will love it. And not only adults are loving it, but young people as well. Living room decor with a marble pattern is a big winner!
Where can you find some inspiration?
But what if you think you will fail to create a beautiful interior with these new trends? First, you are wrong. Second, you can always get inspired by magazines, Pinterest and even on our website.
There are so many magazines you can not imagine, as well online as in the newsagent you can find a lot of different interior magazines. Maybe you can go have a look for a magazine about living room decor and dream away.
You can also find endless possibilities on Pinterest. You will find a lot of beautiful pictures that you can pin on your own personal pinboard. So, let's start pinning!
Also on our website you can find lots of possibilities. When you have a look at our products on our webshop, you will always find pictures of our products integrated in an interior. You can definitely get inspired by these pictures.
If you put all these sources together, you can achieve a wonderful result.
You will probably find yourself in one or more of these living room decor trends and I hope that I got to inspire you to give a new life to your interior. You do not need to start renovating, but you can definitely start by adding some small details. Let us start by adding some nature to your home! Have fun decorating!