We are nearing the end of the 2017 which means 2018 is right around the corner! A new year means new on trend interiors, not just in fashion but also in the design interior world. In this article you will learn about all the new on trend interiors and furniture in 2018 by looking at this years' Milan Furniture Fair: The annual event where the biggest players in furniture and home interior design come together to show what the future of the industry has in store for us.
Milan's annual Fair for Interior and Furniture Lovers
The "Salone Internazionale del Mobile di Milano" or Milan Furniture Fair, was originally created in 1961 to showcase Italian furniture. Over the years it has grown to become the largest trade far of its kind in the world! Currently it includes 2,500 companies and 700 young designers at the Salone satellite, which is an exhibit next to the Furniture Fair. I believe it's safe to say that for all the new on trend interiors design and furniture this is the place to be.
The newest trends presented
So what are the newest home trends and decor trends that we will see in 2018 and what will the on trend interiors look like? Well, there are different things to look at such as the colors we use in our interior, the kitchen, bathroom as well as the furniture and homewares & accessories. There are a lot of changes and the biggest theme of the Fair revolved around an organic environment in your house. Nature seemed to be the focal point of the new on trend interiors with new stylish trends for color taking a natural twist as well as accessories and furniture. Let's have a more detailed look to what each room of your house needs next year to be completely up to date!
New colors
First things first. Colors are one of the most, if not the most, important elements in our homes. It determines the atmosphere we want to give to our rooms, whether it be warm cozy wall colours or more chic and cold popular colors. The on trend interiors of 2018 will make use of warm and earthly natural colors. You will find colors like Black Forest, Emerald green or watermelon red in different homes depending on the style of the place. It's all about the organic aspect, as I mentioned briefly before, and using so called "sophisticated" house colors or popular wall colors will be a big part it.
The new kitchen trends
Now to one of the rooms that we love to spend time in: The kitchen. Everyone loves a good meal and the kitchen is a place where we all love spend time. You might be familiar with the current "trendy" white kitchen with a lot of marble and a thick top on the kitchen island for example. The marble is here to stay but the latest design trends will be about black marble with a more discreet touch. Nowadays most marble kitchen islands have a thick top for instance whereas the new on trend interiors will show a lighter and thinner top for a smooth end result. Another interesting aspect is that plants in the kitchen will become very trendy fitting once again perfectly in the organic, nature interior picture. Last but not least is which elements in the kitchen have priority to be on display and which will find their place in the background. Storage cabinets and open shelf racks will find their place in the spotlight in 2018 where all of our electronic devices like the fridge, microwave etc. will be more hidden and on the background.
Your new living room with all new furniture trends
When it comes to furniture trends, the key ingredient for 2018 will be comfort. We will see low, fluffy and curved sofas for example. With plump shapes and soft material furniture will be a delight to spend time on. Another interesting fact about new on trend interiors is supersized furniture where the rule "the bigger the better" will be the main focal point. Fringing will also set to make a comeback to add just a little bit of flair to your room. Whether it is on a pillow or on the end of a sofa, it will make a comeback next year.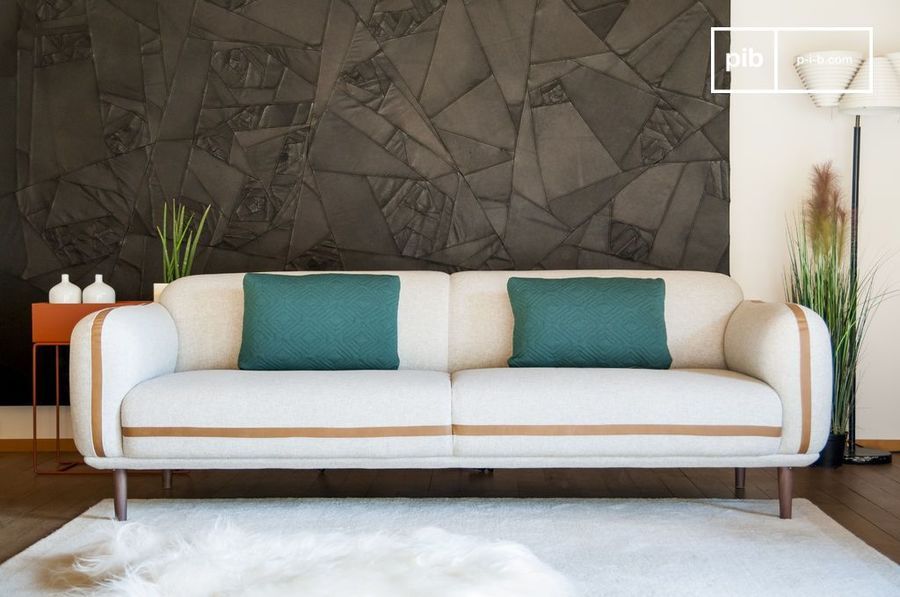 Three Seater Sofa Britta
Homeware & styling and new bathroom trends
When it comes to homeware trends and styling, 2018 will have some similar and some new interior trends and home and design trends. What we saw in 2017 and before was that the use of big indoor plants is something we all love to do to make our interior have a green touch. This is something that, hopefully, is here to stay for a long time since we all benefit from a bit of nature in our homes. A new important aspect for on trend interiors that is entering our homes is the use of textile wall hangings that bring an organic touch to the room. They are full of dark natural colors and bring a modern touch to the room.
When it comes to the bathroom there are some changes in what will be trendy. Here color trends will be the main new aspect as we'll find dark and organic colors being added. Not only through the use of bathroom tiles but also by adding a tub or basins that add beautiful colors to the room. Don't be surprised to find colors like dark green, brown or charcoal in the bathroom of 2018.
So what can we expect of 2018?
So what will 2018 show our modern interior design and furniture styles? As you can probably guess by now colors and an organic style are the main theme. Natural elements and dark natural colors will become popular in modern day interior home styles and on trend interiors. The white marble kitchen will change into a black marble kitchen and our living rooms will be filled with supersized curved furniture. Hopefully you've enjoyed having a look into the future of interior home design and furniture, maybe you even have some home interior inspiration after reading, and are ready for the new year!