French shabby chic is visible by many essential elements in an interior.
Charming spirit and romantic decor
The main principle is the search of softness, well-being, lightness, obtained thanks to a lot of objects and well-thought ideas. French shabby chic, is a highly seaked style and adapted to any kind of interiors, from the most classic to the most atypical. An environment of pastel and paint well combined is called a charming and calm spirit, and sets a sought refinement. A intimate and rather feminin atmosphere where one can live peacefully and naturally with one's family. Shabby chic decor respects a few principles that can be set in any room of your house.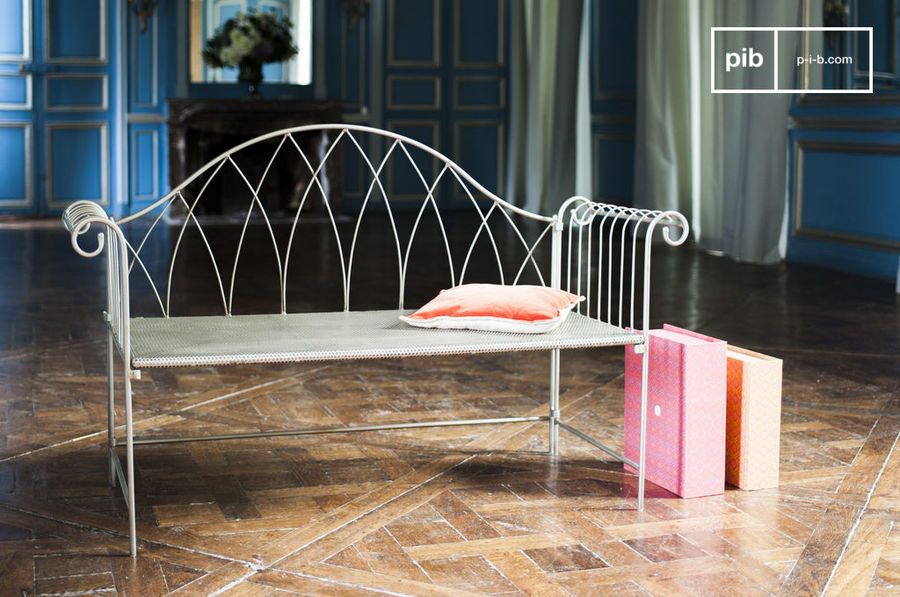 Grey bench Metalo
The shabby chic decor and its codes
Colors must absolutely appease to set a charming country style spirit. Shading of off white are recommende, and can be over used, on walls and large pieces of furniture. The whole can be spotted with soft paints, such as light green or powdery pink, but grays are also a good alternative and can adapt to shabby chic decor. Walls are also delicately decorated with flowery wallpaper or light patterns. Floors are also importantant to improve a shabby chic decor, so they must exhibit a certain authenticity. A pickled parquet, painted, or cement tiles with patterns, will bring this sought originality for the charming and atypical spirit. The necessary materials for a French shabby chic decor are multiple, and can easily be mixed together. For its environmental side, the natural wood of ancient look furniture is perfectly adapted, and must be surrounded with porcelain, nacre, or glass accessories, for its delicacy. Les tissus sont la pour réchauffer l'intérieur et pour obtenir un côté cocooning et cosy. Ils seront élégants et naturels, comme le lin ou la dentelle, et peuvent être joliment décorés avec des motifs floraux. Enfin, les meubles d'inspirations retro sont à l'honneur, et suscitent immédiatement la deco romantique recherchée: style boudoir ou bohème. L'ensemble des meubles imposants peut s'accompagner de petit mobilier gracieux, comme des secrétaires, guéridons, ou coiffeuses.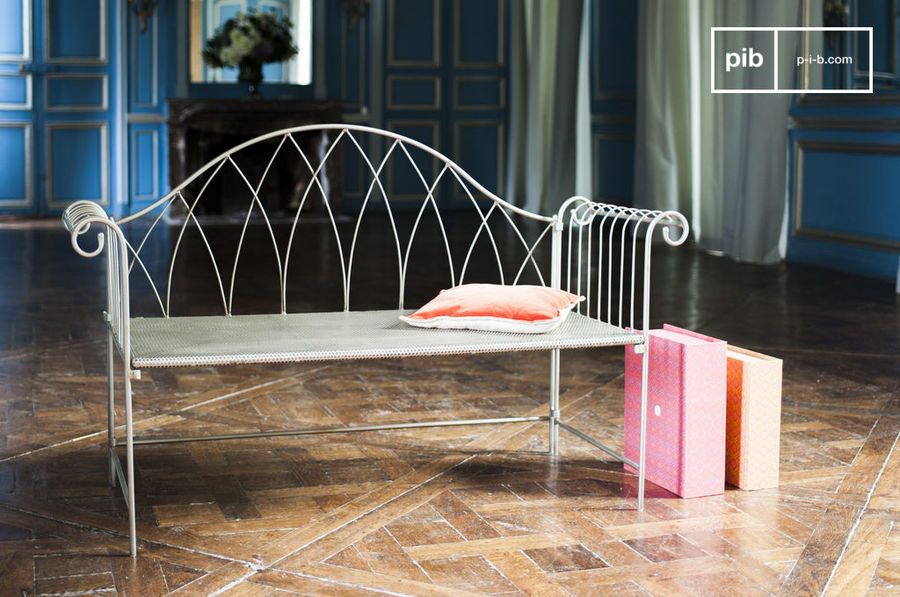 Grey bench Metalo