Suitable for all interiors, shabby chic furniture is highly adaptable, and enables one to create a romantic atmosphere in an apartment, house or even a loft space. The charm of this atmosphere is created with the help of decoration that wishes to be original and defy conformist ideals of waste and consumerism. This iconic style is characterized by its rustic appearance that conveys a distressed vintage look that contemporary tastemakers crave.
Creating a setting for shabby chic furniture is done with a search for an authentic look, in order to refine each detail. This boho rustic style is refined through the use of fine and durable materials that show the effects of wear and tear, which add a dose of authenticity. It also involves staging a scene; possibly with slightly patched up floors, astutely faded walls, and aged furniture that all work in a refined and complimentary fashion. All these traces give a unique soul to shabby chic cottage furniture which allow for a calm and soothing interior to take form.
Including authentic charm with shabby chic design
Creating a warm and inviting ambiance
Shabby chic rustic furniture provides an authentic design element to our interiors that give us great pleasure throughout the designing process, and also after when trying to maintain and refresh this specific atmosphere. It is a hospitable ambience full of life which we hold in high regard and acts as a sort of design sanctuary.
The furniture itself is often found at flea markets, is reclaimed, or could be reproduced editions of vintage pieces that have been superbly distressed to create a vintage appearance. Extravagant decoration with intriguing small objects scattered here and there, alongside well tamed furniture add simplicity and help create the bohemian feel that decorators and design enthusiasts strive for. The use of warm and soft colours, accessories revived from the past, and tasteful yet imposing furniture put in its rightful place, all are examples of design elements that help create the ideal atmosphere.
The eclectic nature of this design approach allows for the possibility to include other styles that could enrich the overall design of a room. Shabby chic furniture derives from a wealth of authentic design attitudes that are being revived today with the renewed enthusiasm for retro and vintage decor. This has lead artisans on the search for reclaimed and recycled furniture that could be refinished and distressed in order to allow the authentic charm of vintage furniture to shine through.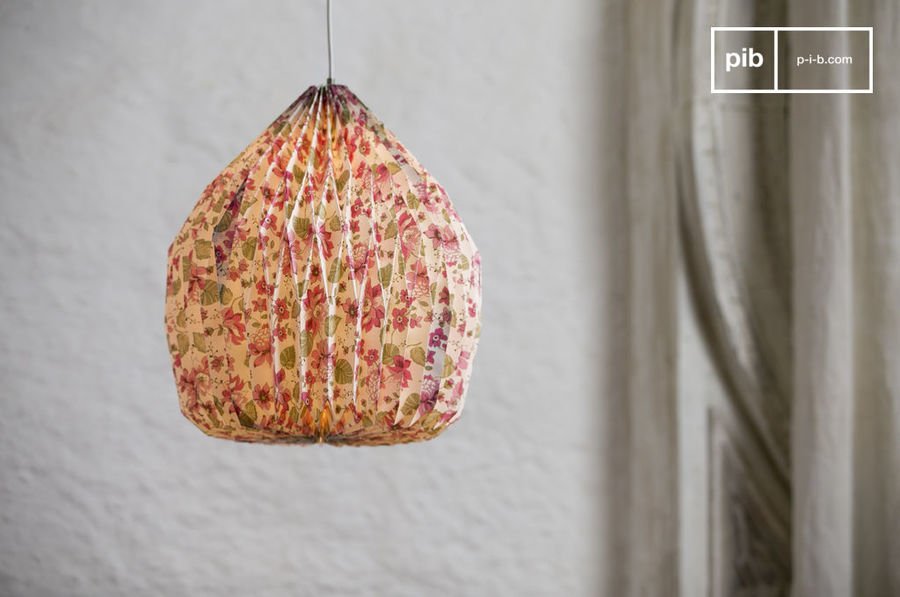 Original origami Pendant Light
The origins and history of shabby chic furniture
This inherently rustic furniture style has its roots traced back to Britain and the endless amount of once thought of as modest furniture that filled numerous country cottages. This collection of distressed and worn furniture gained critical acclaim and popularity during the 1980s during the rise of expensive modern décor. The phrase itself was coined by British designer Rachel Ashwell, who published a series of books, and opened a chain of boutiques named after the newfound expression.
A large aspect of the growth behind the design craze involved the use of reclaimed and recycled materials and furniture that helped give modern bohemians that elegant but yet rough around the edges appeal they aim for. The design trend eventually found itself in California, where certain circles who appreciated the bohemian overtones of the style, started to recreate their own adaptations of the style in their own homes. People who have a dedicated taste for shabby chic design and don't mind spending some time and effort, are commonly found fishing for old pieces of furniture and other decorations that could be detailed, repaired or left as is, in order to make a great pairing with their existing decor.
As opposed to the counter-culture routes it was once birthed from, shabby chic furniture today strives to give modern interiors a rustic feel that is so desperately needed in homes that need a touch of warmth. Other influences stem from Italian and French Mediterranean design, such as the pastel colours seen painted on some furniture. At first this style of decor was seen as a sort of artwork that was prized amongst circles who had the desire to display their level of class and effortless elegance. Today the design style has become a definite trend that acclaimed designers such as Rachel Ashwell amongst others, have championed and carried through the last 30 years.
Finding the contemporary rustic elegance within Shabby furniture
Hunting for and creating vintage furniture
The popularity behind the style has helped create an industry of furniture makers that specialize in giving their furniture that rustic yet elegant look that designers and aficionados look for. The use of earthy tones and pastels give pieces such as wooden chairs, chests and shabby chic dresser a hint of French style.
Certain methods have been used in order to give newly constructed pieces the rustic look they wish to achieve. Techniques such as, using many layers of paint and then carefully using sandpaper to file down the piece of furniture in specific areas where wear and tear becomes apparent in the future is commonly used. Many other methods are used in order to give furnishings the distressed look connoisseurs of rustic furniture look for, such as the staining of linens and cotton with tea or over washing of materials with the goal of fading the material in order to give it more of an antique appearance.
The influence of this rustic design style has also made its way outside of the home and is evident in garden furniture design. Commonly used materials such as cottons and distressed wood are frequently paired with other pieces crafted with aged or died metals that help provide a variation in materials and also works as an accent in a room or garden that may need a touch of eclectic flare. The beauty of shabby chic furniture is that it affords you the liberty to incorporate several different design styles within one room in order to create an varied interior. What works best is up to the designer and their unique style, which makes shabby chic furniture design the ideal type of décor for the freethinkers of the world who prefer to not base their design ideals off of preconceived notions.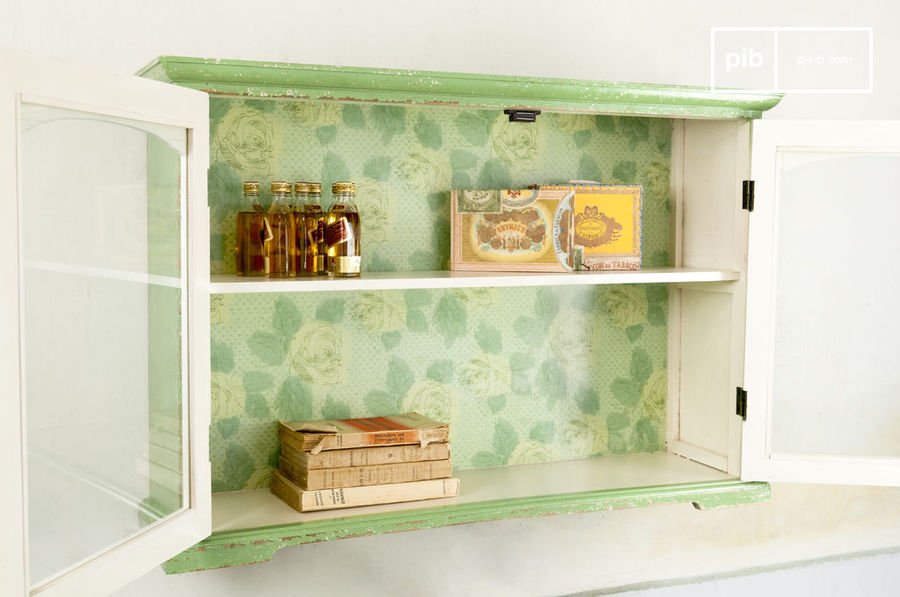 Boho Wall Cabinet
Resurgence & Reinvention
Just as any other design style or trend, the movement has come in and out of fashion throughout the last 30 years. In the early 2000?s the style was deemed as being limited, as it only catered to more quote on quote feminine tastes and had a tendency to overuse different types of whites. However this type of rustic furniture has made a recent resurgence in the design world and has garnered the attention of the general public once more. The environmentally friendly aspect to this rustic design approach has seen the style become popular once again, as the desire for reclaimed and recycled furniture grows.
There is also a large group of people who look for the warmth and inviting nature of this rustic design approach that is hard to find elsewhere. The style has evolved from its narrow image as an antique filled décor and has found new influences from various other styles such as that of Swedish painted décor, American Shaker and French chateau.
The often thought of as drab and dull colours associated with the design trend have evolved into more vibrant tones such as turquoise, emerald or marsala (which Is a darker magenta like colour), to name a few that have been able to add a touch of bohemian funk to the colour palate of shabby chic design.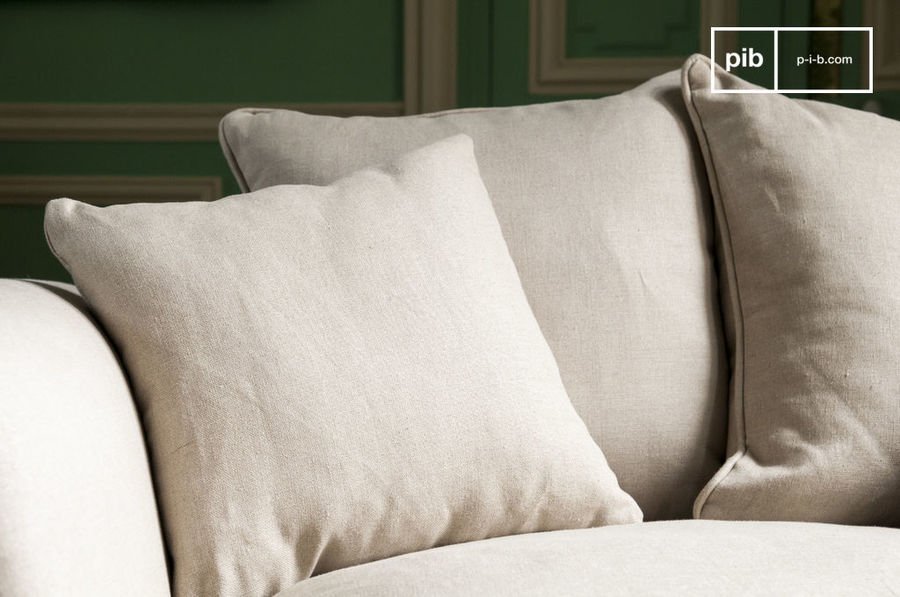 Armchair Grand Trianon
The versatility of vintage furniture
Shabby chic design has been a catalyst in the vintage furniture industry. Aside from the not always profitable yet frequently unaffordable antique furniture market, more modest and less expensive vintage pieces have been scavenged and refinished with expertise and then resold.
The authenticity and charm of reclaimed and recycled furniture has also fuelled some growth within the furniture industry, and makes for the perfect material or furnishings to be detailed in a rustic manner. Vintage and retro furnishings are ingrained within the DNA of rustic shabby chic furniture, as it was born out the concept of reusing worn furniture.
The pairing of vintage furniture and more recent décor could strike the balance in design tastes that work together to create a sense of contemporary rustic elegance. For instance the use of a white sofa with large fluffy down filled pillows accompanied by the sleek lines of an industrial coffee table, make for the perfect pairing.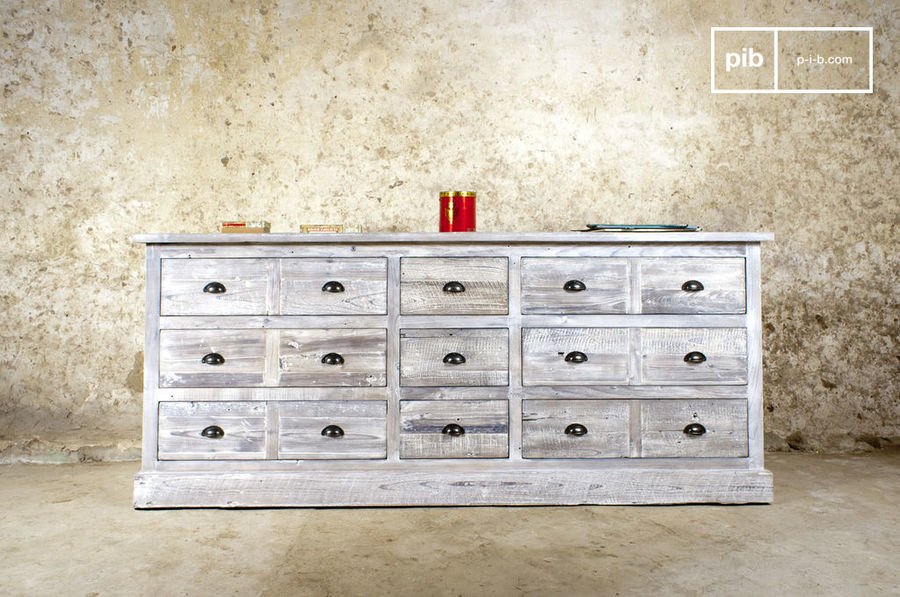 Large apothecary's counter
How to create a boho chic look
Bringing a shabby chic interior to life
Creating a shabby chic interior is a process that involves discovering truly unique pieces in flea markets, garage sales or various other locations where second hand furniture could be found, or pieces could be simply bought from various furniture makers who specialize in creating the shabby chic effect. Many pieces that are found or purchased second hand, become DIY projects that allow designers the ability to garner their desired look.
The most prominent colour used for this design style are different types of off whites that are beautifully complemented by touches of colourful pastels. The combination of the French chateau influence and soft Mediterranean pastels, make for a chic look. For instance, placing antique armchairs that radiates the grandeur of a French chateau in the corner of a room, sitting in front of a pale green set of trio tables, each marginally smaller than the other to make for the perfect fit, would be the picture-perfect start to creating a shabby chic living room. A few pastel coloured accessories like throw pillows for the sofas and pale coloured picture frames placed on top of a wooden shabby chic sideboard would complete the chic yet rustic look of a country side cottage.
Shabby chic décor could be adapted to any setting, thus making it a desirable theme to decorate entire homes in some cases. Outside influences that have been transforming the design style over the years such as painted Swedish décor, French chateau, and American Shaker as mentioned before, have been able to create a more versatile design language that could cater to different tastes, but first and foremost, help create a balance within a room. This could be displayed in the form of a scandinavian sideboard with painted drawers, positioned under an off white Napoleon styled wood mirror. These pieces would fit perfectly in a dining room fitted with rustic wood floors and a painted French shabby chic dining table.
The genius of shabby chic furniture design is its undeniable versatility which allows people to create their own style and reflect their very own personality through their furniture décor. Although more modern designs in the art deco world may dominate the industry, it is quite evident that the touch of warmth and cosiness offered by shabby chic design is hard to find within the realm of modern design.
Accessorize where it counts - What decorative accessories can achieve
Little pieces that can exuberate the personality of the home owner through a room are just as important to the shabby chic design fashion as the more prominent furnishings found throughout a room. Decorative accents such as colourful ornamental bookends or vases that can be placed on top of tables or chests, are just two examples of the endless amount of decorative items that give a room the necessary flare.
The hunt in finding accessories that fit in with a shabby chic décor usually brings designers to the same antique stores, garage sales and second hand shops where they found their furnishings. Although accessories make for a nice highlight within a room, it is just as important not to over accessorize and have your living room end up looking like an antique store.
Remember not to use too much of an overbearing theme like having to many animal shaped ornaments for example. A combination of old and new decorative pieces would be recommended, to help keep that much needed balance that so many shabby chic design fans strive to achieve. Keep in mind that accessories could be just as noticeable as a stunning piece of furniture, and thus deserve the attention to detail, as they are exactly that, they are the fine details that complete a room.