The living room is the central hub of the house. It is not only the crucial place between the kitchen and the entrance area. It is also the space where you welcome family and friends, and a place where you can calmly recharge your batteries after a hard day's work. This shows how important it is to set up the living room well and how much this topic deserves our attention. You don't have to change everything to freshen up the room. By changing the colour of a wall, refining the lighting or showcasing your favourite pieces, you can truly transform the living room. By carefully selecting modern furniture and improving the layout of the room, you can make the living room a place where you feel comfortable and that suits you. Follow our tips and in no time at all the living room will become the heart of your home (again).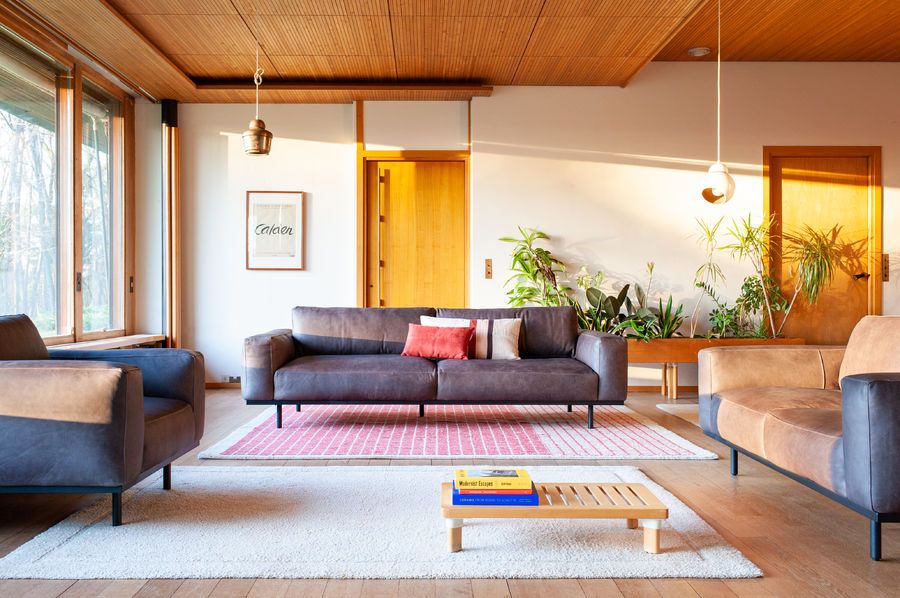 Almond sofas in grey leather
1- A sofa, yes. But which one?
A living room should be cosy, so you have to choose the right sofa. This rather voluminous piece of furniture is the indispensable element in the living area, but there is a wide choice of couches. It all depends on your interior design style and the size of the room. Start by choosing the right place for the couch. It should match the dimensions of the living room.
If the living room is large, you have the option of placing the sofa in the middle or even having two sofas facing each other, for example. You can choose a large model such as a corner sofa. It will be a central element of the furnishings for a loft. If the living room is small, it is best to place the sofa against a wall and choose a straight model with two or three seats. If the room has a staircase leading to the first floor, you may be able to pack the sofa under the stairs to gain more space.
Dare to use colour for the couch in the living room. The colour of the sofa does not have to be striking, but it works wonderfully when it is intense, confident and never mundane. It can add a lot of character to a room. So go for camel, marsala or water green, these are colours you don't see every day in the living room.
The sofa is essential among living room furniture, but don't forget the other seating in the room. Everyone needs to be able to sit, so choose armchairs too, or stylish chairs, and why not a metallic industrial-style stool or a trendy pouf. Opt for simple, sleek lines, especially if the living room isn't huge. Think metal chairs with an airy design, for example. Now more than ever, space is a luxury good, but you can create it by arranging your living areas intelligently.
2- An original coffee table
The ideal complement to a sofa in the living room is, of course, coffee tables and side tables. Don't choose them too large to facilitate access, and instead opt for two or three small, matching coffee tables that you can set up as the mood takes you or as needed. The most popular side tables at the moment rely on natural materials to create a warm atmosphere and add a modern touch to the room: Think rattan, wrought iron, marble, untreated wood and lacquered table tops.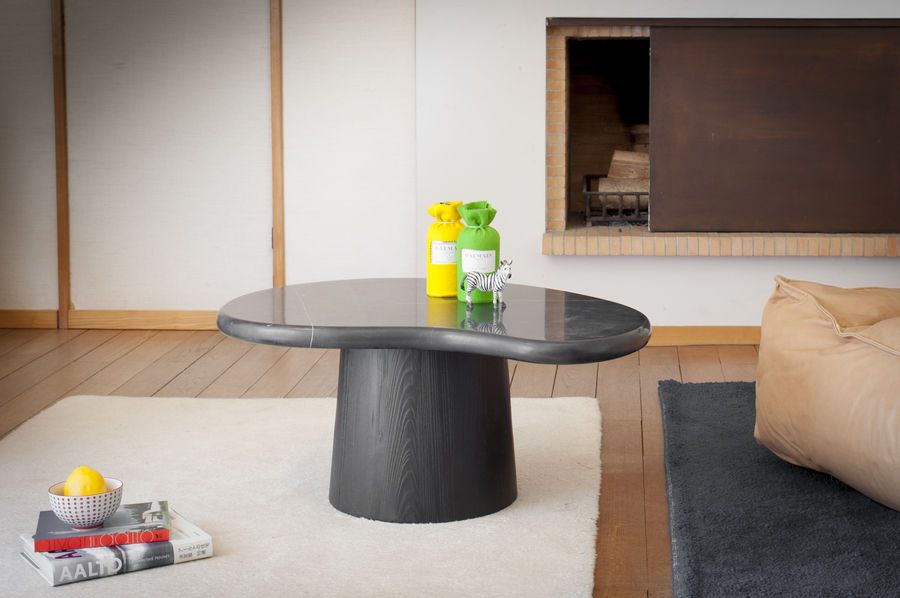 Fassola marble lounge table
3- It's all about the shape
The sofa, the other seating furniture and the side tables should also match the shape of the room. The furniture should be placed according to the space available. In a square living room, do not place your sofa in the middle, as it could clutter the room and make it difficult to pass through. Instead, place it against the wall. Square living rooms call for furniture with rounded shapes to soften the very structured shape of the room. L-shaped living rooms easily allow for a division into two separate areas, that of the living room and, for example, that of the dining room or an office. Long living rooms should be structured into several separate areas to avoid the impression of a hallway. A corner sofa, a screen or a half-height bookcase can thus structure the space of a long room. A half-height partition, e.g. a palisade, can also be placed at the back of the sofa. Another trick to structure a long room is to use an original wallpaper that is only applied to one part of the wall. It serves to design areas and gives character to the entire room.
4- A living room that suits you
Your living room should match the activities that take place there. Do you work from home? Then a cosy office corner is appropriate. Make room for hobbies, too. If your passion is playing a few Bach sonatas, a piano or cello corner is ideal. If your children and their friends are enthusiastic about computer games on a console, you should plan some space between the screen and the coffee table. Younger children will not yet be interested in TV screens, but will ask for a play area on the floor with an appropriate carpet. If your passion is reading, come up with something special and furnish the walls of your living room with a large library, without forgetting a comfortable armchair nearby. Remember to choose an original bookend. Don´t forget a beautiful floor lamp so you can read undisturbed. That way, you'll always have your favoriite books at hand anda place of happiness that´s just yours. Is cinema your passion? Then you should plan a white wall for video projections in the rules of the art. So,affirm your interests in the room, create a pleasant living room that looks just like you: it´s the key to daily happiness.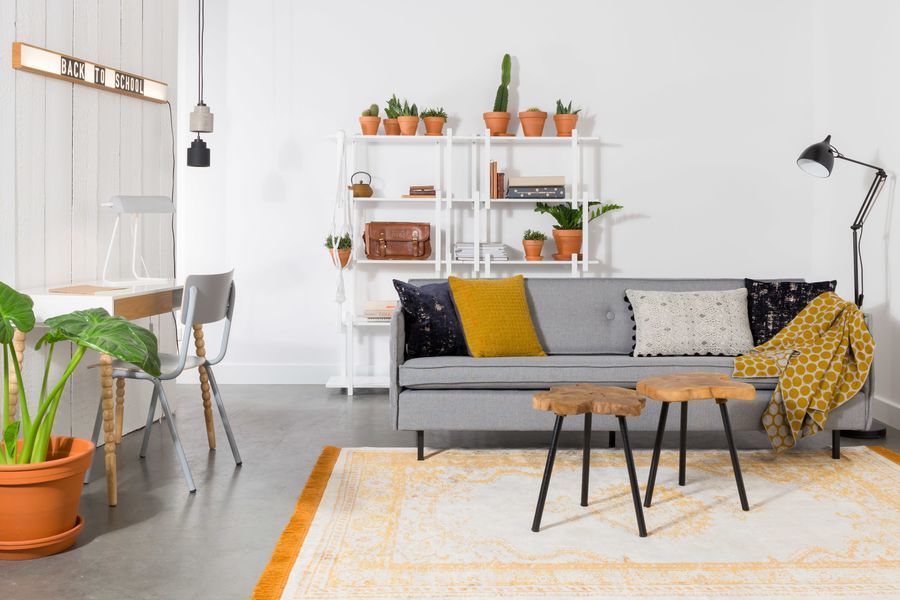 Integrate an office area
5- Everything in its place
Keeping things tidy, keeping them tidy, is essential. Use meaningful and clever storage options. The available space in the room height can be used with high shelves and storage boxes in or above the cupboards. All this intelligent storage should be discreet: The shelves should not be the first thing you see when you enter the living room. If necessary, hang a simple curtain in front of your storage shelves, made of a fabric that matches the decoration of the room: This way you enlarge the space. Don't overload the sofa with countless cushions. Too much decoration destroys the décor. Just choose one or two decorative cushions, that's quite enough. Your coffee table may feature drawers, so that you can store anything lying around in them, such as TV magazines. Your TV unit can also be equipped with a double table top. Remember that the living room can potentially be used for lots of celebrations and aperitif evenings with friends: So you should be able to store everything easily so that you can create a festive evening that honours you.
6- Bye bye, accumulations
Keeping things tidy is not everything. You also have to make sure that you don't overload your living room with too many furnishings. This does not mean that you have to do without your collections and favourite pieces. In fact, you should keep and showcase them because your living room should be able to reflect your personality. It is a part of you. So, for example, a beautiful display cabinet will show off your treasures while preventing them from cluttering up the room. It will help you create a space that is uniquely yours, a worthy witness to your interests, passions and memories. Your display cabinet will house and protect your selection of objects, whether it's a large shell from Bora-Bora, an African craft mask or your most beautiful photo frames. Your collections of objects, your favourite pieces and your travel memories deserve a worthy setting. Be careful not to overload the walls with too many picture frames, but make a selection. This will only make the living room look bigger.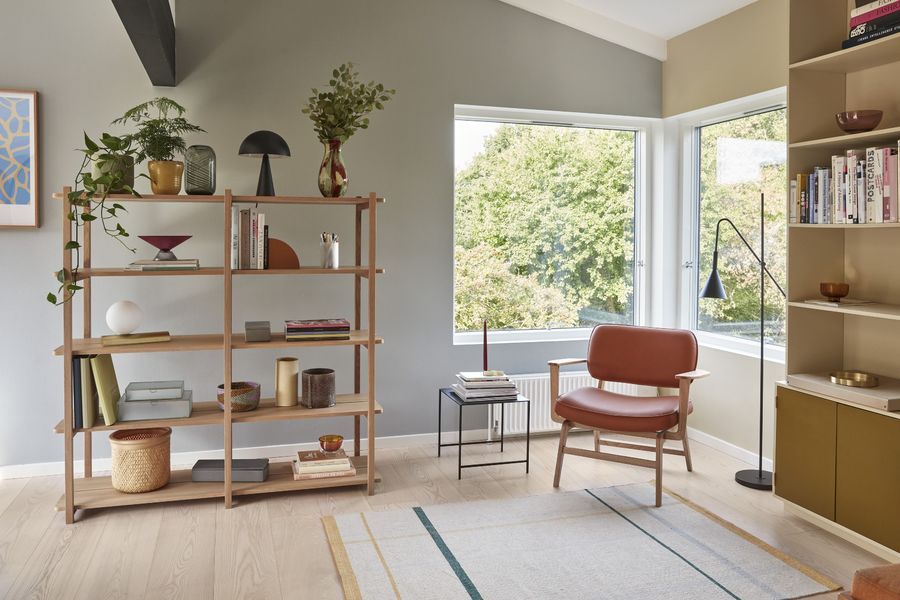 Showcasing objects
7- Lighting, a decisive element
Use the light to your advantage. So start by favouring light colours on the walls, such as creamy white, grey or beige. After that, don't skimp on the quality of the lighting. The brightness should be optimal, pulling out all the stops: natural light from the windows, light from ceiling lamps and some lights in strategic places, such as a reading corner. If the room is not sufficiently lit from outside, use mirrors that reflect light endlessly. Your lighting will highlight your chosen colours and style, but beware of too much monotony. Whether you choose a shabby-chic style or a modern industrial design, for example, the harmony of colours and styles should not lead to uniformity.
8- Mix of styles
But among these soft lights, remember to break the codes and surprise, for example with a retro lamp placed on a table in a decidedly contemporary style or with a pendant lamp with vintage charm in an industrial loft interior. Amaze your guests with a comfortable velvet Voltaire armchair placed next to a sofa with geometric modern lines. Have you gone for Scandinavian style, untreated wood and a very simple style when furnishing your living room? A cactus, a statuette or an illuminated decorative bowl make all the difference. A piece of jewellery from a faraway land brings a touch of the exotic and evokes fond memories of your travels. This brings a certain cheerfulness and originality to the room without overloading it.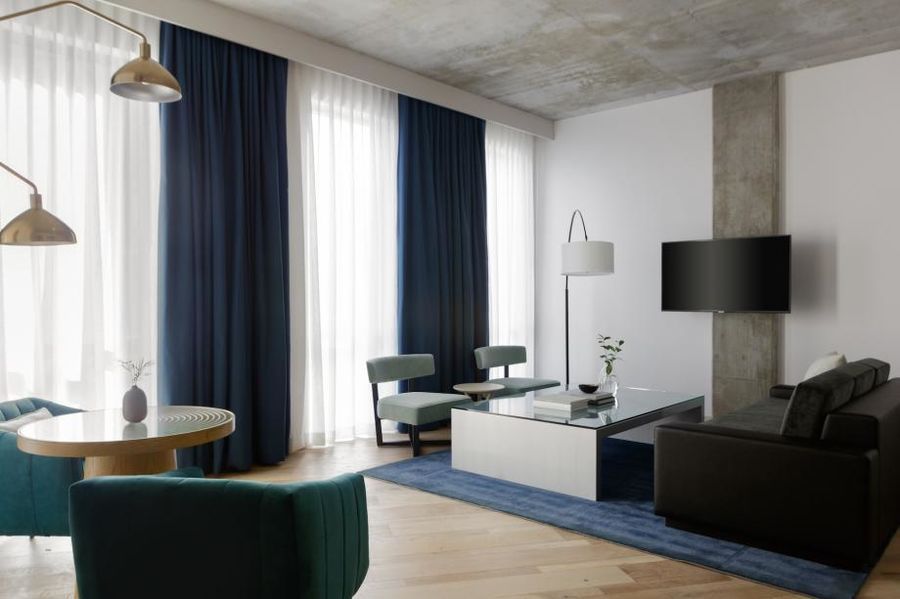 Welcoming living room
With a little ingenuity and some well-chosen furniture, you can work wonders. Your daily life deserves a pleasant and friendly living room, a living room where life is good.