Now we have learned about the newest Interior Design Trends for 2018, thanks to the previous article on the Milan Furniture Fair, a natural touch for accessorising will be the essential thing to keep in mind! Therefore, we will look into trendy design ideas on how to display nice indoor plants. We all know that it has already been popular for quite a while to "green up" your home with houseplants: A real feal-good environment is created as nice plants create a cozy ambience. In this article I will explain the "how to" according to modern trends. No matter if you prefer large house plants or if you fancy the best small indoor plants as home base plants (of which cacti are still high on trend), the natural look of your interior can easily be improved if you consider some stylistic tips!

Beside the newest advice for houseplants, it is always a good idea to add small design accents with the use of pretty vases. Modern vases often have an irregularly tinted glass texture similar to vintage vases, whose look fits perfectly in line with a simple bouquet of dried flowers.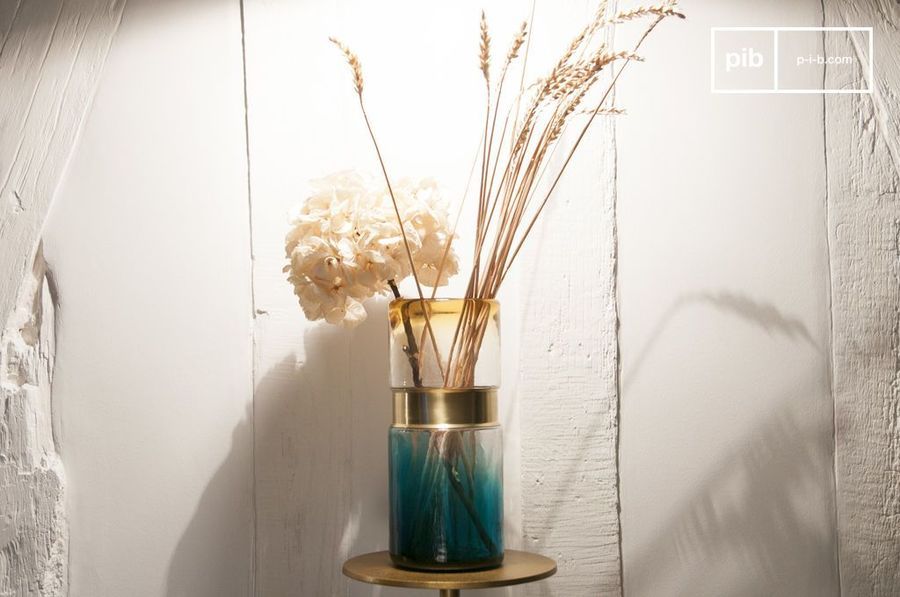 Brassbelt Glass Vase

But let's now look at the newest trends for your room plants:
Decorating with Ivy: A Classic
Decorating with Ivy is a classical idea when using small indoor house plants to create a natural flair in your Interior. Ivy can be displayed in many ways (and in many rooms). A very popular way to display Ivy in the bedroom is to plant it into a small pot which you can place on a wall shelf. If you have a large wall which needs some decoration, this will add a green touch to your bedroom area. Otherwise, you can also place your Ivy on a windowsill in any room! The Ivy line pattern is a very filigree and natural one (yes, even "natural" for plants!) which is in great balance in the surrounding of a bright window area with natural light.
Plants in Glass Terrariums: 100% On Trend!
This is absolute the latest alternative to little potted plants: Plants in Glass Terrariums can be very stylish replacements. You can find many DIY instructional tutorials online to show you a step-by-step on how to do this. You may look into them and find out about all the ingredients you need (think about the accessories you may want to add in the Glass as special "Extras"). Since the trend started to emerge in 2015, there are now a lot of plant shops focused on selling Glass Plant Terrariums to display small houseplants in a beautiful, transparent way. The geometric plant terrarium with its balanced shape is very popular, but you can find many different forms and sizes, too! Some exotic potted plants, cacti and parrot leaf plants are very popular as small potted plants, but they can also look great displayed in a transparent Glass Terrarium!
Plants for the Bathroom: The Orchid & the Spider Plant
In the Bathroom, it is a good idea to choose houseplants that like a lot of water, since the water usage in the room also affects the air humidity. The ideal houseplants here are the Orchid or the Spider Plant. You may want to choose the Orchid if you want to add an evocative touch because of its colourful flower, whereas you may choose the Spider Plant if you are looking for something with more consistent green foliage with a sleek feel. Either ways, your bathroom interior will profit from this natural touch from these suitable indoor plants!
Plant Hangers: The Indoor Fern & Plant Mixes
Plant Hangers (especially Macrame ones) are THE modern trend to display your houseplants in a stylish way! You can choose from classical plant hangers with bright ropes and a classical brown ceramic pot if you aim for a classical vintage look. Choose between different original pot plants: A suitable houseplant to be planted in it is the Indoor Fern. The multifaceted look of the filigree leaves are in great contrast with the minimalistic design of the plant hanger in the air. Besides, the Indoor Fern plant can also increase the humidity in your home and counteract dry air in your room, which may especially occur as a problem in the winter when you constantly need to heat up your room.
Large plants for your Living Room: Patterned plants are a good idea
Your living place is the space where you usually spend most time, so you should try your best to make it as cozy as possible. Think of nice matches between your furniture and accessories in terms of design and proportions. Try to think bigger: Curvy, big furniture and large houseplants are a good combination! Even if the living room is only medium-sized, tall indoor plants such as indoor tree plants are good elements to start of with. Even one large house plant already sets a great design statement and it creates a relaxing ambience. Two small indoor trees can change the whole atmosphere of an interior and enhance a balanced look through symmetry! You do not want to add too many different elements in your living room as this could make it too messy, so it is useful to work with large indoor house plants: And Patterned plants are a good idea!
Consider that if you only use a few large houseplants (maybe one for the beginning), contemplate original leaf patterns for a creative look! A good example is the commonly known Snake Plant (also: Sansevieria trifasciata) which got its nickname because of the shape and sharp margins of its leaves. The pattern consists of darker and lighter green nuances, which makes this large indoor plant a very interesting one to look at!Overall, you can find many stylistic big indoor plants, so the difficult part may actually be to choose the one you like the most!
Last but not least, a fresh flower bouquet should not be missing in any beautiful home! It is true that potted plants and flowers and flowering plants are very pretty elements in any area: Displayed in a bedroom, a dining area, a kitchen or a hallway. You do not need to have a fresh one every day, but it definitely improves the look of any stylistic interior! To accommodate colourful flower bouquets, you may want to choose a Ceramic Vase to set a contrast between modern design and a traditional concept, best combined with the natural appearance of colourful flowers. Because finally, being on trend in 2018 will be about setting natural accents with houseplants to overall brighten up your interior with plants: With long lasting ones and temporary ones, too!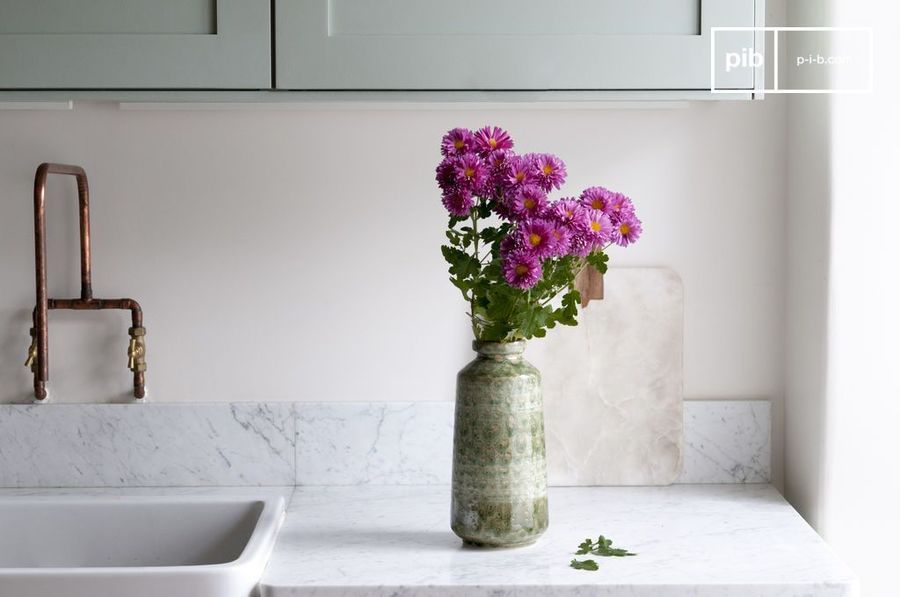 Ceramic Vase Eva