Are you also lovers of interior places that are warm and welcoming? If so, there is nothing better for you than a selection of wooden objects, whose natural colour shades give a soft and delicate tone to your environment.
1) That's why wooden objects are always a good idea!
An undeniable advantage of the wooden objects is definitely their adaptability to a lot of different environments: indeed, unlike metal articles in our home which give a strong modern touch, wooden objects are timeless. In case you decide to make some big changes to your interior style, you will still be able to keep your solid wood furniture and reinvent it for your pleasure, giving them a new lease of life.
Moreover, because of the classic charm, you will never get tired of wooden furniture, always finding new inspiration and being able to revamp your interior space with the sensations of new products made from wood.
It could also be interesting to look for something new, once at your place; you won't be able to live without it anymore!An example could be a particular lamp, which may have a wooden upper part and be of original and unique shapes. More over, a wooden coat stand with a creative structure could change the aspect of your room, adding a colourful touch.Another idea could be to insert a big lamp or amirrorin your living room, an accessory that will bring a breath of fresh air which you could move around your place freely.
2) Different wooden styles for different home styles
Every house has its own style and this is an undeniable truth. That's why sometimes for us it becomes difficult to match everything to the same style and we have to try to coordinate every colour in an interior with a well-defined style. Some easy rules can make your life easier.
In fact, if you love light colours, soft shades and that rough, timeless style, your best choice can be industrial style furniture, in which the main characters are furniture with authentic soul. In this case, it's perfect to have some rough wooden furniture, like a big table, perfect with some wooden chairs and wonderful vintage style sofas to complete the scene.On the other hand, if you have to furnish a bedroom, why not choose a wooden chest of drawers or some dark wooden bedroom furniture to put with an open wardrobe or metal accessory.
If you prefer the Scandinavian style, a cleaner feel with lighter colours, typical from the northern countries, where light is lacking and interiors are made to appear as luminous as possible, the nuances of light wood and the simple and geometric design will be the principal characteristics. Modern interiors can easily be seen with a lot of tables, especially smaller tables, whose spindly and elegant lines can make the environment feel much lighter. Also, accessories complete the environment around them, they are useful but without making everything heavier, unlike rough wooden furniture. Very important will be also considering the dimensions of the place: if you have a small loft in the city center, one of these styles will be a wonderful alternative to furnish the space you have, where the available surface is limited and everything has a specific position and role.
Another style that is becoming increasingly appreciated is the vintage style, a universe of furniture that seems to come (or that really does come) directly from the last century. In this case, unmissable in your collection of furniture is a wonderful rough wood wardrobe to add to your solid wood furniture.
3) The perfect match to your wooden objects
The perfect matches with wood, especially rough wood, at first has to be decided amongst the different wood types, from the limitless wooden art world. A good starting point can be to keep the same wood type for the whole furniture of the house, from beech tree furniture to oak ones, there is a wide variety.To combine darker wood colours with warm tones can help incorporate some colourful touches into your interior space. Meanwhile, rough wood colors can be combined with 'colder' furniture, such as opaque or polished ones, for a good looking effect. There are also other elements to be considered for these matches, like sofas and armchairs in a living room or in a bedroom.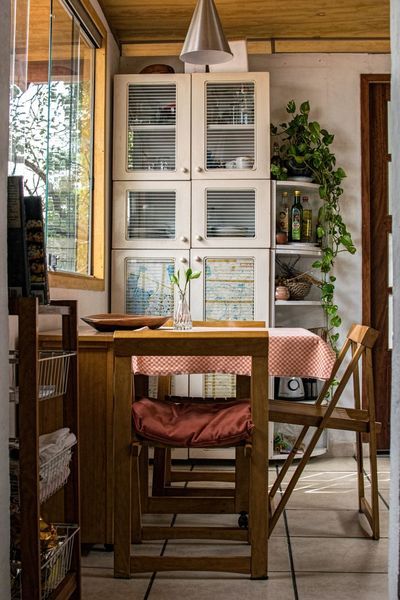 cucina legni diversi
If you want to be sure to have enough harmony in your rooms, your first choice has to start with one of the main furniture pieces and then match the rest accordingly.
As you have probably understood already, wood can be a good ally for our interiors and for those who are unexperienced, it won't be difficult to find new furniture for the best space in their places!