Velvet materials became very popular, especially in the last years. Beside its beauty, there is a huge history behind this special kind of material. Velvet, a material that seems uncommonly sophisticated and spreads a vibe of richness and royalty. So what is velvet actually? Is velvet natural or synthetics? This specific material describes a special type of velvet fabric and is known for its pile.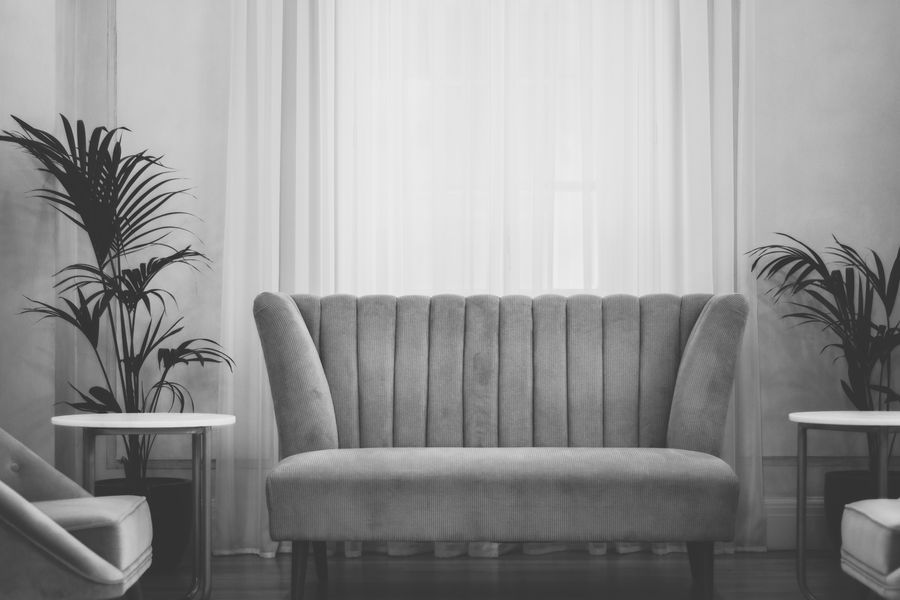 grey velvet charme
Velvet: an expression of elegance with an inspiring history behind it.
The theory about where velvet was first invented is not very clear and defining its origin is not that easy. Velvet textile definitely does refer to the European nobility, but it is also believed that its first origin comes from Eastern countries. Used to be woven from silk, back in the days in the Chinese culture, and known as 'quirong jin'. However, besides Asian countries, Iraq was also one of the first inventors of that beloved material. In Egypt, velvet was known for royalty and was an expression of elegance.
So let's consider Eastern culture as the origin of the texture velvet; once European countries caught sight of that high-end luxury good, they as well started to create their own industry for velvet velour. The first European country to do so, was Italy and they were very successful in the velvet-business. They even managed to remain as the largest velvet producers for 6 centuries, starting the 12th until the 18th. All countries in Europe were dependent on Italy as a supplier for velvet material that had such a vast request. Even back in time wealthy people used velour for their furniture and clothing, sometimes even for wallpapers. The 14th and 16th century can be called 'the golden time of velvet'.
During the Renaissance velvet was often combined with materials, such as metal or gold, to express the power of luxury and richness. One of the biggest customers in the velvet business was the church or very wealthy families that wanted to create an elegant interior, showing off their prosperity.
Time passed, and the Industrial Revolution appeared. In this era, producers managed to find a way to make the production of velvet material easier and faster, which caused in result a decrease of the impact of luxury and made it more widely available. Nevertheless, the association with richness and royalty stuck in society's head and patterned velvet fabric was still used to add a little glamour. In other decades, like the 1960's and 70's velvet described that glamorous vibe that was spread during this time. Nowadays crushed velvet fabric can even be called a trendsetter and used for many types of products, such as furniture, clothing, walls, carpets etc.
How to integrate and combine velvet material in your own interior!
We all love velvet, some more than others, but let's be honest: it definitely creates some high-end fashion vibes. But how can we manage to integrate this special eye-catcher in our Interior, without making it look too massive or flashy?
First of all, creating your own interior is always a matter of taste. But there are ways that can be seen as the preference of society's majority. Using velvet as part of your interior doesn't only mean that you want your interior to look fancy and luxurious, but also comfortable and that you are craving for a place where you can feel at home. The soft finish spreads a feeling of well-being and enables you to relax your mind and unwind.
However, most of the time this material is used in bright and flashy colors, such as light pink velvet, blue velvet or green velvet. In addition to that it often comes in simple shapes and broadens a comfortable atmosphere due to its warm colors and soft finish. Especially during winter or autumn, velvet is a popular material, but that does not have to mean that it does not fit your interior for spring or summer either. Due to the lovely colors it will brighten up your room and spread some real positive vibes. If you prefer modest colors you can choose a berry red velvet, grey velvet, navy velvet or even black velvet that might even underscore the elegance. But how can you combine a furniture that already consists of such glamour and still create a harmonious atmosphere?
If you choose velvet for your Interior there are many ways to combine it. A combination that always works, is for example gold accessories. Gold has the same effect as velvet, it looks luxurious and reminds of royalty. So integrating some gold accessories with your velvet chair, velvet sofa or plush velvet cushions is always a good idea. Of course, silver accessories fit the beloved material as well. Another material that is often combined with velvet is metal. You might think: Isn't that a breach of style? No! The industrial touch of metal is exactly what manages a healthy balance between glamour and shabby chic. In result, it will cool down the glamorous effect for a little bit and give your interior a more relaxed atmosphere. In contrast to that, if the glamorous vibe is exactly what you are looking for, you can also use marble in combination with velvet furniture. Marble has almost the same effect as velvet and gold, it kind of reminds you of elegance and richness. So what we learned is that to underline the effect of velvet material, using materials with the same effect it always a great choice. Whereas, if you want to create a healthy balance, you can even mix elegance with shabby chic and industrial design.
Velvet remained trendy over decades and will for sure stay like that. So if you are interested in a velvet sofa or a velvet chair, you can always ask our lovely Team for advice.