When you're considering adding any type of bar cabinet to your space, whether it's to create a stylish entertainment area in your living room or to enhance your dining room, there are several key elements to consider. These will help you make informed decisions about the ideal bar cabinet to suit your needs and preferences.
Key points to consider
Size of the space: how do you determine the space available?
One of the first important considerations when choosing a bar cabinet is the size of the space available. Before choosing a particular model, carefully measure the area where you plan to place your bar cabinet. Make sure you take into account the height, width and depth. This will help you decide whether a larger bar or a more compact model is better suited to your space.
You should also consider the amount of space needed to move around the bar. It's essential that guests can move around comfortably and that the bar doesn't create congestion in the room.
Finding a bar cabinet to match your interior
The bar cabinet you choose should match the style of decoration in your home. If you have a modern, minimalist interior, opt for a bar cabinet with a clean design, simple lines and contemporary finishes. On the other hand, if your interior is more traditional, a classic bar cabinet in ornate wood could be an excellent choice.
The colour palette also plays an essential role in the harmony of your space. Make sure that the colours of the bar cabinets match those of your interior. You can opt for bar cabinets with finishes that match your existing colour scheme, or choose a contrasting bar cabinet to create a striking focal point.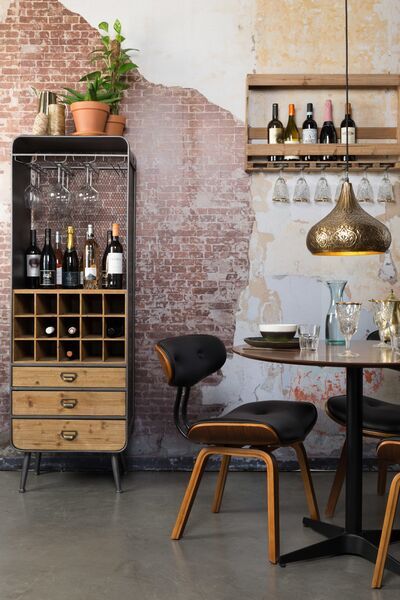 Bar furniture for an industrial interior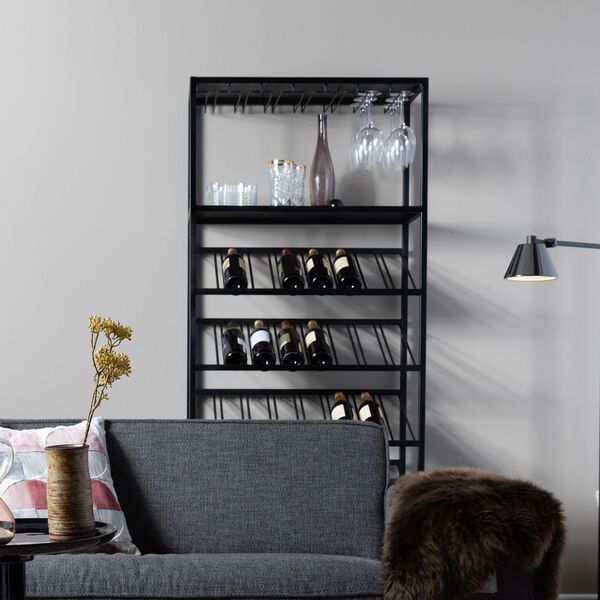 Bar furniture for a modern interior
Choosing materials to suit your lifestyle
The choice of the materials is a crucial step in the selection process. Materials determine not only aesthetics, but also durability and maintenance requirements.
Bar cabinets can be made from a variety of materials, including wood, metal, glass and plastic. Solid wood offers a warm, traditional look, but generally requires regular maintenance. Metal bar cabinets is modern and durable, while glass adds a touch of elegance, but may require more maintenance to avoid fingerprints.
Your choice of material should also take into account your lifestyle. If you have children or pets, durability and ease of maintenance are essential. Opt for materials that are scratch-resistant and easy to clean for worry-free use.
Necessary features
Finally, think about the essential features you want in your bar cabinets. These features can vary depending on your specific needs. If you plan to store a large collection of bottles and glasses, opt for a bar cabinet with plenty of shelves and storage. If you like to entertain your guests in style, look for bar cabinets with integrated lighting for a stylish ambience..
In addition, consider features such as bottle holders, hanging-glass hooks, or even a dedicated space for preparing cocktails. Additional features can enhance the usability and usefulness of your bar cabinets, so make sure you choose those that best suit your personal preferences.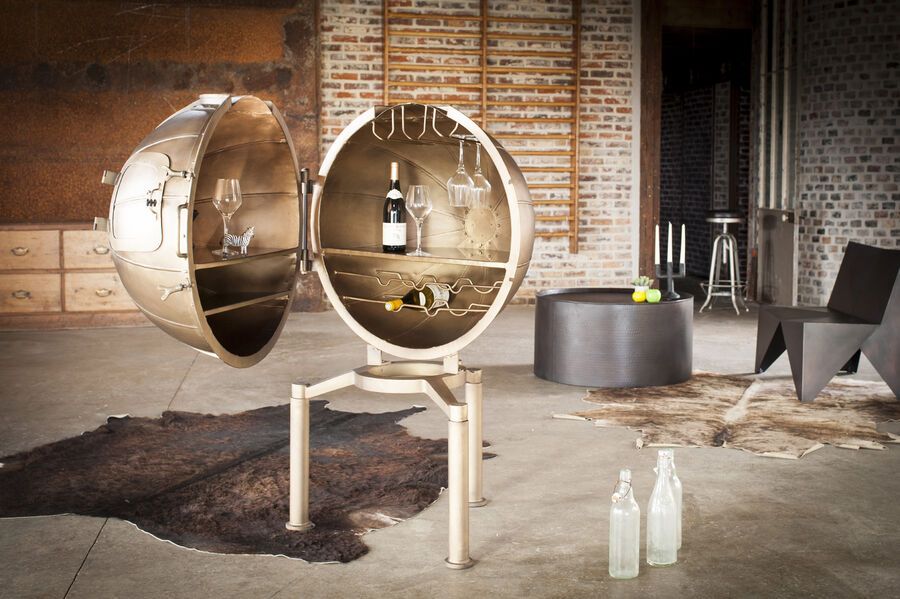 An extraordinary piece of bar furniture: Bar globe Jules Vernes
Different styles of bar cabinets
When you're considering adding bar cabinets to your space, one of the most important decisions you'll need to make is about the style of the furniture. The choice of style largely determines the look and feel of your space, so it's essential to choose a style that matches your interior design and personal preferences. Here's an overview of the different styles of bar cabinets available, and their respective advantages.
Choose a style that matches your interior design
Choosing a bar cabinet that matches your existing interior design is essential to creating a coherent and aesthetically pleasing space. Here are some of the most common styles:
Contemporary style: Contemporary bar cabinets feature clean lines, modern materials such as glass, metal and plastic, and minimalist finishes. They are particularly suited to modern interiors and uncluttered spaces.
Industrial style: Industrial bar cabinets are often made from sturdy materials such as aged metal and unfinished wood. They add a touch of rustic, urban character to any room.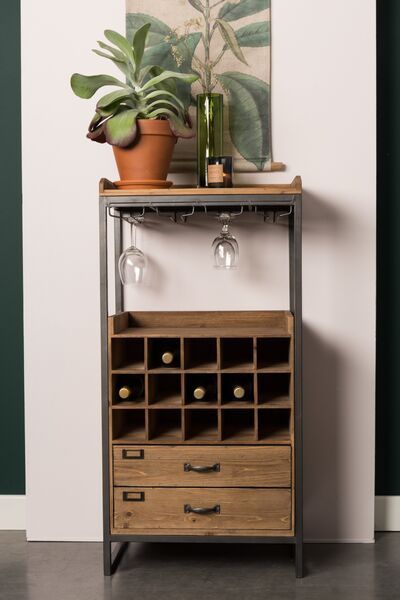 Industrial-style bar furniture
Classic style: Classic bar cabinets are timeless and elegant, with refined details, quality woods and polished finishes. They fit in well with traditional interiors and formal spaces.
Rustic style: Rustic bar cabinets highlights the warmth and simplicity of natural materials such as solid wood. They are ideal for country or cottage-style interiors.
Modern bar cabinets
Modern bar cabinets embody contemporary aesthetics and functional innovation. With their clean lines, sophisticated finishes and use of modern materials, they have become a popular option for those looking to add a touch of style to their living space.
One of the main advantages of modern bar cabinets is their ability to maximise the use of space. They are often compact in design, making them suitable for small spaces or interiors where space efficiency is essential. Their clever design helps to create spaces that are both functional and aesthetically pleasing.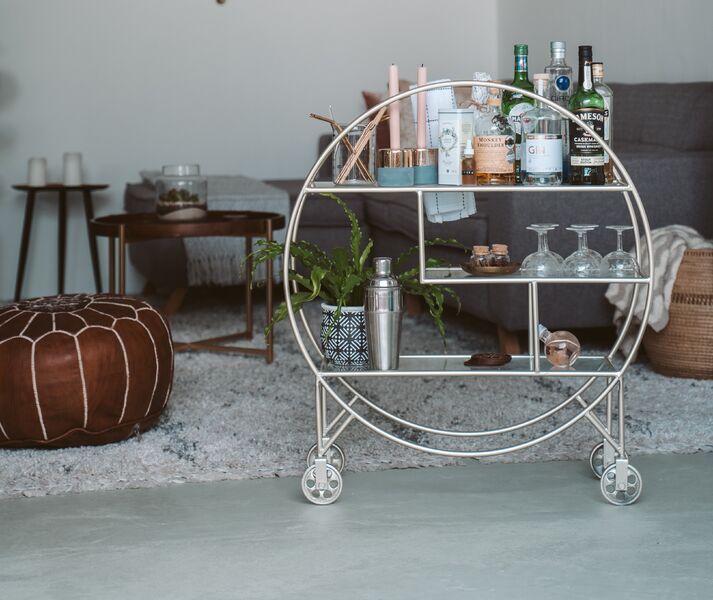 Compact, modern bar furniture
Overall, modern bar cabinets are not only elegant and aesthetically pleasing, it is also designed to meet today's practical needs. They bring a touch of sophistication to any space and make it easy to organise and store drinks and bar-related accessories, making them a valuable addition to many contemporary homes.
Classic bar cabinets
Classic bar cabinets stand out for its durability. Made from quality woods such as oak or walnut, they are designed to stand the test of time. Their sturdiness and quality of manufacture make them pieces of furniture that can last for generations.
Versatility is another feature of classic bar cabinets. Their timeless design allows them to blend harmoniously into a variety of decors, from traditional homes to rustic cottages and even contemporary spaces. They add a touch of charm and sophistication, whatever the style of your interior.
The aesthetics of classic bar cabinets are also a strong point. Carved details, refined finishes and brass or metal drawer handles offer a classic beauty that catches the eye. These pieces often become centrepieces in a room, creating an atmosphere of class and refinement.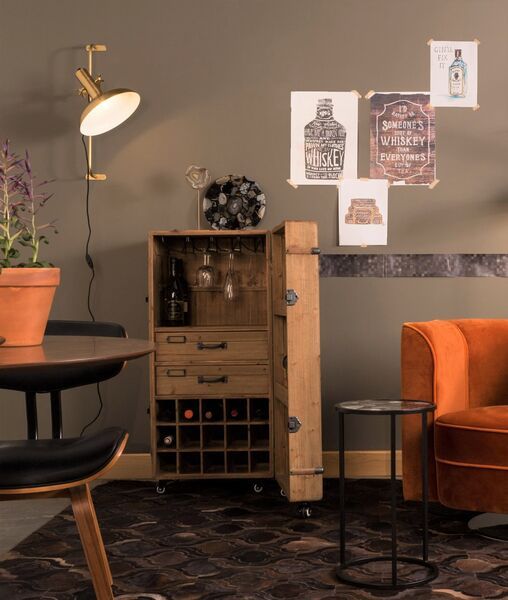 Solid, timeless bar furniture
By taking these key elements into account, you'll be better prepared to choose the perfect bar cabinets for your space, which will not only blend in harmoniously, but also meet your specific needs. Selecting the right dimensions, materials and design style will enable you to create a stylish and functional bar area in your home. In the end, whether you opt for modern or classic bar cabinets, your choice will reflect your personal style and help make your space even more welcoming for moments of relaxation and conviviality.