Ceiling decoration is an often overlooked aspect of interior design, but one that can have a significant impact on the appearance and atmosphere of a room. The ceiling is an element of the room that occupies a large visual area and can therefore influence the perception of the space as a whole. A decorated ceiling can add a touch of sophistication or creativity to a room, while a dull ceiling can appear bland and boring. Ceiling decoration can also help to reinforce the theme or style of a room, creating a cohesive and harmonious atmosphere. For example, the use of mouldings or wooden beams can add a rustic feel to a room, while the use of patterns or murals can create a more artistic or playful atmosphere. Ultimately, ceiling decoration is an important step in interior design that can help improve the look and feel of any room in the house.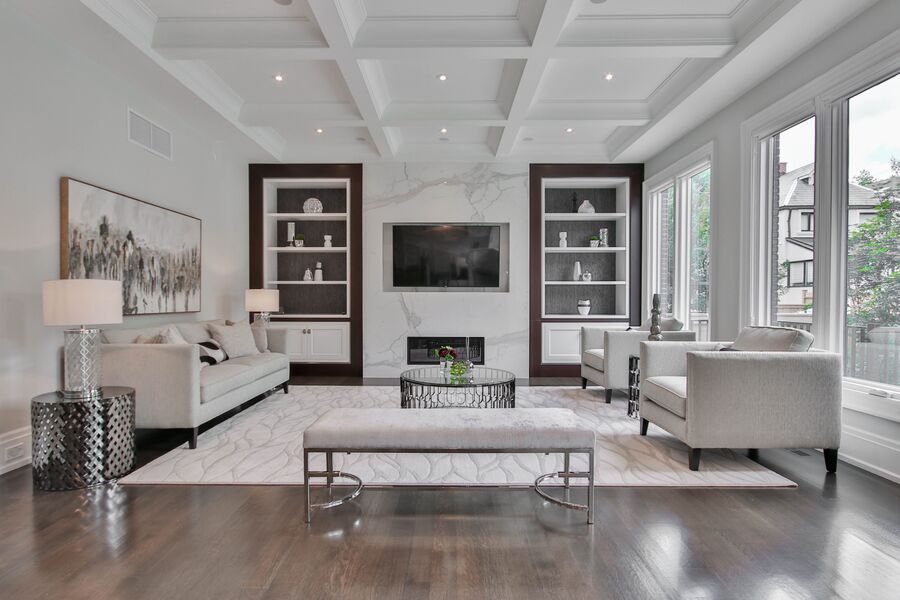 Importance of ceiling decoration
1. Mouldings and cornices
The use of mouldings and cornices is one of the most popular ways to decorate a ceiling. Mouldings are raised decorative pieces that are installed along the junction between the wall and the ceiling, while cornices are larger mouldings that can frame the entire ceiling. These decorative elements add a touch of sophistication and delicacy to any room, whether classic or contemporary in style. In addition to their decorative aspect, mouldings and cornices can also help to hide imperfections or flaws in the ceiling.
There is a wide variety of styles and materials available for mouldings and cornices. The most popular styles include simple, clean mouldings for a minimalist look, as well as more ornate mouldings for a more elegant and sophisticated look. The most common materials used for mouldings and cornices are plaster, wood, and polyurethane.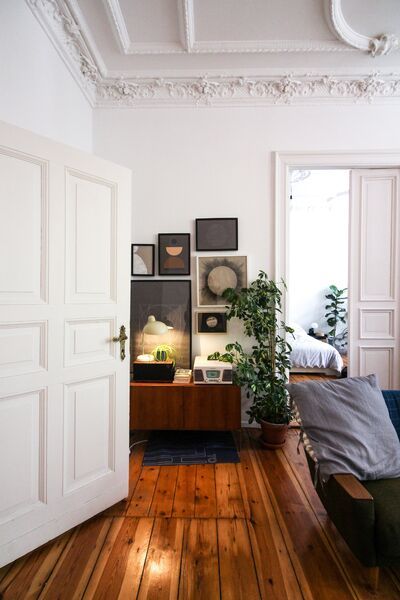 An elegant ceiling
Installing mouldings and cornices may seem daunting to the novice, but with a little patience and preparation, a professional installation can be achieved. It is important to carefully measure the ceiling and wall dimensions, prepare the surfaces, and follow the manufacturer's instructions.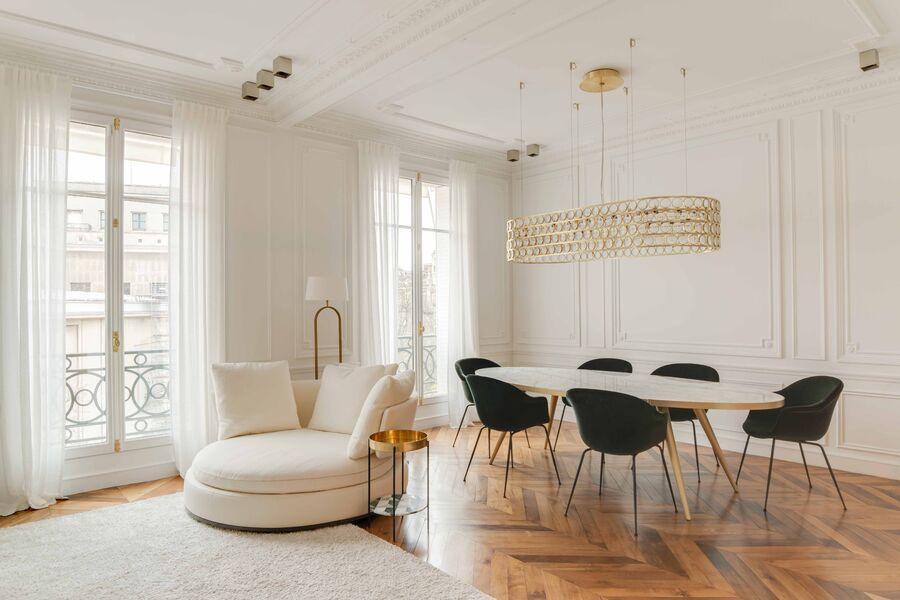 The charm of the cornices
2. Wooden beams
Wooden beams are another popular option for ceiling decoration. They add a warm, rustic feel to a room and can create a cottage or country house vibe. Wooden beams can be installed decoratively, simply for their appearance, or structurally, to support the weight of the ceiling. This type of ceiling decoration offers a wide range of styles and materials. Solid wood beams have an authentic and natural look, while faux wood beams are often more affordable and easier to install. The styles of wooden beams also vary, from thick and sturdy to slimmer and more elegant.
Installing wooden beams can be a little more complicated than installing mouldings or cornices, as you need to ensure that the beams are installed securely and structurally. It is important to follow the manufacturer's instructions and take into account the characteristics of the ceiling and the structure of the house. If you are unsure of your ability, it is recommended that you seek professional help for the installation.
Wooden beams are an ideal solution for bringing a rustic and homely feel to any room. With a wide variety of styles and materials available, you can easily find an option that suits your taste and budget.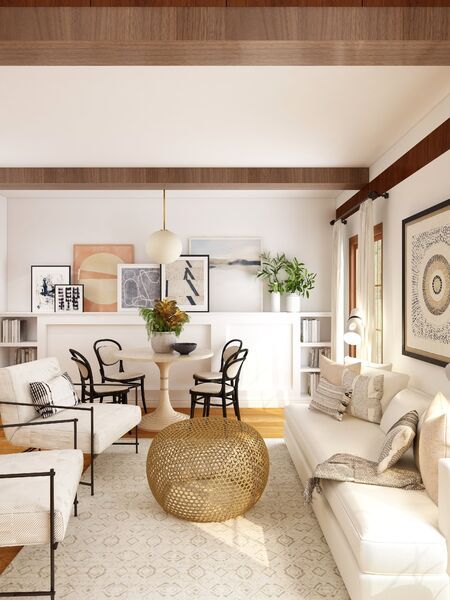 Warm atmosphere in the living room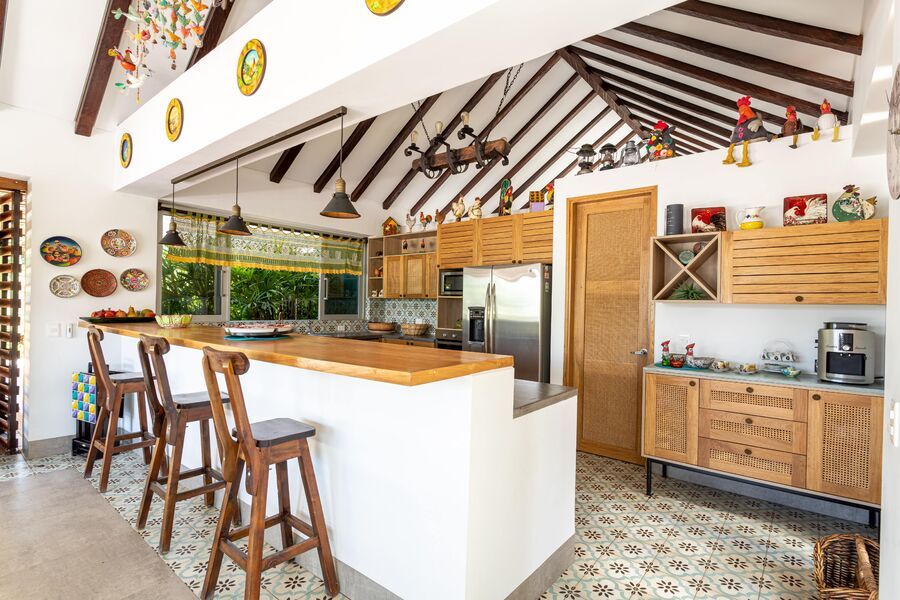 A rustic touch in the kitchen
3. Coulours
Using colours and patterns on the ceiling can be a great way to give your interior a personal touch. This way of adding character to a room is becoming increasingly popular. You can play with contrasting colours or patterns to add a touch of personality to your interior.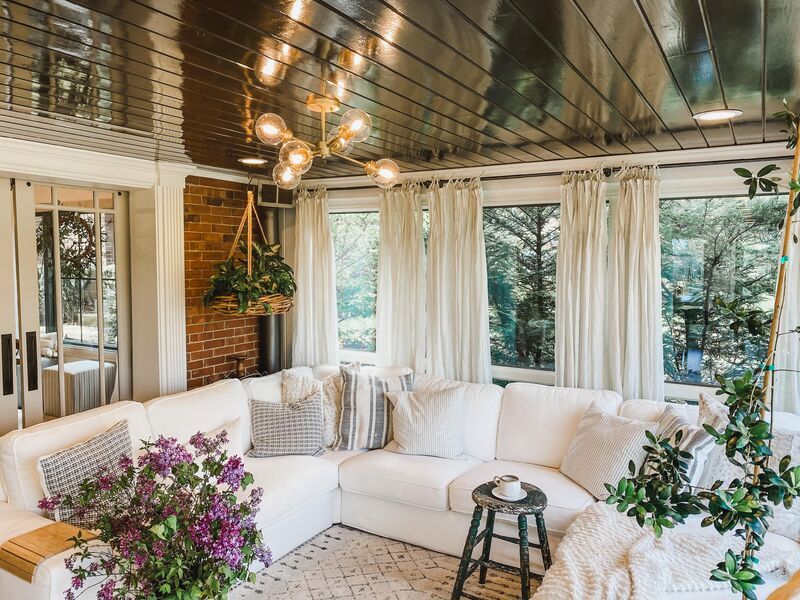 The contrast of dark and light colours
When choosing a colour for your ceiling, it is important to consider the size and height of the room. A dark colour can make a low-ceilinged room feel stuffy, while a lighter colour can help to visually expand the space.
The choice of pattern can also help to create a particular atmosphere in the room. For example, a ceiling with a floral pattern can give a natural and fresh feel, while a geometric pattern can give a more modern and sophisticated feel. It is also important to choose a pattern that is consistent with the mood of the room. For example, a marine or beach pattern may be perfect for a bathroom, while a starry pattern may be ideal for a bedroom.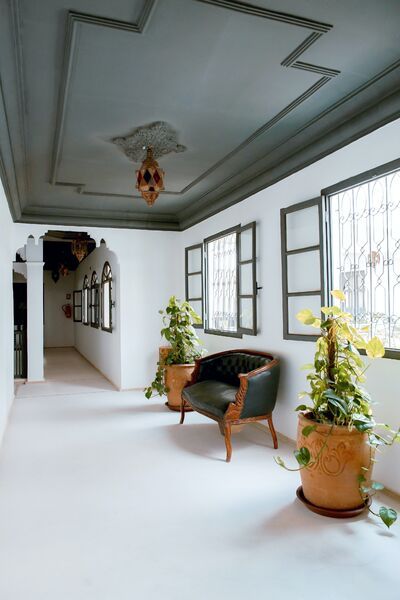 Colouring the ceiling of a long hallway
4. Wallpaper
Ceiling wallpaper can be a creative way to decorate the ceiling of a room. This option allows you to create a unique atmosphere and play with prints and shades to bring personality to your interior.
There is a wide variety of wallpaper designs and textures, ranging from modern geometric patterns to more classic floral designs. The choice of wallpaper will depend on the style of the room and the mood you want to create. For example, a leaf patterned wallpaper can bring a natural and refreshing feel to a bedroom, while a geometric patterned wallpaper can give a living room a more contemporary and elegant look.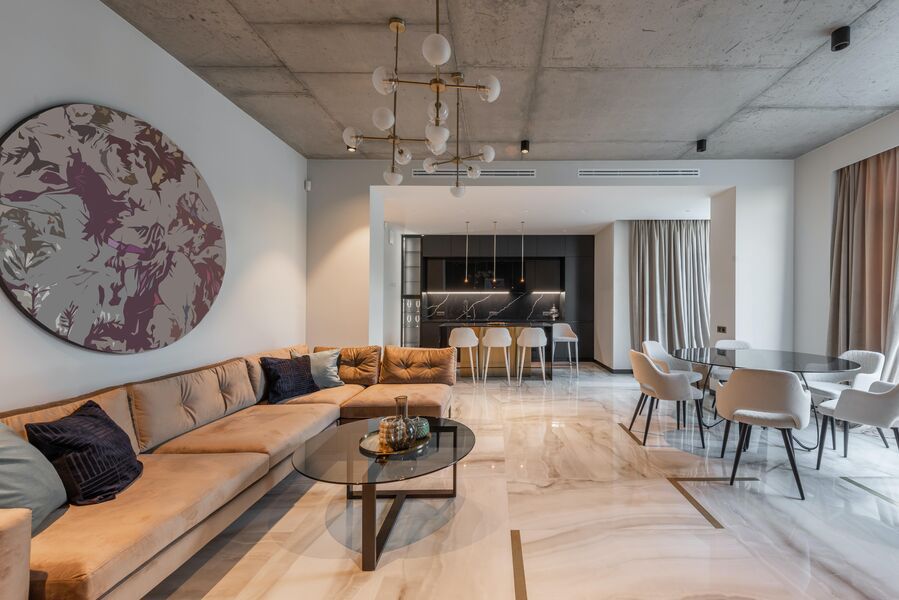 Concrete effect wallpaper
Installing wallpaper on the ceiling can be more complex than for mouldings or wood beams. It is important to prepare the ceiling surface well before application to achieve a uniform and professional result.
5. Lighting
When it comes to ceiling decoration, light fittings can be an elegant and practical option. They not only add light, but also give depth to a room while serving as a decorative element. They can be used to create a variety of moods, whether it's a warm, muted atmosphere for a romantic evening or a more vibrant mood for a festive evening.
There is a wide variety of lighting styles and materials available, from classic crystal chandeliers to modern, minimalist lighting. The choices are numerous and vary according to individual taste, the style of the room and the mood you wish to create. Recessed spotlights are a discreet and elegant option for adding light without cluttering the space. Strings of lights are also popular for adding a touch of magic to a room, especially in children's rooms or for special occasions. In-ceiling lights are also popular, such as LED panels that provide bright, even light to illuminate the entire room. Pendant lights are another stylish option for adding light and style to a space, whether it's a glass or metal pendant.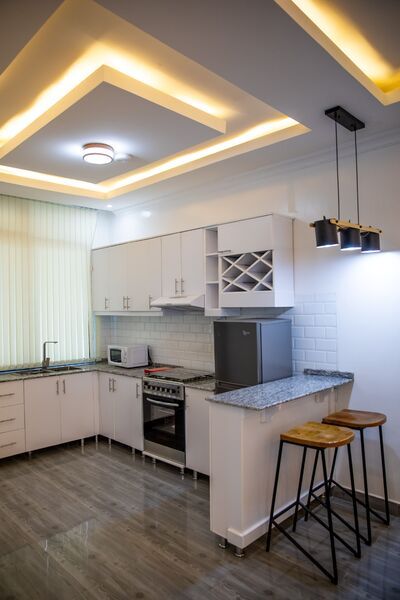 Kitchen with beautiful light effect
It is essential to consider several elements when installing light fittings to decorate the ceiling of a room. In addition to the style and mood you wish to create, the height of the ceiling and the size of the room are important factors to consider when choosing the most appropriate light fitting. The installation of light fittings can be quite complex and it is advisable to call in a professional to ensure an optimal result.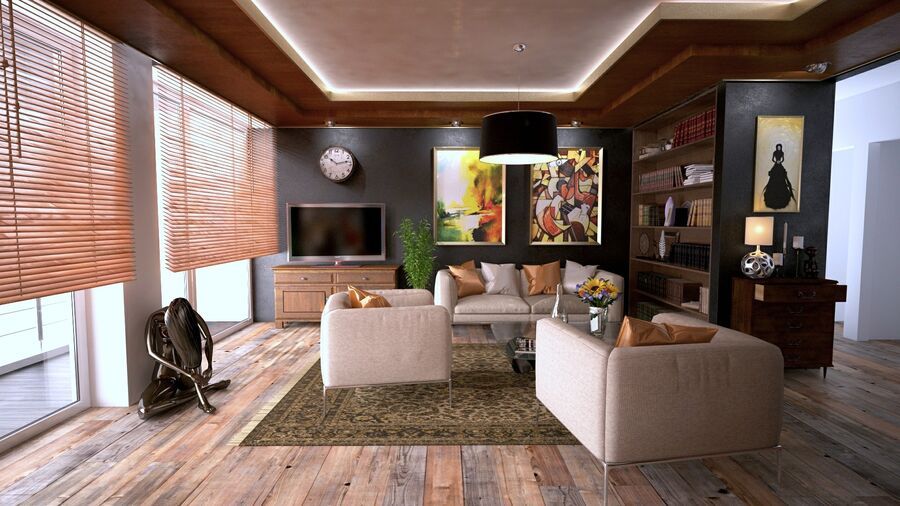 Warm atmosphere with integrated ceiling lighting
In conclusion, there are many ways to decorate a room's ceiling and add personality and dimension to your interior design. The five ideas presented offer a variety of options to suit different styles and budgets. It's essential to be creative and experiment to find the solution that best suits your taste and the mood you want for your space. Keeping practical installation tips in mind, there are no limits to how you can transform and embellish your ceiling to make it a central element of your interior design. So don't hesitate to embark on a ceiling design adventure and create a unique and impressive space that reflects your style and personality.