The legacy of the Eames Armchair
The Eames Armchair, also known as the Eames Lounge Chair, is an icon of interior design that has stood the test of time and continues to influence the world of contemporary furniture. To understand its importance, it is essential to delve into its rich and varied heritage.
Origins and history of the Eames Armchair
The story of the Eames Armchair begins in the mid-20th century, when American designer Charles Eames and his wife Ray Eames set out to create an exceptional armchair. In 1956, their vision led to the birth of the Eames Lounge Chair, a piece of furniture that was soon to become iconic. The Eames Lounge Chair can be seen as a contemporary reinterpretation of the classic English Club Chair. While retaining a certain traditional elegance, the chair is distinguished by its timeless simplicity and exceptional comfort. Originally designed for furniture manufacturer Herman Miller, the Eames Armchair was developed to combine comfort, aesthetics and functionality in a revolutionary way.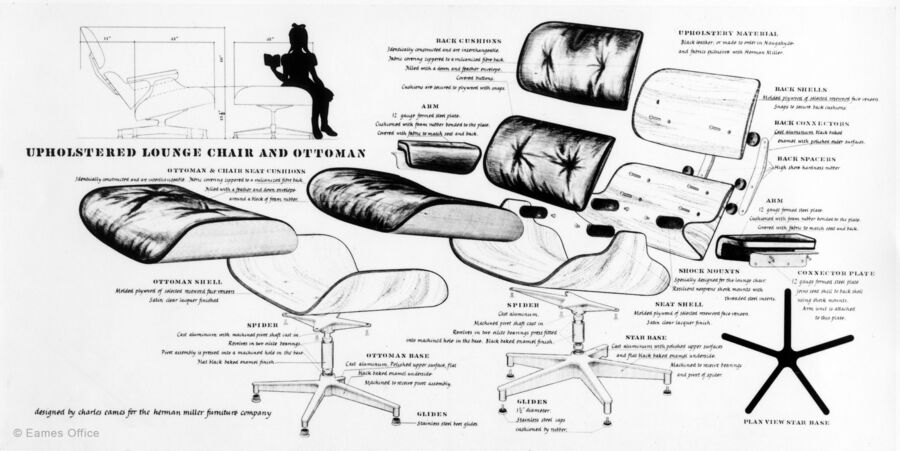 Plan of the Eames Lounge Chair: https://www.eamesoffice.com
Innovative materials and design
One of the most remarkable features of the Eames Armchair is its innovative use of materials. Charles and Ray Eames opted for high-quality materials such as moulded plywood and leather. Moulded plywood was used to create organic, ergonomic shapes, while luxurious leather added a touch of elegance. This combination of high-quality materials set new standards in the world of furniture. Typically, the classic Eames Armchair is characterised by its carefully selected black leather, walnut or rosewood frame, and harmonious curves that give it a timeless yet modern aesthetic. Its iconic design and quality materials make it a masterpiece of contemporary furniture.
The design of the Eames Armchair was also avant-garde. Its sleek appearance and curved lines broke with the traditional designs of the time. The chair was designed to adapt perfectly to the human body, offering exceptional comfort thanks to its reclining seat and matching ottoman. This ingenious design redefined expectations of comfort in living room furniture.
The cultural and historical impact of the Eames Lounge Chair
The Eames Lounge Chair quickly captured the hearts of interior design enthusiasts and connoisseurs around the world. It has appeared in numerous films, TV series, magazines and art exhibitions, becoming a cultural icon. Its presence in the homes of celebrities and famous designers has helped to reinforce its iconic status.
In addition, the Eames Armchair played a crucial role in the mid-century modern movement. It symbolised the functionalist approach to design, where aesthetics and practicality are closely linked. In this way, the Eames Lounge Chair helped to shape contemporary interior design trends by emphasising the importance of combining comfort and style.
The Eames Armchair in contemporary interior design
The Eames Armchair has transcended the decades to become a central element of contemporary interior design. Its fluid adaptation to modern interiors, its many variations and its practical and aesthetic advantages make it an essential piece for design lovers.
Integrating the Eames Armchair into modern interiors
One of the most remarkable features of the Eames Lounge Chair is its versatility when it comes to integration into modern interiors. Whether you opt for a minimalist, industrial, Scandinavian or eclectic style, the Eames Lounge Chair can adapt with ease. Its timeless design, characterised by clean lines, elegant curves and quality materials, allows it to harmonise with a variety of decors.
In a modern living room, the Eames Armchair can become the focal point, creating a comfortable and aesthetically appealing seating area. It can also be incorporated into workspaces, home offices or bedrooms to add a touch of contemporary sophistication and comfort.
The different variations and finishes available
Another feature that makes the Eames Armchair so popular in contemporary interior design is the variety of finishes and materials available. Connoisseurs can choose between different types of wood, leather or fabric finishes, as well as a variety of colours and patterns. This diversity allows owners to customise their Eames Armchair to fit perfectly with their interior décor.
Variations of the Eames Armchair, such as special editions or models with adjustable headrests, offer even more possibilities for adapting to individual preferences and specific needs. This flexibility of personalisation contributes to its appeal in modern interiors.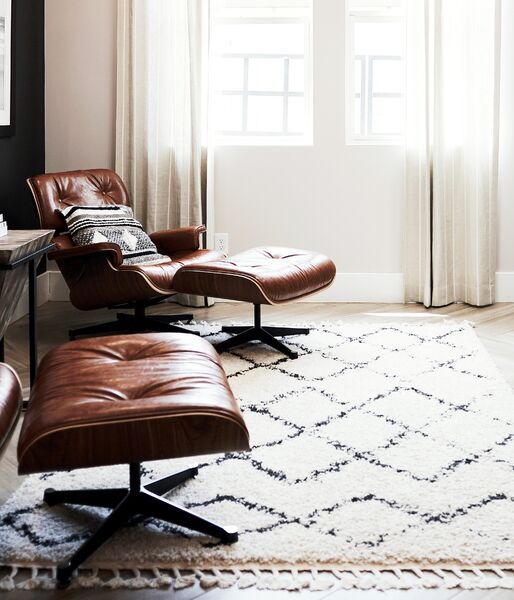 Fauteuil Eames marron
The practical and aesthetic advantages of the Eames Armchair
In addition to its undeniable aesthetic appeal, the Eames Armchair offers a number of practical advantages that set it apart. Its reclining seat and matching ottoman offer exceptional comfort for relaxing, reading or watching television. Its superior build quality also ensures durability, making it a wise investment for years to come.
Aesthetically, the Eames Armchair brings a touch of elegance to any room. Its timeless design creates an interesting contrast with contemporary elements, bringing a unique visual dimension to the interior. What's more, its reputation as a design icon lends a certain aura of prestige to any space in which it is placed.
The future of the Eames Armchair in interior design
The Eames Armchair continues to shine like a star in the firmament of interior design. To understand its future, it is essential to examine its continuing impact on contemporary furniture.
The influence of the Eames Lounge Chair on contemporary furniture
The Eames Lounge Chair has always been a source of inspiration for contemporary furniture designers. Its timeless design, which combines aesthetics and comfort, remains a benchmark in the industry. Many modern designers strive to incorporate elements of the Eames Lounge Chair into their own creations, whether by drawing inspiration from its elegant form, its quality materials or its attention to detail.
Today, there are many combinations of lounge chairs and footstools that imitate the typical shape of the Eames armchair to create a cosy place to relax. As well as black or brown leather, materials such as velvet are also available in a range of colours. As well as subdued tones such as beige, taupe and dark grey, today's designers are experimenting with bright colours such as blue, red and patchwork patterns. Inspired by the legendary seat, they are trying to create new armchairs in line with current trends.
As a result, we can expect to see the influence of the Eames Armchair live on in contemporary furniture. Future designs will continue to learn from this design icon, retaining its quest for balance between functionality and aesthetics.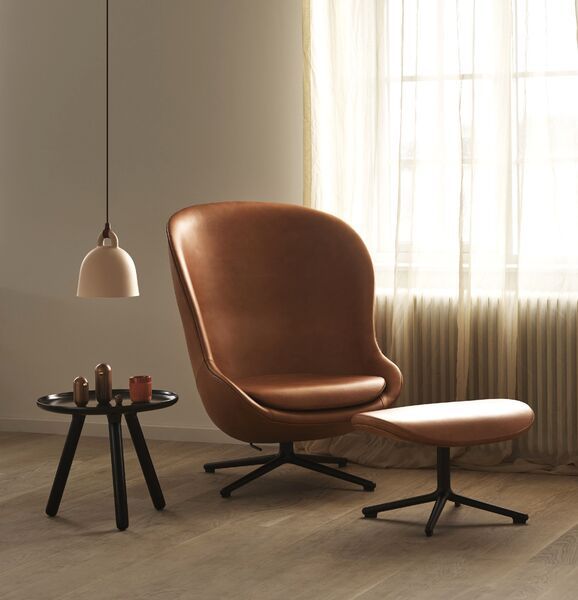 Normann armchair inspired by Eames
Sustainability and eco-responsibility in the design of the Eames Armchair
As sustainability and eco-responsibility become priorities in the world of design and furniture production, the Eames Armchair is no exception. Manufacturers are looking for ways to adapt this design classic to contemporary environmental standards. This is reflected in the use of recycled materials, more environmentally friendly manufacturing processes and sustainable management practices.
The commitment to sustainability and eco-responsibility will allow the Eames Armchair to remain relevant in a world where environmental awareness is increasingly important. Consumers looking for sustainable furniture will be reassured to know that this design icon addresses these concerns.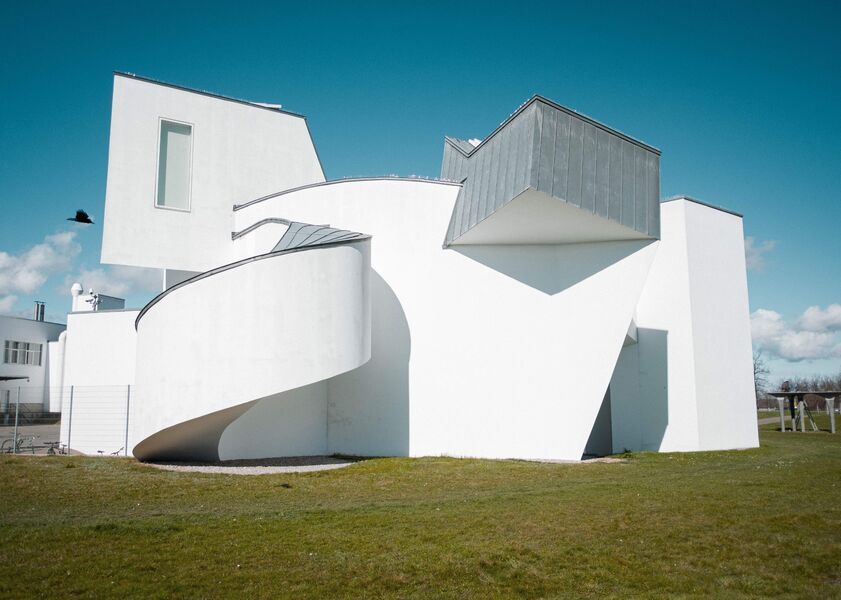 Exhibition of Eames designs at the Vitra Design Museum
The Eames Armchair remains a timeless icon of interior design. Its rich history, initiated by visionary designers, continues to captivate design lovers and furniture aficionados. The innovative materials and ergonomic design of the Eames Armchair embody the successful marriage of comfort and aesthetics, redefining the standards of living room furniture.