Staircases are more than just a mean to get from one level to another. They can offer an often-overlooked area: the space underneath the stairs. This valuable space can be creatively optimised to meet a variety of functional and aesthetic needs. Whether in a house or a flat, maximising the use of under-stair space can add extra storage, create a practical office area, or even create a comfortable relaxation area.
Space assessment
Before starting the under-stair design, it is essential to carefully assess the space available. The first step is to accurately measure the dimensions of the space under the staircase, taking into account the height, width and depth. This will determine the physical limits for the layout.
It is also important to consider the specifics of the staircase itself. Straight staircases generally provide a regular rectangular space, making it easier to install shelves, cupboards or other storage solutions. On the other hand, spiral staircases or staircases with intermediate landings can present additional challenges due to their shape and layout.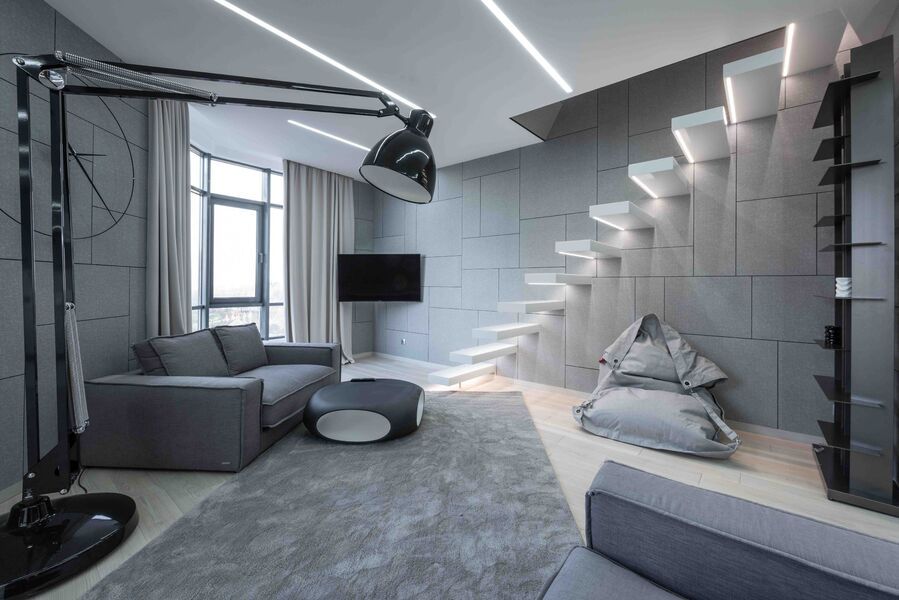 How to use the space under the stairs?
It is crucial to take into consideration possible structural constraints, such as support posts, electrical cables or plumbing pipes, which could limit the possibilities of design. A careful assessment of the space and the particulars of the staircase will help to plan optimisation solutions, adapting to the specific constraints of each situation.
By taking the time to evaluate the available space and the characteristics of the staircase, you will be better prepared for the next phase: the functional and aesthetic use of this underused space.
Functional use of space
Creating storage space
One of the most common and practical ways to optimise the space under a staircase is to turn it into a functional storage space. Several options can be considered to create an efficient and well-organised storage space. Built-in shelving is a versatile solution that makes efficient use of the vertical space under the stairs. They provide space for books, decorative items or storage boxes.
Custom-made cabinets or wardrobes are another popular option. They can be designed to fit the shape of the staircase perfectly and maximise the storage space available. Doors can be sliding or folding to maximise access to the interior of the cupboard. Pull-out drawers are also a practical solution for the space under the stairs. They allow for the storage of smaller items and offer easy accessibility. When creating storage space under the stairs, it is important to take into account individual needs and adapt solutions to the intended use. By combining shelves, cupboards and pull-out drawers, it is possible to maximise the space under the stairs while maintaining an organised and aesthetically pleasing environment.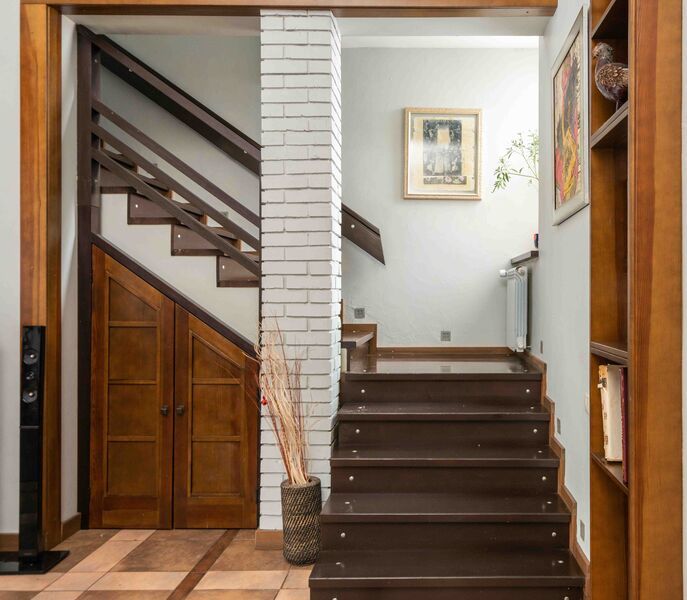 Storage space under the stairs
Creating an office area
The space under a staircase can also be transformed into a practical and functional office corner. This clever use of space allows you to create a dedicated work area, even in small spaces. A built-in desk is an excellent solution for maximising the use of space. It can be custom designed to fit the shape of the staircase, providing an ergonomic work surface.
The addition of shelves above the desk is also very practical for storing office supplies. Shelves keep essential items within easy reach while maximising vertical space. Appropriate lighting is crucial for a functional office area. The use of desk lamps or integrated under-shelf lighting can provide direct and effective lighting for comfortable working.
By creating a desk area under the stairs, you turn an underused space into a functional work area. It gives you a dedicated space to focus, organise your business and boost your productivity.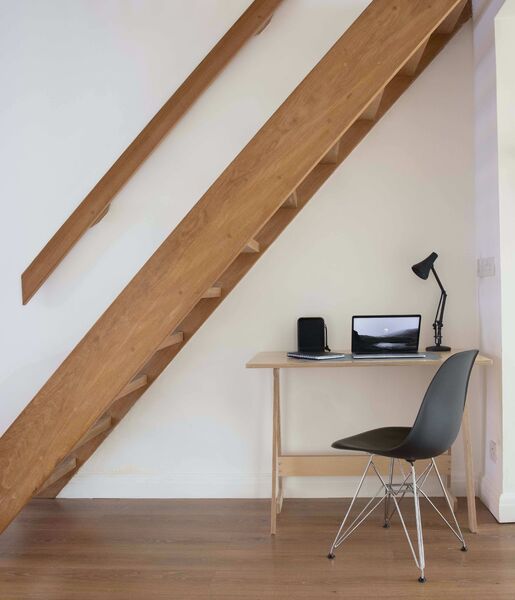 An office area under the stairs
Aesthetic optimisation of space
Creating an open bookcase or shelf
If you are a lover of books or collections of decorative items, creating an open bookcase or shelf under the stairs can be a great way to optimize space and showcase your treasures. Use the shelves to display your favourite books, collectibles or decorative pieces. Arrange them aesthetically by mixing heights, colours and textures to create a visually appealing effect.
To highlight your items, add spotlights. Built-in lights or strip lights along the shelves can create a warm atmosphere and focus attention on the items on display. You can also play with the lighting by using adjustable lights to create staging effects.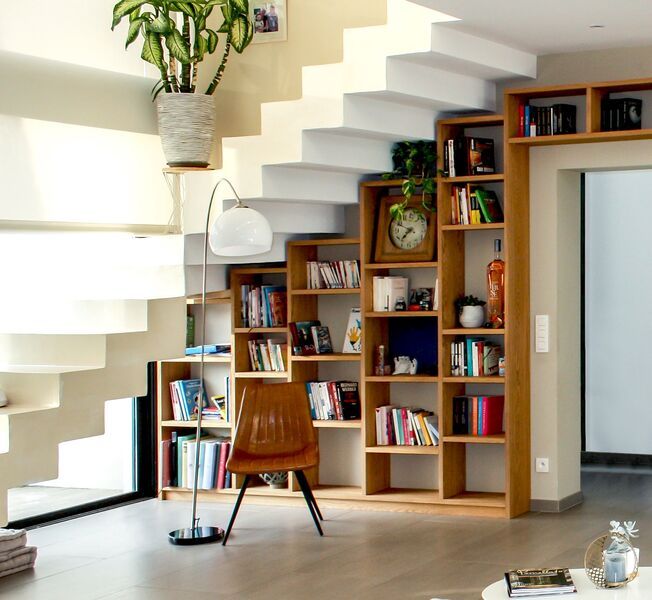 A great place to display your books
An open bookcase or shelf under the stairs not only provides a practical space for storing your books, but also adds an aesthetic dimension to your interior. It is an opportunity to show your personality and create a welcoming atmosphere. Whether it's for a book collection, valuables or decorative pieces, this functional use of space under the stairs can transform this once neglected area into a real focal point of your home.
Creating a relaxation area
If you want to create a comfortable relaxation area, the space underneath the stairs can be set up in an ideal way. Turn this often-neglected space into a comfortable area where you can relax and recharge your batteries.
Start by installing a small sofa or bench that fits the size of the available space. Opt for compact models that fit harmoniously under the stairs. Choose materials and colours that match your style and interior design. Add cushions, footstools and rugs for extra comfort and warmth. Soft cushions and footstools will allow you to relax and sit comfortably. Soft rugs will add a touch of warmth and define the space for relaxation. To create a relaxing atmosphere, consider adding decorative elements such as soothing pictures, house plants or decorative objects that reflect your personal style.
Creating a relaxation area under the stairs gives you a private and peaceful space to escape from the stresses of everyday life. Whether you want to read a book, meditate or simply relax, this optimised space under the stairs will be your refuge to recharge your batteries and enjoy moments of calm and tranquillity.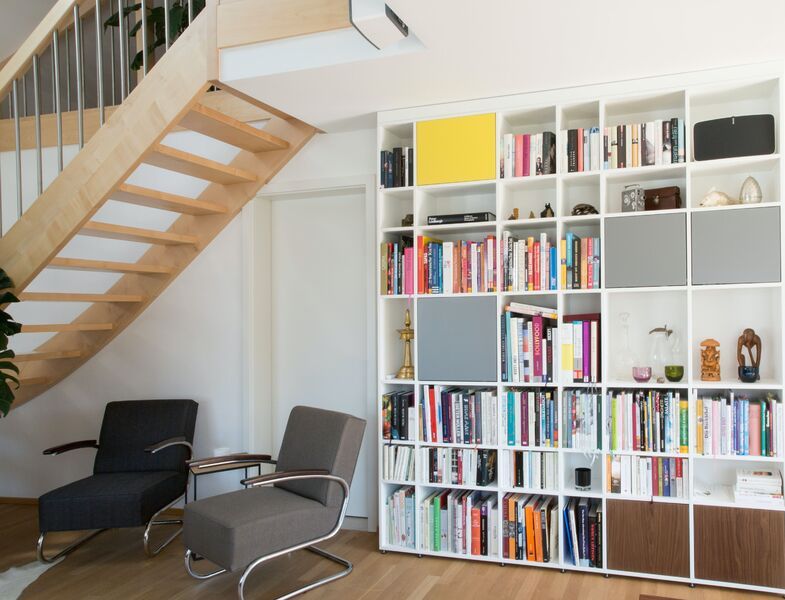 A place to relax
Incorporate decorative elements
Incorporating decorative elements under the stairs is a great way to add an aesthetic touch to this often overlooked space. Whether you want to express your personal style or create a warm atmosphere, here are some ideas to maximize the decorative appeal. Hang pictures or framed photos on the walls under the stairs. This will bring colour, visual interest and an artistic dimension to the space. Choose artwork that reflects your personality and complements the style of your interior.
Houseplants are a great way to add greenery and life to the space under the stairs. Choose plants that suit the available light and place them in decorative pots to match your style. Plants provide a calming atmosphere and purify the air. Mirrors can be used to create an illusion of space and depth. By installing a mirror strategically positioned under the stairs, you can visually enlarge the space and bring in light.
Don't forget to personalise the space with decorative items that you like, such as sculptures, vases, scented candles or art pieces. These elements will add a final touch to the aesthetics of the space. By integrating decorative elements under the stairs, you turn this space into a visually appealing area that contributes to the overall ambience of your interior. Whether it's with pictures, plants, mirrors or decorative objects, use your creativity to create a space that reflects your personality.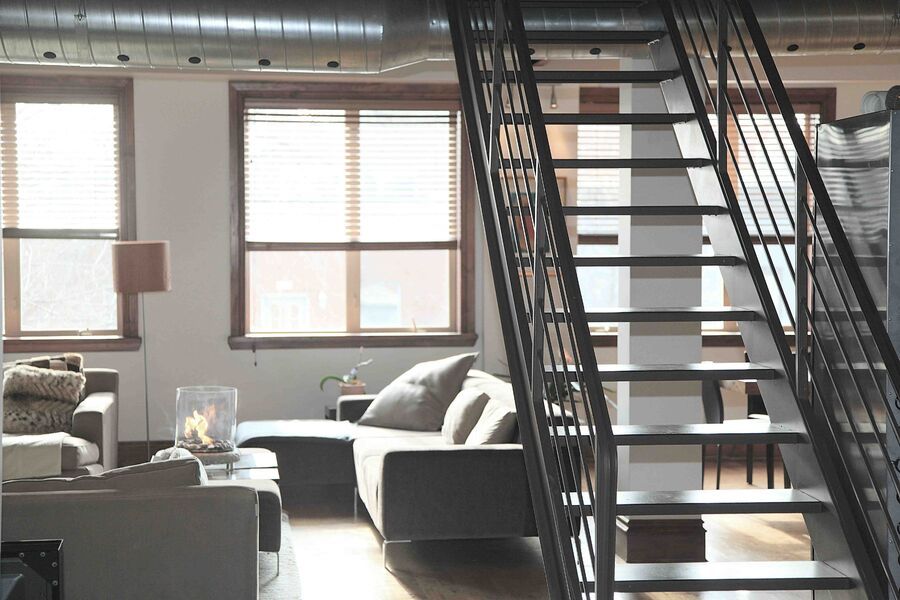 A space to suit your needs
In conclusion, optimising the space under a staircase offers countless possibilities to enrich our living space. By transforming the space into an inspiring office area, an attractive library or a relaxing lounge, we can make full use of this valuable and often neglected area. Explore the different options depending on your needs and preferences. Don't underestimate the untapped potential that lies beneath your stairs and turn this space into a veritable oasis of possibilities.