Immerse yourself in a summer atmosphere of exoticism and culture with ethnic decor for your home. Bright colours, inspiring patterns and natural materials combine harmoniously to create a warm, exotic atmosphere. Discover how to incorporate unique handmade pieces and ethnic textiles to bring a touch of authenticity to your space. From tropical accents to bold contrasts, let yourself be transported to a summer destination, right in your own home.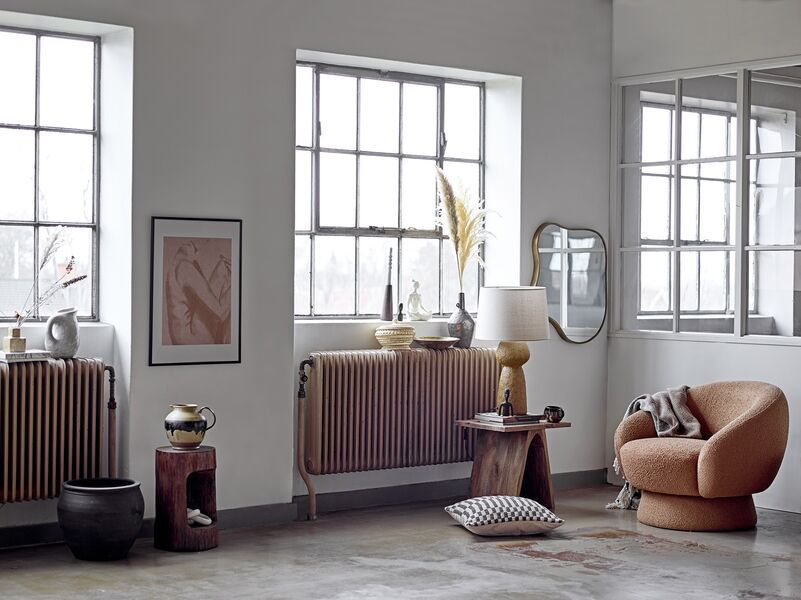 A summery atmosphere
The essence of ethnic decor
Immerse yourself in a cultural journey
Ethnic decoration is a real invitation to travel and discover other cultures. It's a way of giving your home a unique summer feel, full of authenticity and warmth. By immersing yourself in a cultural journey through ethnic decoration, you can create a space that tells a story and reflects your inspirations from around the world.
Bright colours and inspiring patterns
One of the distinguishing features of ethnic decorating is the use of bright colours and inspiring patterns. Warm hues such as oranges, reds, yellows and turquoises evoke the sun, tropical landscapes and festive moods. Geometric, tribal or floral patterns add an artistic dimension and bring energy to your summer interior.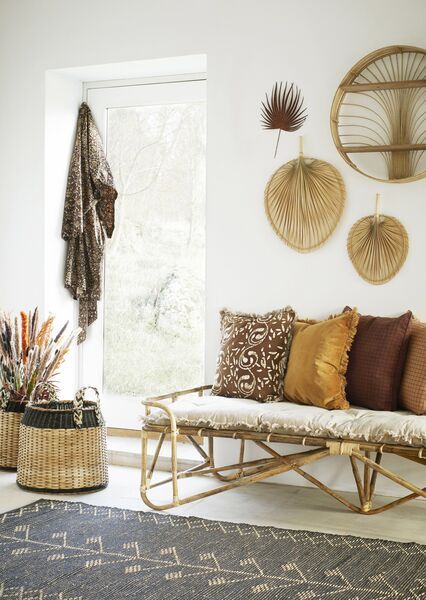 Palette-of-colours-from-ochre-to-dark-red
How to incorporate unique handcrafted pieces into your summer interior
Ethnic decor is often associated with unique handmade pieces, created by talented artisans. These authentic objects, such as pottery, sculptures or textiles, add a personal, handmade dimension to your interior. You can integrate them by displaying them proudly on shelves, hanging them on the wall or using them as centrepieces in your decor.
When choosing handcrafted pieces, don't hesitate to look for objects from different cultures. This way you can mix influences to create a truly unique and eclectic summer interior. Ethnic textiles, such as cushions, rugs and curtains, are also important items to consider. They add texture and warmth to your space, while highlighting the distinctive traditions and patterns of different cultures.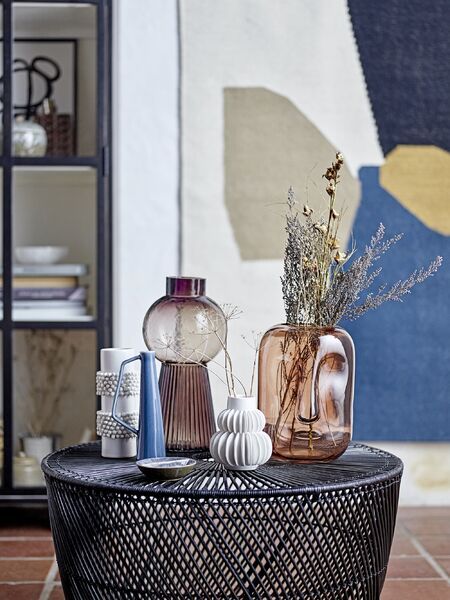 Unique handcrafted pieces
To create an authentic summer interior, it's essential to choose handcrafted pieces sourced directly from local communities. This helps to support the craftspeople and preserve their traditions and skills. What's more, these objects often have a fascinating story to tell, adding a narrative dimension to your decor.
The key elements of ethnic decor
Ethnic textiles: a simple way to add authenticity to your home
Ethnic textiles are an essential part of summer ethnic décor. They add colour, texture and a touch of authenticity to your space. Whether African, Indian, South American or Asian, these textiles are often adorned with traditional motifs and bright colours that evoke exoticism and summer warmth. Cushions, rugs, throws and curtains made from ethnic textiles can instantly transform your home into a summer haven.
Natural materials for a soothing summer ambience
To create a soothing summer atmosphere in your home, natural materials are essential. Choose furniture made from raw wood, bamboo or rattan that evokes tropical landscapes. Natural fibres such as jute, linen or cotton add a touch of lightness and freshness to your decor. Don't hesitate to incorporate wicker baskets, rice paper lamps or bamboo blinds for a relaxed, summery feel.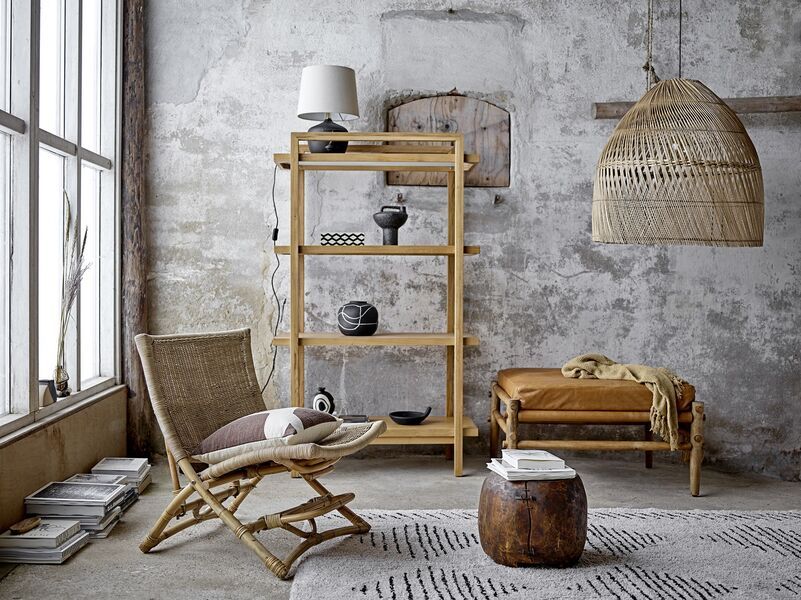 Wooden side tables, bamboo chairs and rattan hanging lamps
Tropical accents: exotic plants and nature-inspired accessories
Tropical accents are a key element of ethnic summer décor. Exotic plants, such as palms, ferns or cacti, add a green and fresh feel to your interior. They create a connection with nature and provide an invigorating summer atmosphere. As well as plants, you can incorporate accessories inspired by nature, such as exotic animal sculptures, cushions printed with tropical motifs or decorative objects made from shells. These elements add a playful, authentic touch to your summer interior.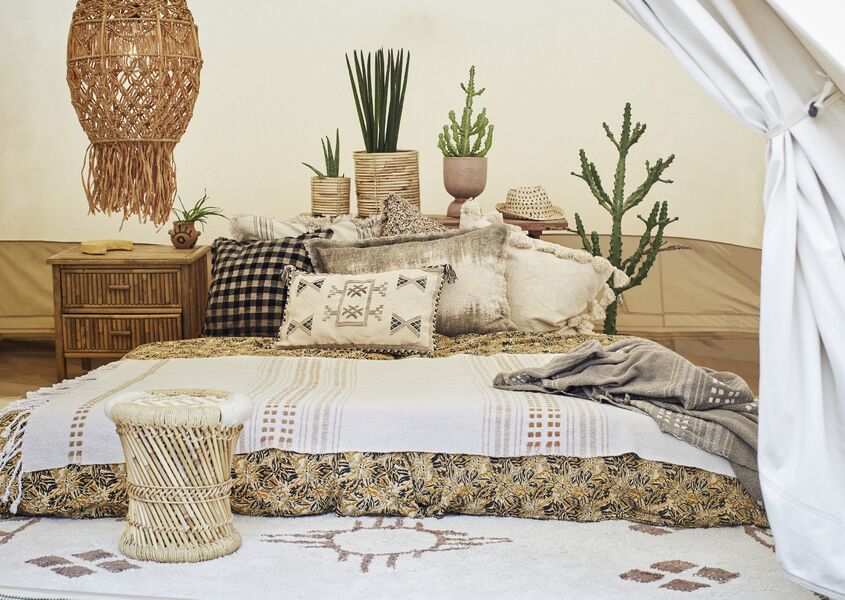 Plants for a natural touch
When decorating with tropical accents, remember to create a visual balance. Don't overdo it to avoid overloading the space. Opt for a few key pieces that stand out and blend in with the rest of your ethnic decor. Play with different textures, vibrant colours and nature-inspired patterns to create a summer interior full of personality.
Practical tips for creating a summery ethnic look in your home
Play with contrasts: mix patterns and textures
One of the most captivating aspects of ethnic decorating is the ability to mix bold patterns and textures to create a dynamic atmosphere. Don't be afraid to experiment and combine geometric, tribal, floral or nature-inspired patterns. You can incorporate them into your textiles, rugs, cushions or even wall coverings. The idea is to create a stimulating visual contrast that adds a touch of liveliness to your summer interior. By playing with textures, you can also add depth and richness to your decor. Combine smooth textiles with textured ones, such as macramé weaves, hand-woven rugs or embroidered cushions, to create a visually interesting atmosphere.
Use local crafts for an authentic touch
For an authentic summer ethnic look, incorporate local handicrafts into your interior. These unique pieces reflect the traditions and know-how of local communities. Look for handmade pottery, wood carvings, tribal masks, woven baskets or decorative objects specific to a region or culture. Not only do these objects add a touch of authenticity, they also tell a story. When choosing handicrafts, give preference to those that are handmade, using natural and sustainable materials. This will enable you to support local craftspeople and preserve their know-how.
Incorporate these local crafts strategically into your décor. You can arrange them on shelves, hang them on the wall, display them on a console or use them as centrepieces on a table. They'll add a cultural and personal dimension to your summer interior. What's more, these objects can act as focal points in the room, attracting attention and arousing curiosity.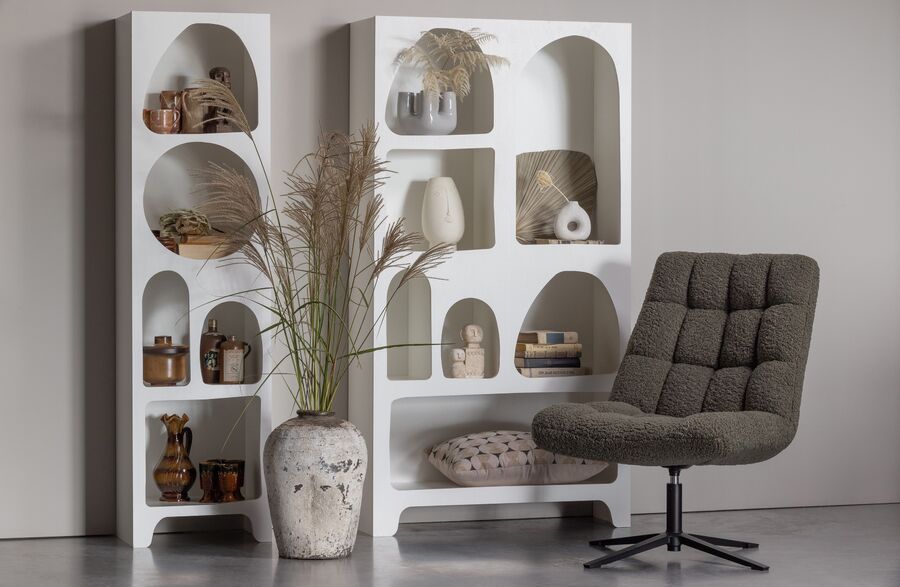 Ethnic decor for a summery interior
In conclusion, ethnic decor for a summer interior offers a real invitation to travel, discover and escape. Whether using vibrant colours, exotic patterns or unique handcrafted pieces, ethnic decor for a summer interior allows you to create a space that transports you to faraway destinations, even from the comfort of your own home. Give free rein to your creativity, mix influences and personalise your ethnic summer decor to suit your tastes and inspirations. By adopting an ethnic summer decor, you'll bring a touch of character, vitality and escape to your interior, transforming your home into a veritable summer paradise. So don't hesitate to embark on this cultural and decorative adventure, and let ethnic décor brighten up your everyday life with its enchanting summer ambience.