The entrance area is the first impression guests have of your home, so it's essential to make it warm and welcoming. Decorating the entrance area can be challenging, whether you have a large entrance hall or limited space. However, there are many ways to maximize space and create a welcoming atmosphere. In this article, we'll provide practical tips and decorating ideas to transform your entrance hall into a cozy entrance to your home.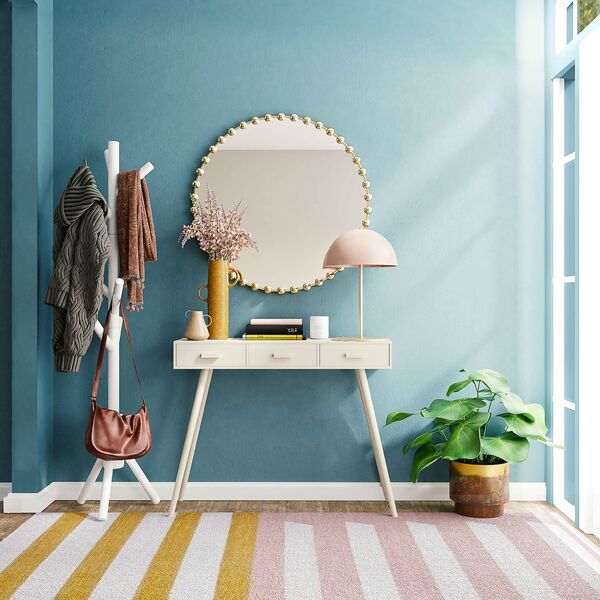 Cosy entrance
First Phase: Analysis of the Space
Determine the Available Space
To create an inviting entrance area, it's crucial to first determine the available space. This will help you to figure out which furniture and accessories you can incorporate into your entrance area and how you can best arrange them. Start by measuring your entrance area and recording the measurements. This will help you visualize the space and plan which elements you want to include. Then, consider the placement of the entrance door, windows, and other architectural elements. You may need to adjust your furnishings to these elements, ensuring that the space remains open and functional.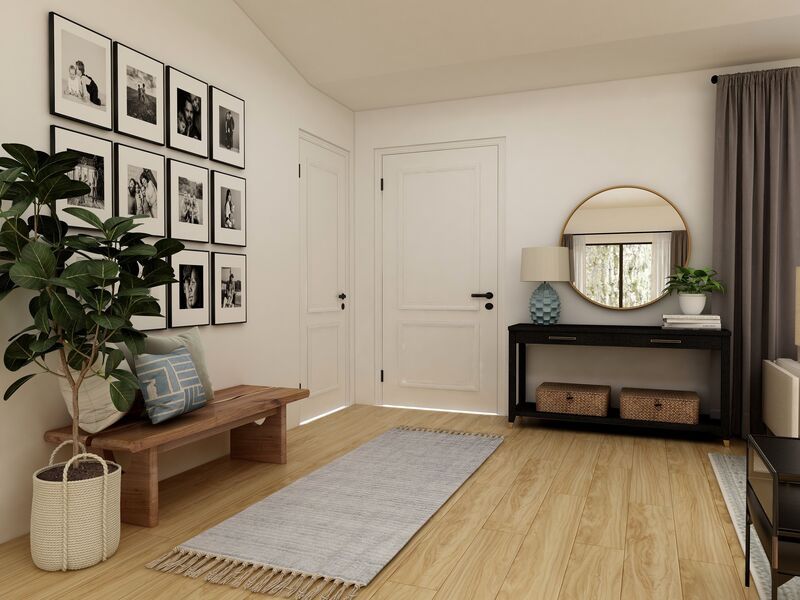 Analysis of the space before the installation
Storage space requirements
In addition to the size of the entrance, it's important to consider the storage needs you have. Since hallways are often used to store clothes, shoes, bags, and other accessories, you need enough storage space to keep everything organized and easily accessible. If you have a lot of shoes, bags, or coats, you may need to include storage elements such as a clothes rack, a bench with shelves, or a shoe cabinet. An umbrella stand is handy on rainy days, while a key board is useful for keeping your keys organized and within reach. Storage baskets or boxes can also be used to store smaller items.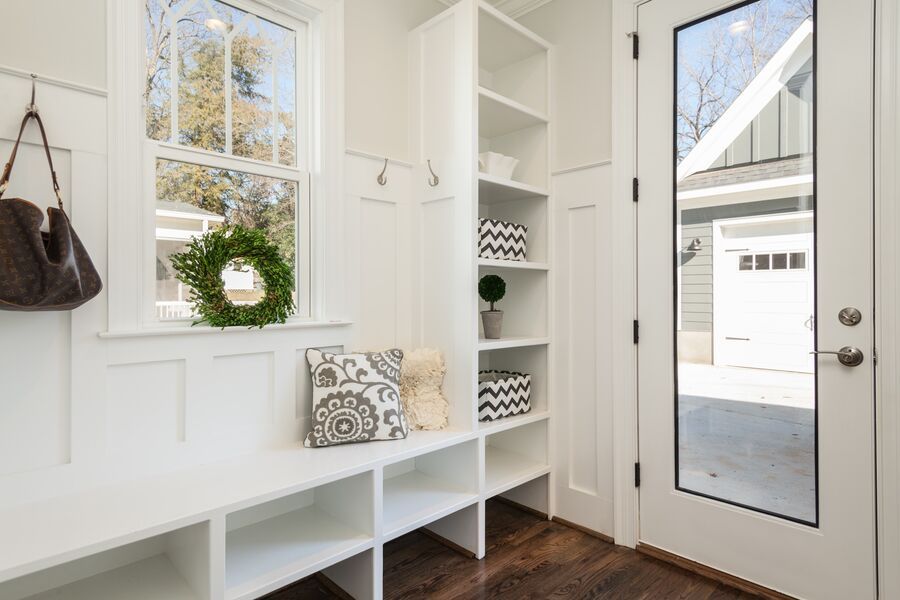 Provide sufficient storage space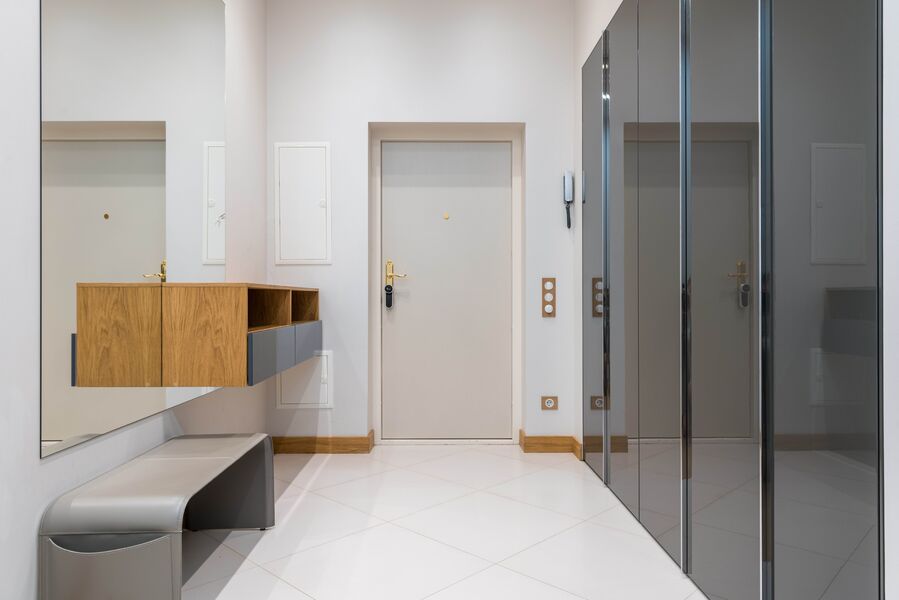 Wall cabinet as hidden storage space behind doors
Set the desired style
By assessing the available space, you can determine the style you want for your entrance area. If the space is small, you should opt for a minimalist style with simple furniture. If you have more space available, you could choose larger and more decorative elements to create a welcoming and cozy entrance area.
Second Phase: Practical design of the entrance area
The arrangement of furniture and accessories
Once you have assessed the available space, the next step to creating an inviting entrance area is to think about the arrangement of furniture and accessories. This may seem like a simple task, but it's important to take the time to plan and choose the right furniture to create an inviting and functional space.
The choice of furniture should be adapted to the available space. If you have a small entrance area, it's important to optimize the storage space so that this first room in your home is not cluttered. To do this, you can install storage options adapted to your space, such as wall shelves, small chests of drawers, or even modular hallway furniture. In a narrow hallway, shelves, drawers, cabinets, and consoles can be practical and aesthetically pleasing storage solutions. To save space, opt for clever modular storage furniture such as sliding doors, pull-out compartments, and hanging baskets. Coat hooks and hanging wardrobes can also help you store coats, scarves, and bags.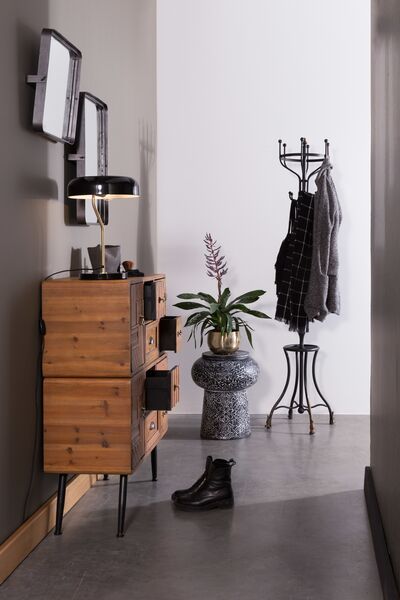 Drawers for discreet storage in small corridors
If you have more space, you can consider adding larger pieces of furniture, such as a coat rack, a seat, or even a small wardrobe. These options provide extra storage space for coats, hats, and other accessories. When furnishing your entrance area, you should first mark out the areas you want to furnish. You can place a bench or a small piece of hallway furniture to store your shoes. You can also decorate your hallway with a large mirror to visually enlarge the space and add a warm touch. The spaces under the stairs can be transformed into custom-made storage spaces, and the hallway can be designed with wall shelves or chests of drawers.
Decorative elements for an inviting atmosphere
When designing your entrance area, don't overlook the importance of decorative elements in creating a welcoming atmosphere. These elements can help bring your space to life and create a warm, welcoming feeling for your guests.
Rugs are a great way to add color and texture. A long, narrow hallway rug can help delineate the space and protect the floor from stains and scratches from shoes. Patterned rugs can also add a touch of personality and style to your hallway.
Mirrors are another useful design element for an inviting entrance area. Not only do they allow you to check yourself before going out, but they can also help to enlarge the space and reflect natural light to create a brighter atmosphere. Framed or decorative mirrors can also add a touch of elegance to your entrance area.
Finally, don't forget the little details like scented candles, decorative storage baskets, and noticeboards to give your entrance area more personality. You can also add cushions or throws to a bench or chair to create a place to relax and unwind.
Plants and their role in the design of the entrance area
Plants are a simple design element to add to your entrance area. They add a touch of colour and life to the room and can help purify the indoor air. Plants with green foliage such as figs or monstera are particularly popular because of their lush appearance.
All in all, decorative elements can play an important role in creating a welcoming atmosphere in your entrance area. By adding rugs, mirrors, plants and other decorative elements, you can create a warm and inviting space where you can welcome your guests and give them a memorable first impression of your home.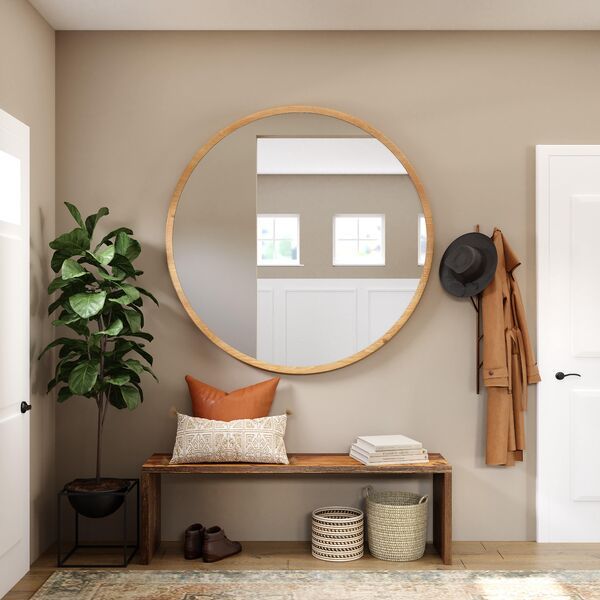 Large plants to add a touch of colour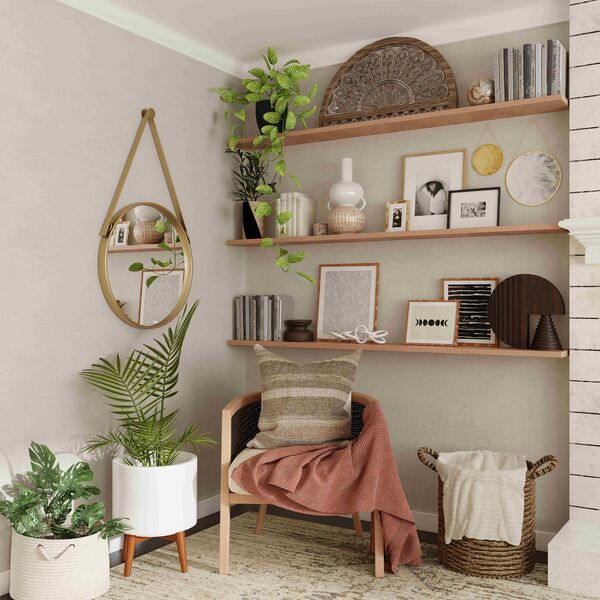 Plants, mirrors and other accessories
In summary, designing a practical and inviting entrance area requires a prior analysis of the available space, desired style and storage needs. The arrangement of furniture and accessories is a key element in making the most of the space and creating a functional place. A clever choice of furniture, accessories, colours and plants can transform a cramped or crowded entrance into a practical, aesthetic and inviting space. Ultimately, the design of the entrance area is important in creating a welcoming and pleasant impression in a home.