Between the severity of the two World Wars, Art Deco, born and nourished in Paris, expanded its impacts globally, especially in the Western world, but also within various disciplines of art, architecture and design. It witnessed its height during the flamboyant years of the 20s, throughout the depression in the 30s, before falling in reputation during the Second World War and finally giving up for the mid-century modern style in the 50s and 60s. Still, up to date, it has been one of the biggest inspirations for creatives working with furniture and interior design and has been then featured and revived in numerous works of art in cinematography and decorative arts.
Art Deco, stylized and streamlined, embraced both bold geometries and dramatic flourishes, depicted an exhilarating pace of urban life with the expansion of mass transatlantic travel and elevated them to a point of an exclusive, luxurious experience that reflected the human need for pleasure and escape. If you are a fan of life celebrations and a pursuer of adventure, Art Deco will definitely fit in your list of aesthetic vocabulary. With its exquisite craftsmanship, stylized, geometric forms, exotic cultural motifs, lavish materials, and vivid colours, Art Deco is a blend of modernism and exoticism. Its distinctive style can transfer a living space into the enticing Parisian flapper spirit in a wink of an eye.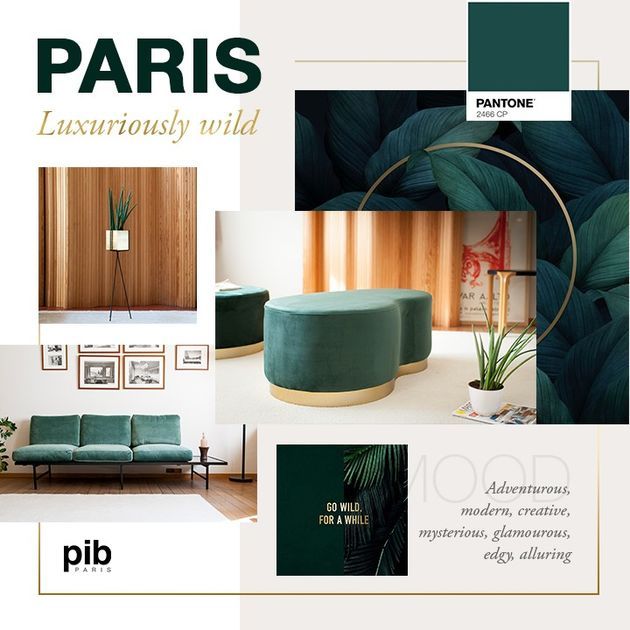 Paris in the 20s has inspired many PIB products with its refinement and flamboyant flair
TIPS AND TRICKS
Furniture
When choosing a piece of Art Deco-inspired furniture for a Gatsby's grandeur effect that works with your own environment, go for a streamlined, clean, geometric form that exudes confidence and timelessness. A signature piece that serves as a focal point will always be welcomed in any space, be it a statement sofa in the living room, a mural decorative mirror in the entrance or an elaborated headpiece for the bed. Play with the forms and make space for them to stand out.
Materials
Choose the finest materials you can find. The quality of the materials will always present an elevated level of luxury. This is the easiest way to communicate sophistication quickly and in no uncertain terms.
Common Art Deco-inspired options range from ivory, lacquer, metal, marble, silk to velvet. Exotic woods like zebrawood, burr walnut, sycamore, rosewood are highly sought after. Light-reflecting materials such as tubular steel, chrome and mirror glass can be adopted to bring glamour to a design.
Next, comfortable touches of soft leather or smooth velour will make it not only beautiful but also warmly pleasant for everyday use.
Colours
Art Deco is famous for confidently using bold contrasts of striking colours and rightly so. Vibrant, rich shades of red, navy, green and dark woody tones work best with a hint of metallic linings in silver or gold that give off a nicely balanced contrast of colours and materials.
Details
Details are as important as the overall impression. Whether it's sunburst or spiral motifs, tapered table legs or ivory inlays, floral marquetry or stained decorative glass, choose the ones that speak to your heart. The smallest features can be the best showcase of personality.
A space is only well designed if it can be well-lived. So choose things that suit your everyday needs but also embody your character,
Layering, lighting and spacing
And last but not least, decoration is all about mix and match, creating balance and harmony. Layering and spacing different articles of furniture or decoration to create certain rhythms and guide the eyes to the most inviting part of your place. Lighting is equally important to employ the desired mood with its atmospheric and poetic power. You can even layer lighting using diverse sources of light (table lamps, floor lamps, overhead hanging lights...) to directly or indirectly illuminate your objects.
With these tips and tricks incorporated into the decoration process, an alluring Art Deco effect will be naturally introduced into your place for both comfort and charisma, exuding adventurous and mysterious qualities that draw people in and stay.