You might know it, you might not, but if you look around the high chance is that you are surrounded by at least one or two things inspired by the golden period of modern design, the 50s and 60s of the 20th century, which marked a milestone for an invigorating movement towards thoughtfully conceived products that were both practical, innovative and pleasant looking.
The booming economy in the West after the Second World War allowed people to get rid of austere styles during hard time and reach for more luxurious products with a modern flair but without the excessively elaborated extravagance of the previous century. The elegance of design during this period, especially in terms of furniture design, has continued to charm so many generations for its soft modernism that exudes simplified beauty yet remains warmly welcoming and comfortable instead of being extremely monastic. If quiet confidence and timeless grace speak to your heart, there is no excuse not to try incorporating classic mid-century furniture into your living space. Modern poetry guaranteed.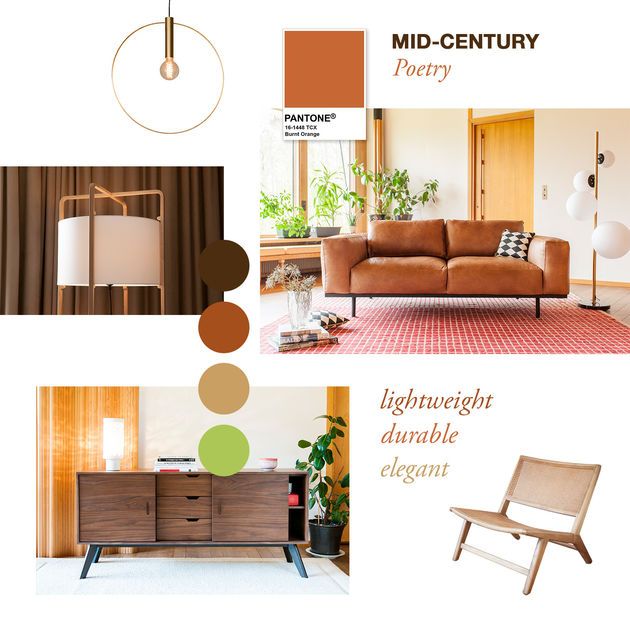 The 50s and 60s is the most flourishing time of modern design
TIPS AND TRICKS
Furniture
Mid-century modern witnessed one of the best periods of furniture design of all time. The functionality and the comfort are the main focus yet it doesn't exclude the elegant forms and curvy linings. There are so many icon pieces of this period like the Verner Panton's chair, Arne Jacobsen's Egg chair and Eames Lounge chair and Ottoman that remain so popular and highly praised half of the century after.
Materials
When it comes to materials, plywood, the invention of the period, is the star. It's affordable, light-weight, sturdy, durable, all in one. But leather and massive wood like teak wood still played a dominating part of the decades and will offer a luxury touch that speaks class.
Colours
Go for neutrals. Start with earthy tones of chestnut, burnt sienna, raw umber for signature pieces like a giant sofa or a wooden cupboard. These colours with their natural resemblance will bring you closer to your primitive needs. From then you can play up with traits of bright, vivid colours like a peacock green stool or a ray of Prussian blue cushions. On a canvas of basic tones, they will have the chance to shine.
Form and functions:
Forms are typically streamlined and symmetrical, but with a twist, especially during the 60s where modernism take on an imaginative route to radically combine the old and the new. Curvy lines and rounded shapes soften metal structures and invite comfort.
But above all, make sure that everything has its purpose and functions well. They are there, first and foremost, to make your life better, more convenient and beautiful.