Baron Georges-Eugène Haussmann, the man behind the beautifully symmetrical Parisian architecture, left his fingerprints on the complete renovation of the city's medieval version around 1853 and 1870. Since then, Paris owes an important part of its irresistible charm to its perfectly aligned, mansard-roofed residential buildings with the old stoned facades that gleam like gold in the sunlight at dusk and the spacious rooms with high ceilings, fine moldings, chevron parquet flooring, and the famous floor-length French windows.
Under the roof of each seemingly uniform and unified one of them displays so much more diversity. The interiors vary from Louis XIV to Art Nouveau, from Mid-century Modern to Contemporary, each reflects a distinctive personality and charisma of their owner. One style that can particularly create a bridge between the traditional French country house and the ever-changing urban settings is Parisian bohemian chic, offering a relaxed, welcoming atmosphere within an elegant, refined living environment, an essential comfort that shelter you from the modern hectic pace. As much as the 'Little Black Dress' symbolizes the French women's chic style, these gorgeous characters of Parisian apartments have become the signature of the City of Light's 'art de vivre'. In order to achieve this glamourous yet casual, fuss-free look, neutral colours and natural materials are required, soft textures and dashing decors with a statement piece or two are also highly recommended.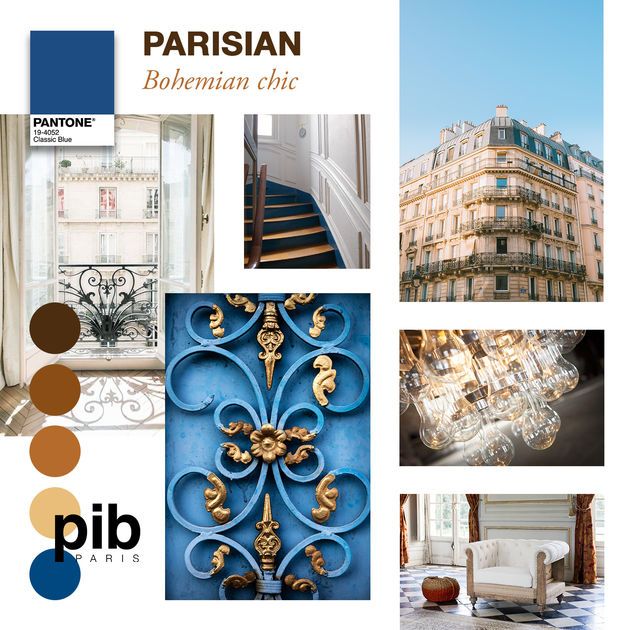 Parisian apartments is the Little Black Dress of living
TIPS AND TRICKS
Overall vibe
Parisian bohemian chic is based on the French Country style, with a modern twist. The design has emerged from the scenic villages of the South of France to become one of the most popular styles of interior design around the world. At heart, the original French country style is feminine without being cloying, colourful without being overly bright, inviting without being too sentimental.
Materials
The warm, rustic feel is reflected in the seamless mixture of antique-styled furniture, lively color schemes, and whimsical decorative motifs such as toiles and flowers. Special choices in materials and textures such as wood, linen, glass, metal on carpets, floorings, upholstery, and decoration are not only a feast to the eye but also transcend a sensual, tactile experience to the touch
Colour palette
The palette includes a variety of airy, pastel hues punched up with strong, vibrant accents. The colors most associated with this style are soft shades of whites and warm light greys, with foamy greens, bright oranges and golds, rusty red, and splashes of blues, pinks, and lavenders.
Lighting
Large vintage mirrors adorned with golden frames and sparkling crystal chandeliers while being popular choices for Haussmanian apartments will bring out an enchanted look for just any living space. Accent and task lightings like table lamps and floor lamps are also very important for reading, socializing and dining, which in turn help complete the luminous ambiance.
Statement pieces
Spice up the soft and mellow tone with a dash of vibrant colours here and there, abstract or contemporary artwork on the wall, or a metallic sculpture on the coffee table. The possibilities are endless.
This way, the blend of old and new works wonderfully. The perfect proportions and well-designed balance of the Haussmannian style is a delight to bring up to date with modern trends, once you respect the golden rule: contrast and juxtapose styles, without erasing them or blunting them.