Bar tables are very practicable tables which can be used in the kitchen as well as in the living room. Bar tables in industrial style are mostly made out of a combination of metal and wood. This type of bar tables; the metal and wood table can easily be combined with other interior furniture. Bar tables by PIB Home are produced of solid wood and are therefore very solid
.
History of the industrial interior design
The industrial interior design clearly distinguishes itself from other interior designs. The term industrial design is specified for products for industrial purposes. This interior design style is a very new one which only started at the beginning of the 20th century. Because of urbanisation many people moved from the countryside to cities to work in factories. These old factories were shut down in the 2. industrial revolution and transfered to low-wage countries in Asia. These old factory buildings were then transformed into residential districts. Typical for this interior design are the untreated walls and the rustic furniture.
How to decorate in industrial interior design
It's about displaying the building materials and adding a raw unfinished look to your interior design. You should select pieces that are as much about function as style. The industrial interior design is very often used in loft apartments and modern homes. To incoperate industrial style in your homes stainless steel surfaces, metal light fixtures and vintage furniture go together very well. One signature element of industrial interior design is the presence of features that people typically try and conceal, such as pipes and ducts. Converting former industrial spaces to residential living has left some raw elements exposed of the building's original purpose. In addition to metal pipes and ducts, the presence of metal on walls and doors is another key feature of industrial design. A wooden table paired with metal chairs. Exposed pipes and ducts. A kitchen with stainless steel counters. These industrial elements combine to create the chic modern home. Industrial de.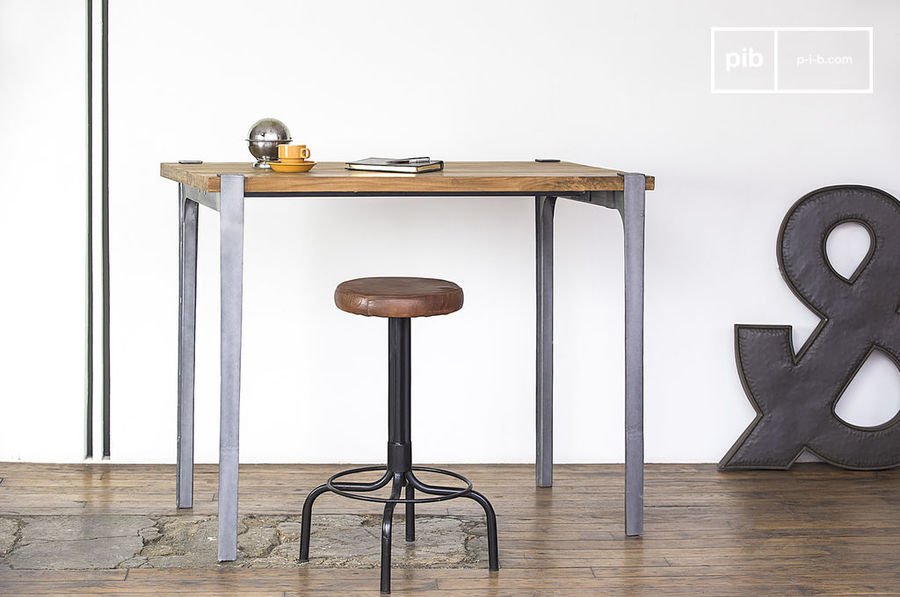 Wellington bar table
Which materials are used?
Most furniture in industrial interior design is a mix of wood and metal. You should focus on the most essential furniture don't put too much stuff in your apartment. Industrial interior design is a minimalistic style that focuses only on the most essential furniture. Bar tables with in wood and metal design go very well along with the industrial interior design.
The origins of bar tables
We already spoke about the bar table during the medieval age, even if these were generally very simple and designed with wooden trestles that supported the wooden trays. Conversely, in wealthy households, the bar table was decorated with sculptures and designed with hard wood. We had to wait until the beginning of the 20th century to see an evolution in materials used for the design of these bar tables, regarding the technical progess in the industrial world. The technical progress allowed the conception of the bar table in many different ways : designed with either curved wood or steel tubes for the base, with a metal reinforcement under the tray.
Usage of bar tables
To answer to the needs of the industry, such as railways, building manufacturers, or even armament, steel industry engineers were highly demanded, to created convenient solutions. The bar table would only benefit of these advances, with all these new production methods and techniques. Steel tubes and sheet metal : the bar table becomes robust. Today bar tables are very useful especially in small apartments with little space. Bar tables can also be used to serve little snacks when you invite your friends over or have a party at your place. Think of adapting the light: usually, industrial pendant lighting with filament bulbs, or simple vintage wall lights will be the perfect match.
If you like to sit a little higher while eating or working than bar tables are the right thing for you! Our bar table Jetson can be perfectly combined with the barstools and together they make a very good overall picture. By PIB Home we have round and square bar tables that you can choose from. They are both made out of a mixture of wood and metal and are therfore very robust. When looking at the different bar tables and barstools we have on our website you will be convinced that a bar table is what you need! You can choose very rustic-like wooden bar stools if you have a solid wood table, but keep in mind that even modern style bar chairs have modern bar stools!