When it comes to the purchase of new furniture, you of course want it to last for a couples years or maybe even decades. Therefore, it is very important to know how to choose the best furniture based on materials and workmanship.
Solid Wood furniture : choosing vintage furniture
Different types of wood
Wood is well known as a durable and versatile material, and it is used a lot for furniture. There are different types of wood on the market, and therefore it is very important to do some research about their (dis)advantages. Moreover, every type has its own aging process, maintenance rules and structure. This makes every type of wood unique, and in turn it will make every piece of furniture unique as well. One of the most popular woods for furniture is Teak wood. Teak is a very durable, strong and resistant type of wood. The color of the wood varies from gold to medium brown, and the color becomes darker over the years. Teak is one of the most expensive woods on the market, because the demand exceeds the supply. Therefore, most of the teak furniture pieces at PIB are made of recycled teakwood, this guarantees a sustainable purchase to last.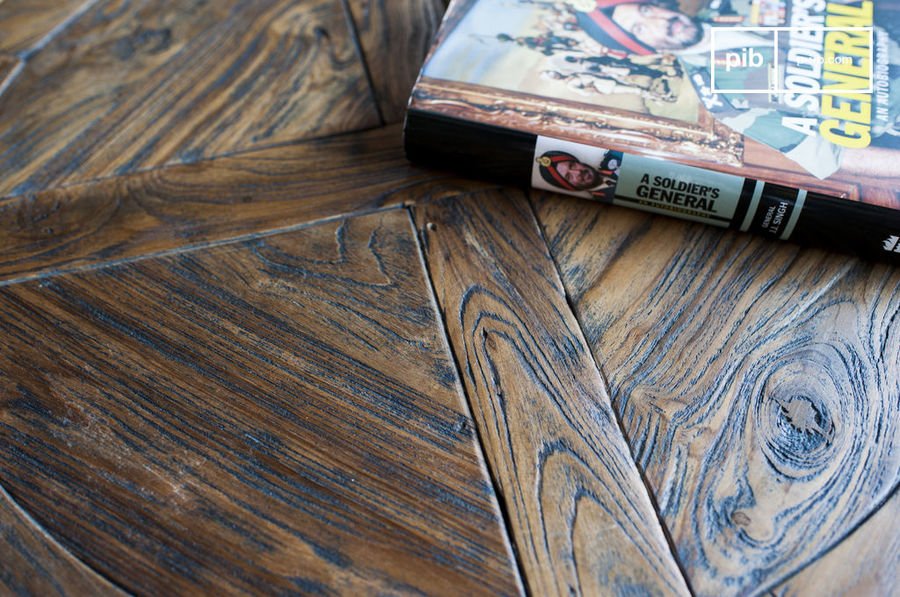 Merritt round table
Other types for solid wood furniture
As mentioned before, there are more types of wood on the market than teak. Ash wood for example is also a strong type of wood, especially White Ash. This type has a light to medium brown color, and the wood is very easy to work with. If you like to have a more lively and colorful type of wood, Mango wood is than the perfect choice for you. The heart of the wood is golden brown, and the outer parts can be yellow, pink or even black. This wood grows in the tropical parts of Asia and the trees can grow up to 40 meters. An advantage of this wood is that is water resistant, meaning that you can also use it for outdoor furniture.
Wooden furniture in different interior styles
Wooden furniture in an industrial interior
Wooden furniture is very common in an industrial interior, especially in combination with metal. The metal and wood table most of the time has a wooden tabletop and a metal frame. Solid wood furniture was a key element during the industrial revolution. The industrial furniture pieces, just like the industrial table, had to be very solid and sturdy in order to do the work properly. Nowadays, you can find a lot of wooden furniture for in an industrial décor. You can choose for example to combine a wooden teak table with metal chairs like our Multip's. These chairs are inspired by the iconic Tolix chairs and are a great fir for an industrial interior. Moreover, you can choose as well for a wooden cupboard to organize and store all your stuff and important documents.
Furniture made with solid wood in a Scandinavian interior
Wooden furniture is key in a Scandinavian interior, and teak and scaffold wood are the most used woods within this style. The nature is a very important element when it comes to the Scandinavian way of life, that is why we see a lot of natural materials that are being used in their interior. The design is simple, but seductive and stylish. You see a lot of wooden elements in a Scandinavian home, most of the time the pieces of furniture are made of wood, but sometimes even the lamps. Walnut wood is used a lot for Scandinavian furniture. The heart of the wood can vary from light brown to a dark chocolate brown. This wood is very strong, but is doesn't weight a lot.
Maintenance of wooden furniture, the interior design trend
It is very important to take care of your wooden furniture; this will make the life span of the pieces considerably longer. We recommend you to frequently dust the furniture with a soft cotton cloth, and also to oil or wax it every 6 months. Moreover, we recommend to not place any warm or hot objects on wood, this will damage the wood. If you want to enjoy your hot cup of coffee on the sofa, we recommend you to use trivets to put your cup on the retro coffee table. Additionally, try to protect your wooden furniture from direct exposure to the sun. This can fade the color of the wood and dry it as well. You can prevent this as much as possible by covering the windows or by putting a table cloth on the pieces.
PIB offers a great variety of wooden furniture: from bedside tables to cupboards and from a scandinavian side table to lamps. Our wooden furniture pieces are offered in different typed of style: the industrial, Scandinavian and boho shabby chic style. Moreover, we also offer different kinds of wood. By doing this we can assure that every visitor on our website will find a product that fits with their personal preferences.