In an open-plan or attic-style apartment or house, industrial furniture has always been popular. A vintage table add touches of vintage charm, as do dining tables, desks, shelves, lighting, and other accents filled with elegant industrial style. But where does this style come from? Why is the industrial table so popular today? This article analyzes the history of industrial design with a specific emphasis on the industrial table. In addition, it analyses the contrast of materials that were once used frequently and have now been replaced, and the transition from industrial design since then to now.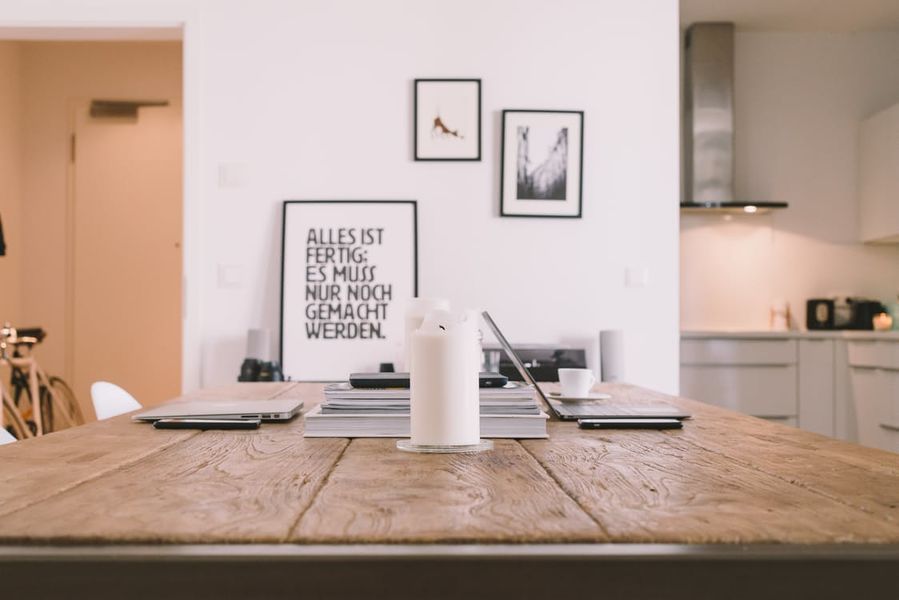 An industrial table in a contemporary setting
Industrial Design
The origin of the industrial metal table
The metal table aesthetic became popular in the late 2000s and remained popular in the years which followed. With a machine-like aesthetic, modern furniture began to show the characteristics of factory production. Modernist design was able to strip these decorative elements and focus on the design of the object in order to save time, money, material and manpower. The goal of modern design was to capture the timeless beauty in spare precision in form of a metal and wood table.
What does industrial design consist of?
Industrial design is a design process applied to products that are to be manufactured using mass production techniques. Its key feature is that design is separated from manufacturing: the creative act of determining and defining the form and characteristics of a product takes place before the physical act of making a product, which consists purely of repeated repetitions, often automated. This distinguishes industrial design from craft design, where the shape of the product is determined by the creator of the product at the time of its creation. It has been said that "today industrial design is functionally motivated and follows the same principles as modern architecture: mechanical simplicity, surface smoothness, decoration avoidance ... It is perhaps the most fundamental contrast between the two design periods. " These characteristics are identified when examining industrial tables. The materials used are perfect in their ability to create smooth services and pure simplicity.
Contrasting Materials
Materials of the past
The use of new materials, such as steel in its many forms; glass, molded plywood, and of course plastics, were formative in the creation of new designs. They would have been considered pioneers, even shocking, in contrast to what came before. The interest in new and innovative materials and methods produced a certain mixture of the disciplines of technology and art.It is evident that it has become a philosophy of work in the field of industrial tables. One need look only at the contrast of thick, black iron legs and thin, brushed, glossy wood table tops to see this contrast.
Has there been a change in material use?
The industrial metal table comes in various shapes, sizes, weights and styles. However, all metal tables have certain similarities. From the beginning, the materials used were the same and to this day, they have not changed.Components include resistant woods, exposed brick and concrete. As explained in the previous paragraph, these materials save money and manual labour. The same cannot be said today. Metal tables and industrial furniture in general is not only a lucrative field, but it is also in high demand due to its technicalities. The days when the industrial tables were built in bulk have disappeared. Now, more time is dedicated to each metal table with more expensive materials, which explains the robustness, the straight edges, the clean finishes and the clean aesthetic appeal.
The transition of the industrial style
The metal table in transition
Of course, not all furniture produced from this time is modern in style. There is still a huge amount of traditional design that is being replicated for today's market. Furthermore, there is also a whole new breed of design that lies among the two; this is known as a design transition. It is neither completely modern nor traditional, and it seeks to combine elements and characteristics from multiple styles. The metal table from this transitional field often includes both modern and traditional characteristics, as well as making visual reference to the classical Greek form and / or other non-Western design styles. This transition symbolizes industrial design, and the industrial table is an item which illustrates this.
The modern and the contemporary: Is there a difference?
Today, contemporary furniture designers and manufacturers are making sure that industrial design, especially as far as the metal table is concerned, continues to evolve.Designers continue to look for new materials with which they are able to produce unique shapes, maintaining simplicity and lightness in form. Above all, they continue to try to overcome what has already been created in order to create new visual experiences for us. The designs that drove this paradigm shift arose in the mid-twentieth century, most of them well before 1960. However, even at international level they are still considered as symbols of the modern, present and perhaps future ages. Vintage industrial metal tables have become an icon of elegance and sophistication.
It can be concluded that since the increasing popularity of industrial design, the metal table has changed a lot. The incorporation of new materials has created new designs and trends. However, somehow, it can be said that the styles that are more popular today still resemble the original designs, with hard and rough materials, just like industrial mirrors. It is the combination of practicality and simple and elegant design that makes the metal table and industrial design so popular in contemporary society, and this will not change in the short term.