Everyone desires cosy bedroom decoration in order to create a comfortable atmosphere in the room, in which we want to relax and recharge. On top of the basic bedroom furniture much can be achieved with decorative accessories. You can easily set the right flair with carefully chosen and combined bedroom decoration. One popular style for bedroom design is shabby chic furniture. It stands for cosiness and romance, a desirable atmosphere for many. Let us inspire you to create your perfect bedroom!
Setting the right atmosphere with bedroom decoration
What decorative accessories can achieve
The cocoon area of everyone's interior is most likely the bedroom, and this place must be furnished in a way that it is as cosy and reassuring as possible. You want to be able to relax and spend some private moments. The bedroom decoration must, therefore, be chosen thoroughly. It should be comfortable enough to rest and sleep, but also offer the possibility to read and dress.By integrating smooth colours, soft carpets, golden lighting, and other atmospheric accessories the bedroom decoration will ensure warmth and friendliness. The bedroom decoration possibilities are sheer endless and you can let your imagination and creativity run free.
Just as essential as the furniture in a bedroom, the accessories used to compliment the overall design should be carefully selected to create that desired look of yester-year that shabby chic bedrooms display so effortlessly. The addition of worn picture frames and a beautifully aged wooden coat stand are just two examples of shabby chic accessories that could help complete the look and be placed on furnishings like a shabby chic console table. The use of colourful accents throughout a shabby chic room also work to great effect, and help strike a much needed contrast from the use of neutral and pale colours.
Patterned throw pillows for instance, could be placed on a shabby chic designed bed to create a contrast from the rest of the room or bedding. Other decorative additions such as book ends placed on a vintage wardrobe on either side of your favourite novels provide a visual solution to the storage of loose books that may be lying around. Another important accessory that adds an element of design and function is a mirror. It goes without saying that everyone spends a couple minutes, or in some cases more than a couple, in front of the mirror in the morning and just about every time you enter your bedroom. Adding a scandi mirror with a touch of scandinavian flare could give the illusion that your room is bigger and at the same time take up some empty space on the wall. Opting for a mirror with a French styled frame is an easy way to incorporate some shabby chic accessories.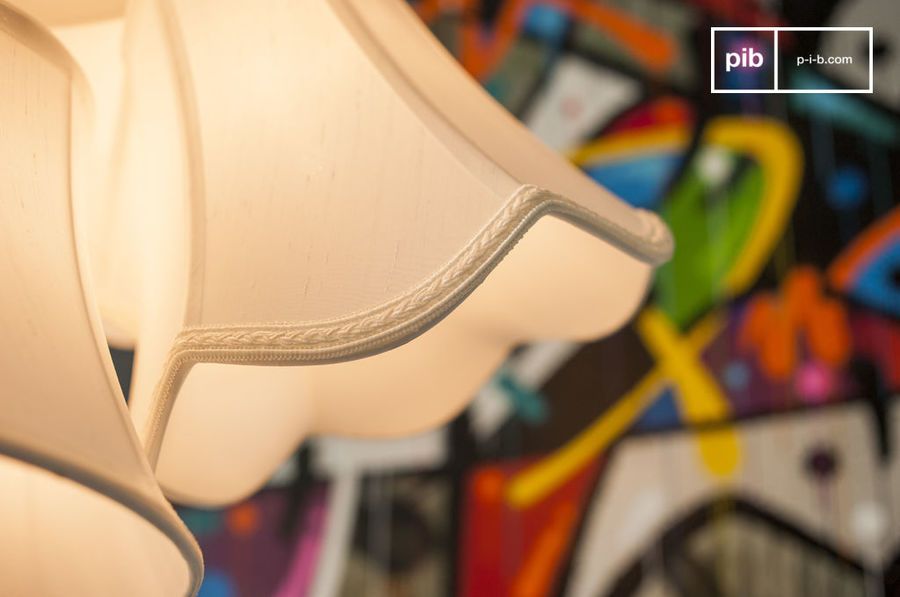 Mümmi pendant light

>
The importance of the bed in your bedroom decoration
One of the most important elements of the bedroom decoration is, undoubtedly, the bed. Most of the time spent in the bedroom is spent in the bed, sleeping. With many available models, it is easy to create an interesting bedroom decoration by carefully choosing your bed. The canopy bed will ring a bell for the more romantic sleepers. It mostly comes with light veiling, which perfectly creates an intimate and romantic atmosphere. For a more Boho chic atmosphere you may consider a wooden bedhead. The Louis XV style covered with noble fabric such as velvet will set a cosy and trendy atmosphere in your bedroom, the bed linen being kept as simple and sober as possible.
Sherlock magnifying glass

>
Lighting to fit the theme
The lamps and lighting fixtures in your shabby chic bedroom should also match the general theme. Using weathered fixtures with patinated metals or fabrics prove to be effective and are easy to find. The large selection of lighting fixtures and lamps available today provide more than enough choice for any one person. You can choose to buy used pieces or try DIY projects to give newly fabricated pieces a rustic finish, but surely the easiest option is to look for readymade fixtures and lamps that have been weathered to shabby chic perfection.
Certain pieces, such as French styled chandeliers that could be placed in the centre of the room or above the bed and rustic wall lights which could be mounted on either side of the bed, help complete the shabby chic look and contribute to the overall comfort and warmth of a bedroom. On the other hand, vintage retro floor lamps are also great if you want a second light source in your bedroom. Wood is another material that continues to be used for the manufacturing of shabby chic lighting, usually being used as the base and stem of a table lamp that is painted over. Another interesting lighting idea that adds a hint of warmth is the use of knitted lamp shades. The fabric used for these shades is reminiscent of thick scarves and sweaters worn during winter. These lights could be used above or surrounding a shabby chic dressing table to add some extra light where its needed.
>
Composing your bedroom furniture
Furniture - not only practicality but also bedroom decoration
Storage furniture such as consoles, shelves or cupboards should be useful bedroom furniture as well as decorative accessories. You are not just choosing these different pieces of bedroom furniture to store your towels, clothing, and books. You want to create a unique style in your bedroom with bedroom decoration; a style that ensures comfort and relaxation, as well as you identifying with it. Why not choose practical storage furniture with a classic style that will accentuate the cosiness of your bedroom? Or how about functional wooden furniture, which enhances the Boho style of your interior? The ultimate choice is up to you and your taste. Just be assured that bedroom furniture can also be bedroom decoration!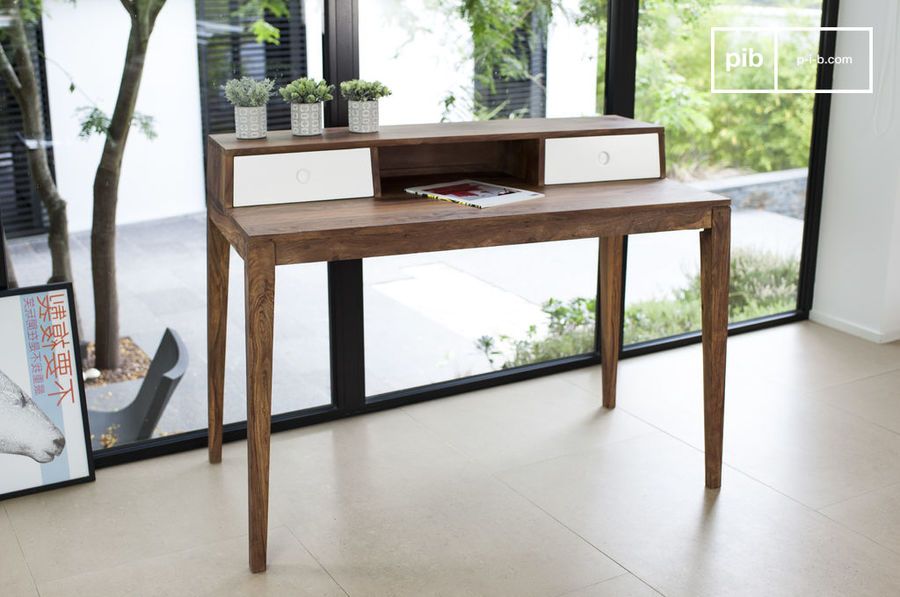 Naröd Desk
Weathered Furniture
The rustic charm that emanates from shabby chic furniture helps add a touch of authenticity to any room. There are a few pieces that have become common place in any bedroom, such as dressers, desks, end tables and book shelves, just to name a few. All these furnishings can be found in vintage stores and garage sales, but can also be purchased brand new with patinated finishes in order to give off the desired effect. For larger pieces such as chests and tables, there are various choices and finishes that can be selected.
The finishes consist of a varnished wood that has not been painted over in order to show the grain. As well as the natural wood finish, the painted over wood furniture is also as prominent. The paint used to cover the wood is almost always of a pale colour or different shades of white or beige. The paint can also vary in its finish, as many pieces are left with a clean finish or have been worn by the manufacturer to create a rustic feel. In this case the paint would be weathered in certain areas where wear will occur in the future, such as the table top, handles and corners.
Another important aspect to consider is how your different furnishings could accent each other, having too much of the same colour could make your room come across as dull and in effect take away from the warmth that the shabby chic design style should inject into a room. Using vibrant accent pieces with the same rustic imperfections accustomed to shabby chic design, such as colourful end tables on either side of a bed, may be the contrast of colours your room so desperately needs.
>
Different types of bedroom furniture
Furniture of a bedroom must be well adapted to the room's dimensions in order to not stifle the room. The bedroom decoration is, on one hand, composed of basic bedroom furniture, such as bedside tables, consoles, dressers, and wardrobes. On the other hand, decorative elements including mirrors, rugs, cushions, and little boxes and objects round up the composition, all needed to create the desired style and atmosphere. The bedside tables, for instance, are important elements that decorate the bed and hence must be in direct harmony with it. On both sides of the bed, this furniture can be identical for a traditional bedroom furniture style. For a unique Boho spirit, the bedside tables and bedside lamps can be mismatched on either side of the bed.
Wooden Chest of Drawers Sonia

>
Shabby chic furniture in your bedroom
Create romantic and cosy atmosphere in your personal space
If you are looking for a romantic and cosy style for the room you spent your intimate hours in, shabby chic furniture might just be what you should opt for. Shabby chic is a kind of interior style, in which furniture either displays signs of age, wear and tear, or presents new items that are distressed to achieve an antique appearance. Furthermore, shabby chic represents a soft and opulent, but also cottage-style decoration, which differentiates it from regular period decoration. Due to this, shabby chic furniture has an undeniable romantic and cosy feel to it, which makes it the perfect design choice for your bedroom.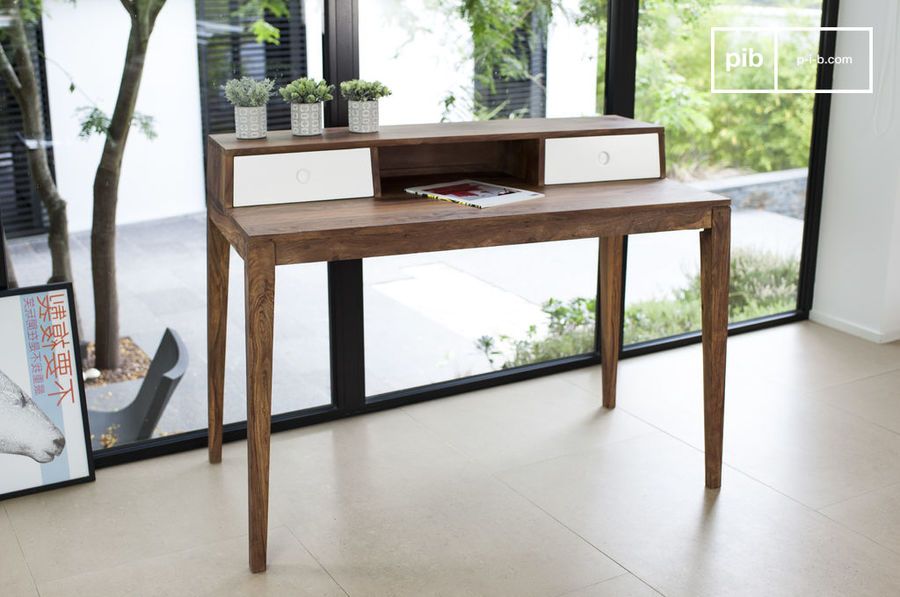 Naröd Desk
The history of shabby chic furniture
Today there are different variants of the shabby chic style. These include cottage chic, French country, Gustavain (Swedish), and beach cottage chic. Originally, the style of shabby chic furniture, however, started in Great Britain. It is reminiscent of the type of decor that can be discovered in large country houses, consisting of faded and worn old sofas and curtains, old paintings, and modest tastefulness. The overall goal of shabby chic design is to achieve an elegant effect with an emphasis on recycling old fabrics and furniture. The look was popular with modern Bohemians and artisans creating the side-lined counter-culture motion during the 1980s when costly quality furniture became fashionable with upper middle classes. Since then, shabby chic furniture has evolved inspired by several kinds of decoration.