The Industrial style first appeared in the United States in the 1970s, but it wasn't until the 1980s that this industrial trend spread right across Europe, where it was an immediate - and roaring - success..
Industrial style décors - rooted in the world of industry
The industrial style first appeared off the back of loft style décors, which were a natural fit for this retro style. The large spaces of former factories and converted workshops were ideal for wooden and metal items in the vintage furniture stable, as these were very much in keeping with the 'feel' of the original use to which these buildings had been put. Initially motivated by financial reasons, then for aesthetic reasons, architects wanting to buy up these industrial premises chose to keep furnishings and furniture already on site, repurposing and recycling them in order to create a comfortable interior which respected the spirit of the original building. This is how workshop tables, metal chairs and wooden and metal chests of drawers came to be used to furnish the inside of people?s homes, rather than as furniture for the workplace.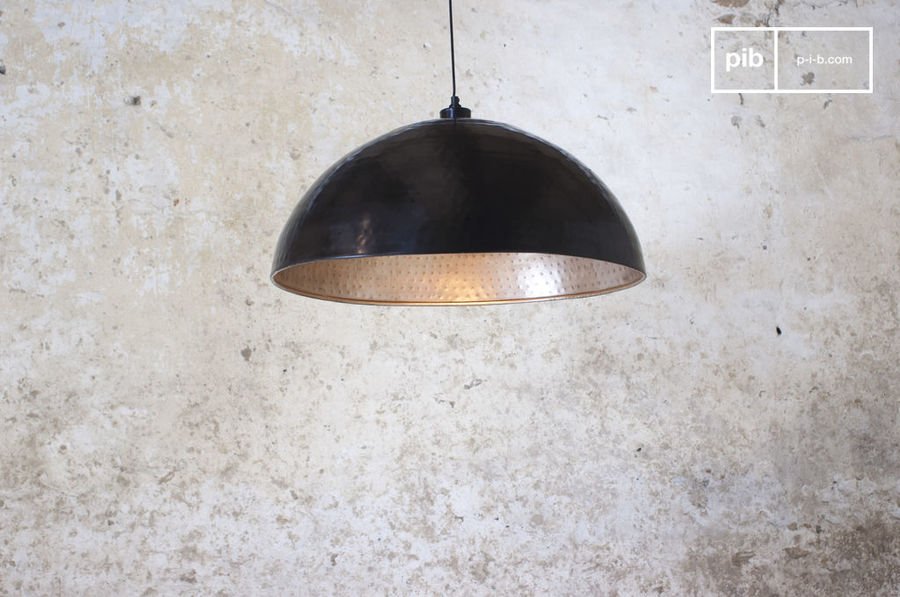 Komais metal ceiling light
Chief materials used in vintage industrial designs
The materials used to make industrial furniture are crucial, as these give such designs their fundamental identity.
The use of wood and metal in the industrial workshop style
To begin with, designers continued to use the materials which had traditionally been used to make workshop furniture. When these factories and workshops were active, the key ingredient that made for good workshop furniture was robustness. This is why all industrial furniture was initially made from wood and/or metal. In addition to their hard-wearing nature, wood and metal were also inexpensive and easy to work with at the time, given the paucity of more sophisticated tools and techniques.In the 1980s, designers retained the same manufacturing methods, whilst continuing to create innovative shapes and lines and original looks. Industrial décors featured both large items of furniture as well as smaller interior design pieces such as lamps, mirrors and chairs. Nowadays, industrial furniture ? also known as factory style furniture, is just as hard-wearing as ever, a hallmark of a quality piece of furniture which can last for decades! Industrial light fittings also have a reputation for being robust: they are designed to offer plenty of light and bring a retro charm to any and every room, from the bedroom to the industrial style kitchen. An articulated table lamp will be the perfect lamp for your retro bedside tables. Workshop lamps count in their number the outstanding Jieldé brand, which encompasses a range of sturdy, practical articulated lights which are still being made today. At one time, they were employed to provide illumination for those working at machinery, now they are frequently found in industrial loft interiors.
Fabrics and plastic in modern vintage style
Over the course of the years, designers have always strived to push the boundaries of creativity and innovation, experimenting with change and reinvention. New materials which had been little used in the domestic furniture design market made an appearance in the interior design ideas field. Advances in industrial processes have further fed the already rich seams of our designers' imagination.For instance, fabric began to be used as an upholstery material for vintage chairs, leather, as used in the club sofa has become widely popular and a new material, plastic, appeared in designer chairs and other storage units. Plastic now boasts advantages such as value-for-money and being easy to work with. Industrial furniture makers quickly took note of these new materials and began to use them in production. An example of this is the famous tolix chair, which was originally made entirely of metal. The sheer variety of these materials gave a new lease of life to the industrial style, bringing with it new trends: a whole raft of vibrant colours and original shapes.
The success of modern-day industrial décors
Originally created for use in factories, industrial style furniture now boasts a popularity that cannot be explained solely by its trendiness. It signals a fundamental shift in how we furnish our homes, driven by changing consumer expectations and desires. Industrial type furniture, thanks to the quality of the materials from which it is made and its hard-wearing nature, offers a perfect solution to today's most-felt need ? the desire to distance oneself from mass consumption, from 'throwaway' furniture and to adopt values of lasting relevance.The lines of interior design ideas combine sobriety and vintage style. This makes them a perfect match for other interior design styles, from the classic to the contemporary. Nowadays, you no longer need to own a loft in order to create a 'loft style' interior décor. Reissues of industrial furniture designs selected by ProduitInterieurBrut.com use exactly the same production methods and the same top-quality materials which made these industry-inspired objects so iconic in the first place.
The characteristics of industrial vintage design
Industrial vintage designs encapsulate the style of furniture used in factories and workshops at the beginning of the 20th century, which has now migrated to our homes and adapted to our lifestyles. When industrial furniture first appeared on the scene, it was accompanied by a raft of innovations like the letter sorting storage unit which was perfectly suited to the job for which it was designed. Repurposing these industrial vintage furniture designs for use in the home helps create a quirky loft-style ambiance. Industrial vintage furniture designs very quickly became fashionable and much sought after by interior design fans. Frequently made from metal, this trend was part of the modernist movement of the early 20th century. It developed in line with the technological advances of the time. There are a number of industrial vintage furniture designs which are absolute must-haves, such as filing cabinets, box storage units or the Singer stool, which has become an interior design icon.
The appearance of industrial vintage design in our home interiors
Once upon a time, metal furniture items wouldn't have got anywhere near a respectable home interior. Instead, heavy, solid wood items in traditional designs reigned supreme as metal was considered to be a 'working-class' material. It wasn't until the 1980s that industrial vintage furniture designs started to become really popular. This trend reflected a need to get back to the heavy, hard-wearing furniture of former times and a rejection of the throwaway furniture of the 1970s, which had flooded the market. A vintage industrial factory work table design became a family dining table, a storage unit became a cupboard and factory chairs occupied pride of place in the home. Every workshop furniture design is capable of being customized and introduced into the home as part of a cosy interior. A few vintage furniture pieces or decorative items will turn any interior into a stylish vintage- or retro-look flat or house that you can be sure will never go out of fashion. A number of well-known names have begun to take an interest in industrial style furniture and accessories. Belgian company Pomax offers a range of elegant club armchairs, wooden tables and other vintage-style furniture items. In the same vein, Chehoma lights will invest your living room with a retro, loft-style ambiance that's currently all the rage. And to bring out the very best in your workshop-style table, why not pick out your favourite from amongst the selection of famous Tolix chairs!