Six months ago I moved house. In fact, I moved country. Of course, the most complicated part of this kind of process is always the paperwork and the bureaucracy that surrounds the move, but I was also faced with other tricky, unexpected challenges. I imagine that you, the reader, has experienced these too at one point or another. I am referring not only to the purchase of new furniture and new decorative accessories, but also the placing and positioning of said furniture and decorative accessories. I´ll explain myself. I have a thing for retro lamps, and it really has been a struggle to find a pair suitable for my interior since I moved. That is to say, a retro lamp that goes well with the other furniture that I have currently in my apartment. In this short article, we take a look at not only the different existing styles of retro lamps that you can integrate into your interior, the different models and where to place them, but also how to mix these types and styles into a variety of interior designs. We at PIB, as leaders in deco advice, want it to be easier for you to create your own vintage interiors, making them stand out in the process.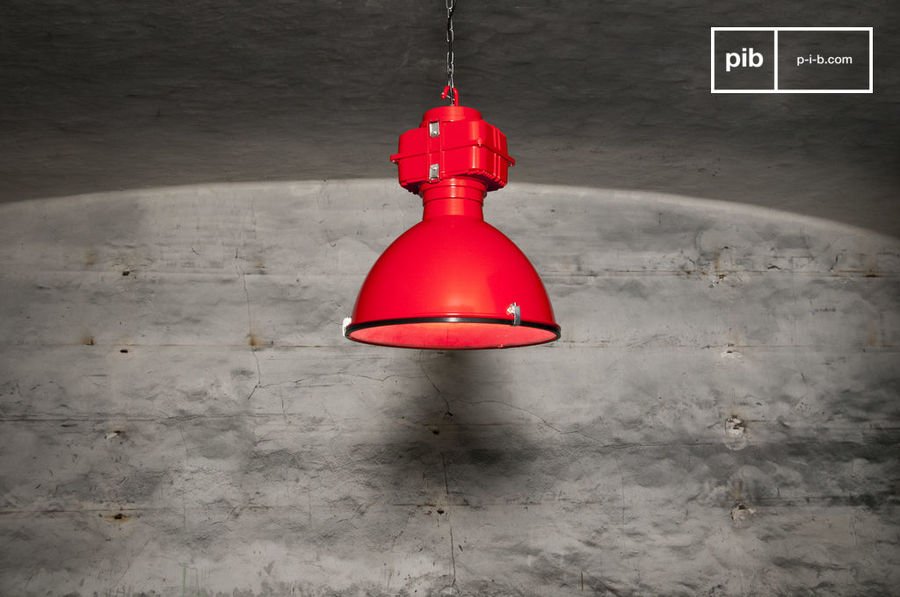 Dock hanging lamp
Different types of retro lamps
Integrating different styles of retro lamps into different interiors
There is a variety of retro lamps that you can inegrate into your interior, whether it be vintage, contemporary, cosy or open plan. Before choosing your retro lamp, or lamps, you need to know your home's interior back to front and inside out. Only then can you determine which style of retro lamp will look best in it. Look at it this way, if you have an industial style interior design, it is completely nonsencial to add boho shabby chic lighting to it. And, well, vice-versa. Although the process of choosing your home decorative accessories does not have set, cast iron rules, there are multiple factors which should be taken into account.
Let's take a look at these two photos, for example. This shabby chic lighting goes well with its surroundings, and it would look well placed next to a vintage Chesterfield sofa, also of boho shabby chic style. . The Scandinavian, industrial style ceiling lamp also integrates successfully into its surroundings. You can see a Scandinavian styled table with an equally Scandinavian sofa and what can be described as pure, fresh colours within the realm of vintage interior design; white, grey and black.
Wall lamps and hanging lights
A wall lamp is important for your interior if you are searching for a particularly industrial or shabby chic styled environment. vintage wall lights can be found within interiors which imitate those of English pubs, or American bars and diners (which are actually imitating English pubs). More often than not, a wall lamp can be combined with a table lamp in close proximity, as long as the visible vintage light bulbs do not differ drastically in style. The addition of a retro ceiling lamp can really change the style and dynamic of an interior.
If you live in a property with high ceilings, a stunning characteristic of Victorian properties in the UK, one could argue that you have an advantage over the rest of us. This is because you can integrate four, five, six, seven or up to eight ceiling lamps into your interior. Ample space between you and the ceiling allows you to fill this void. Ceiling lamps generally look best and were always used most commonly inside industrial, factory-esque interior designs, but in a contemporary context, the truth is that they are being integrated more and more into Scandinavian style interiors.
In which parts of the home can you place a retro lamp?
Placing your retro lamp somewhere successful
A tall retro lamp will not look good inside a room with a low ceiling. And, of course, vice-versa. Placing a small retro lamp, retro floor lamps for example, inside a room with plenty of open space would demonstrate a lack of cohesion. It's obvious where to place a floor lamp, a hanging lamp, a table lamp or a wall lamp, though, surely? Don't be so presumptious.
Take into account that table lamps are supposed to be kept on a table, or desk. If you desire something taller, then try a floor lamp. These two retro lamps contrast aesthetically. One mixes the Scandinavian and shabby chic styles, and the other adopts a more industrial style. Regardless of style, both lamps sit perfectly on the table or desk. Style is not too important then, in this aspect. What is important, however, is that the size of the lamp is relative to the size of the table on which it is placed. Think of the background, of the wall material, of the paint or brickwork surrounding the table, of the colours projected within the interior. You will notice here, for example, that the boho chic lamp is accompanied by another wooden piece of furniture. The industrial lamp, on the other hand, is accompanied by a concrete wall. You don't need to change your interior to adapt to the retro lamp you choose, but take into account the lamp's surroundings before you purchase it.
Combining a retro lamp with a bedside table
Nowadays, vintage bedside tables are vital. Here at PIB, we estimate that 90% of our readers have them in their homes. It is very important that two styles don't clash. That is to say, that the lamp and the table do not clash. If you purchase yourself small modern table lamps, do not place it on top of retro bedside tables. And, of course, vice-versa.
We believe that a white lampshade, or a lampshade of any other neutral colour, looks fresh, clean and stylish with a bedside table of the same colour. A less neutral colour can be mixed with a shabby chic bedside table made of wood. In most cases, two matching bedside tables need to be bought together, so we recommend purchasing two matching retro lamps.
What type of furniture can be combined with a retro lamp?
Accessories that can be added to or surround a retro lamp
As I explained at the beginning of this post, it is not easy to find the perfect vintage accessory to match your retro lamp. A tall retro floor lamp can really make a room, but make sure there are other accessories of similar style and height surrounding it. We recommend a clock, a photoframe or metal letters. Here you can see the range of decorative accessories that can be combined with floor lamps.
You will notice here that the tall retro floor lamp is not the tallest object in the room. Your retro lamp should be an addition to your interior that stands out, but it should not be the only one to do so.
Other retro ideas: Mixing the industrial, shabby chic and Scandinavian styles
Until this point, I have discussed three specific styles; the Scandinavian style, the industrial style and the shabby chic style. It is of course worth mentioning that sometimes, it is possible to mix the styles mentioned in this article, despite the aforementioned points stating the importance of avoiding stylistic clashes. I have chosen a couple of photos here which demonstrate the ability to mix these three iconic, vintage styles.
Conclusions
In this article we have taken a look at the different types of retro lamps, the styles that you are able to mix, and the styles that should never be mixed. We have also analysed, albeit briefly, where specific retro lamps can be placed, and which vintage accessories are most easily mixed and integrated around, behind, above and below your retro lamp. Despite the information presented which may suggest otherwise, I hope you can see that it is not difficult to integrate a retro lamp in your interior. There is a retro lamp and a vintage accessory for every type of interior style, irrespective of colour and wall material.
The most important thing is that you are happy with your purchase, so buy a retro lamp that goes well with your other furniture, and that will provide you with years of warm light and satisfaction.