The search for home comfort was the guiding idea behind the creation of Scandinavian furniture.Their design culture has always driven people from Nordic countries to design Scandinavian furniture while respecting the nature surrounding them.Their savoir-faire enables them to carefully manage the resources present in their environment and contributes to the ingenious production of this nordic styled furniture. Despite their considerable experience in furniture design going back several decades, the concept of Scandinavian design only began to take off around the world in the 1950s, with the first exhibitions on Scandinavian design that travelled across the US and Canada from 1954 to 1957.The close links between the Scandinavian people and their natural environment gave them a helping hand inthe manual production of Scandinavian furnitur.Effectively, the Nordic people's appreciation of the material and its qualities, gave Scandinavian decor an unparalleled beauty that was rapidly adopted by everyone.The craftsmanship in each of the five countries in Scandinavia was much admired, especially as the craft industry continues to be very active and is set to protect in this region, much longer than in other furniture-manufacturing countries.Industrialised production of Scandinavian furniture emerged late, unlike in Western Europe and in the US, and their traditions were thus preserved and continue to be highly regarded despite the appearance of modern production techniques.
Origins of Scandinavian furniture
The Story behind the style
The designers introduced and practiced a democratic approach to design with the objective of a social ideal and bettering the quality of life, with the use of affordable products and technology.
Since its birth around 1920 has kept its ethically moral and humanist element which can be traced back to the origins of Lutheranism (which was the religion of the 5 Scandinavian states) that insist on truth and reason and the belief that salvation could be achieved from honest work and helping others. These moral beliefs and social imperatives have formed the philosophy that have allowed for the growth and prosperity of Scandinavian design.
These essential principals of which Scandinavian design has founded itself on are present in the minds of designers, they seek to create pieces that are not only aesthetically pleasing but also have some sort of useful function.
Creating pieces which strike a balance between all things natural and fabricated is an important design trait. For many Scandinavians design is not only an integral part of life but also one of the many factors driving social change.
The climate within the Nordic countries has influenced their design style as much as their intimate appreciation for nature, which can be evidently seen in their cosy home décor. Their ability to bring the beauty out of daily household items without being pretentious has drew the attention of the entire world.
Their essentialist approach to design which entails the combination of logic and the use of only the necessary elements to help accomplish a precise goal, was the direct consequence of a lack of materials that were not available in the last couple centuries to Scandinavians.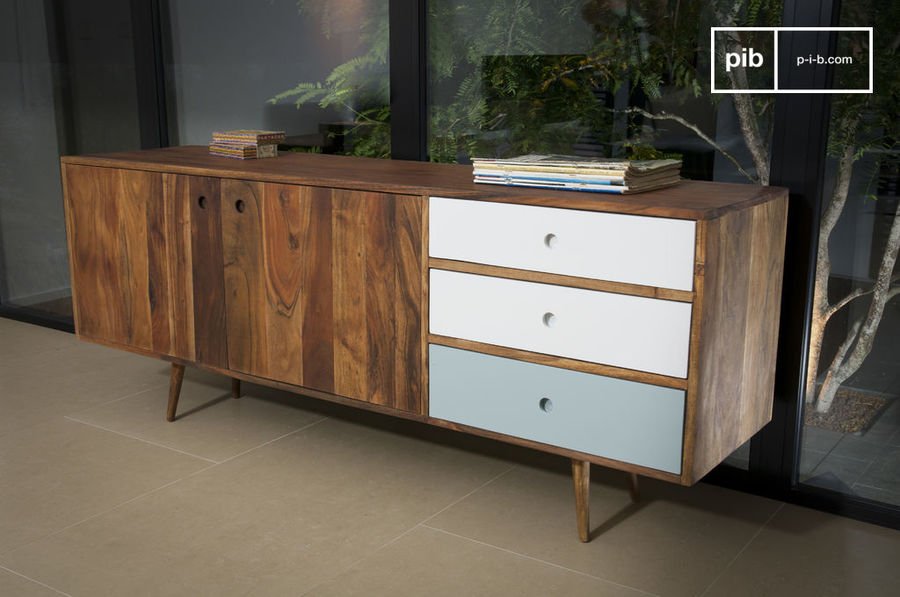 Stockholm Sideboard

>
The precepts of Scandinavian furniture
Designed to meet the needs of the largest number of people possible, Scandinavian furniture is governed by certain precepts put in place by its precursors that are still in effect today.
The spiritual ethos ascribed to creating furniture consists of giving all inhabitants the possibility of easily and economically furnishing their homes, thanks to the use of natural wood species found in their surrounding environment.
Their practical spirit also enabled them to design functional and harmonious pieces that could be adapted to all decorating intentions and all seasons, and above all quality which makes for a long lasting product. These criteria remind us of the humanitarian and democratic founding precepts of Scandinavia.
The aesthetic aspect of Scandinavian furniture is scrupulously finished, given that the craftsmen and cabinet makers are from the outset also the artists of their designs.
This undeniable richness conferred in Scandinavia a status of excellence in terms of design and the quality of products as designs were realized by craftsmen.
Industry started to take an interest and small art and craft businesses were heavily sought after to make their Scandinavian furniture design and manufacturing techniques endure.
Industrial groups were to market Scandinavian design on an international scale, and its unassuming beauty rapidly gained numerous enthusiasts. This was followed in 1954, by the first exhibition of Scandinavian furniture, which visited the US and Canada.
>
>
Scandinavian design, excellence and quality in furnitures
Scandinavian furniture and its materials
Scandinavian design stands out on account of the considerable attention paid to the materials used to produce each piece.
In addition to the aesthetic appearance of Scandinavian furniture, the designers focused on the efficient and easy-to-use aspect of the object. The materials play a part, along with the design, in creating the streamlined and elegant lines for which Scandinavian deseign is so highly appreciated.
The singularity of the numerous innovators is their know-how in terms of design, but also the realisation of a piece, a quality that helps them understand and use the different types of natural wood species that surround them, so as to create pieces of furniture that respect nature and are highly resistant to the consequences of time.
When industrial-scale production became more widespread, it was crucial for the inventive designers to keep this slogan in mind at all times: "beauty in everyday life", within reach of everyone moreover. The promise has been kept and wood for example has been retained as the fundamental material used for furniture, while plastic also came in to play in their creation, allowing for a freer flow of their innovative spirit.
Wood is the most essential material used within the realm of Scandinavian design, and is handled with great skill, its many species are exploited fully and with great respect, and is a testimony of the exclusive relationship Nordic people have with natural environment which surrounds them.
Metal is also frequently used by Scandinavian designers who have fun with all the various finishes - painted, brushed, lacquered and so on. The metal is also cut out and assembled to create lighting, especially suspended pieces, all of which with highly-original lines.
Scandinavian design was the first style to embrace modernism, with an entirely new material: plastic. The furniture is light weight, comfortable and can be handled with ease. The silhouettes became modern and revolutionary, and adaptable to all interiors.Designers were highly influenced by the need to innovate, which was seen through the use of vivid colours, which can be easily combined with plastic.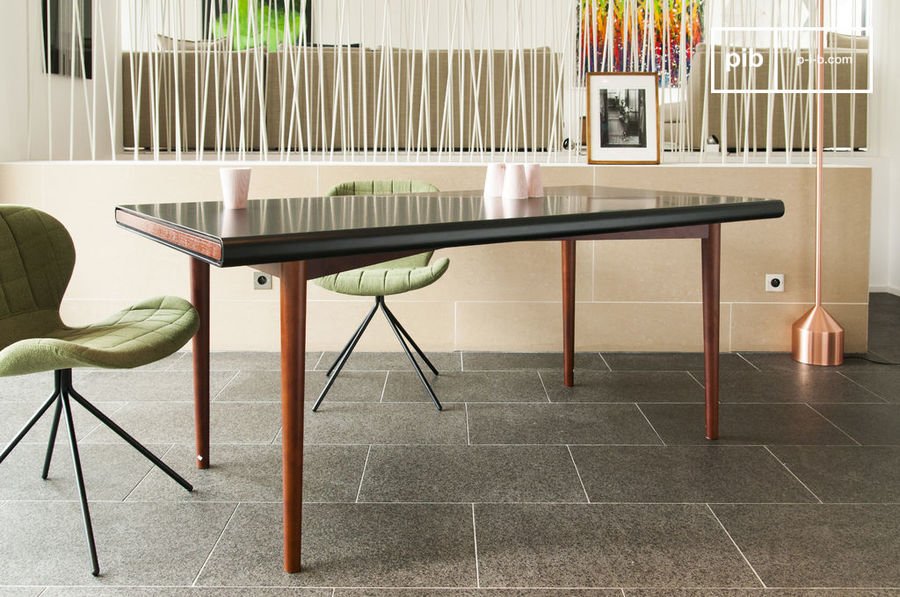 Nordby table

>
Development of the Scandinavian decor trend
After years of crafting furniture with the use of wood, Scandinavian designers and creators adapted rapidly to the new working processes and possibilities, such as the ability to curve wood.
Thanks to steam ovens, this techinque of curving wood allowed for the conception of furniture with more ergonomic shapes and of course adaptations too many existing designs.
In the 1950s, with the industrialization of furniture production, new materials found their place in Scandinavian design such as fiberglass and Plexiglas.
Designers easily followed the idea of that time, which was to create a wealth of designs that could be easily manufactured at affordable prices in order to keep in conjunction with the philosophy of creating beautiful everyday items for people of all levels of income.
the combination of this design philosophy and the constant hunger for innovation, lead to the creation of original models such as that of designer Eero Aarnio and his Globe Armchair, that will forever be known as a reference point during that time period and continues to be trendy to this day. Eero Aarnio and Poul Henningson are just two examples of Scandinavian designers that have been able to create items that are not only in trend but had the power to create trends within the furniture industry.
Innovation in Scandinavian lighting has been brought to the forefront due to the use of new materials, such as different types of metals that became highly versatile following a considerable advancement in mechanics within the industry of furniture and decoration, which allowed designers to bend metals in new ways in order to further manipulate the material.
These breakthroughs in manipulating materials allowed Danish designer Paul Henningsen to create his range of legendary lamps using steel tubes. These lamps have gone on to become a long term trend in the design and furniture world that are still evident today.
These breakthroughs in manipulating materials allowed Danish designer Paul Henningsen to create his range of legendary lamps using steel tubes. These lamps have gone on to become a long term trend in the design and furniture world that are still evident today.
His use of metal sheets of many different sizes which were finely sculptured and perched on a steel tube lead to the creation of one of his lighting masterpieces known as the artichoke lamp, which has become a mainstay in the world of suspended lighting. Adaptations of the artichoke lamp created using different types of materials, colour ways, and bulbs have incited a design trend that is surely here to stay.
Pair of Stockholm box shelves

>
>
Major players in Scandinavian furniture
Innovators of Scandinavian design
The Dane Arne Jacobsen had a major influence on the entire industry. Trained as an architect and mason, he created an upheaval in Nordic design.He was to be one of the precursors that added a touch of modernism to Scandinavian furniture in the middle of the 20th Century.
He designed furniture with delicate and fluid lines, which responded to society's enthusiasm for modern silhouettes, and which were destined for industrial production.In 1951, his Ant chair hit the market and became a top selling item with more than five million produced.Its rounded and streamlined shape guaranteed its success and played a major part in the world-wide desire for all things designed with Scandinavia in mind.
Poul Henningsen, one of the elders of Nordic decoration and the greatest designer of Scandinavian lighting, designed and created his first light as part of a project for a school.
The Henningsen machine was thus launched and was to be a major driver of Scandinavian furniture. His initial endeavours were essentially made of materials such as copper and glass.
As a sort of design ambassador for Scandinavia, he spent several years designing his lamps, keeping in mind the leit motiv of the best lighting possible, in order to obtain pure light without glare at a low cost. His series of table lamps toned down the brightness of contemporary lamps at the time, thanks to several layers of different sized metal pieces, which made the light circulate perfectly.
This revolutionary system resulted in his PH lamp being a star attraction at the 1925 Paris international exhibition of the decorative arts.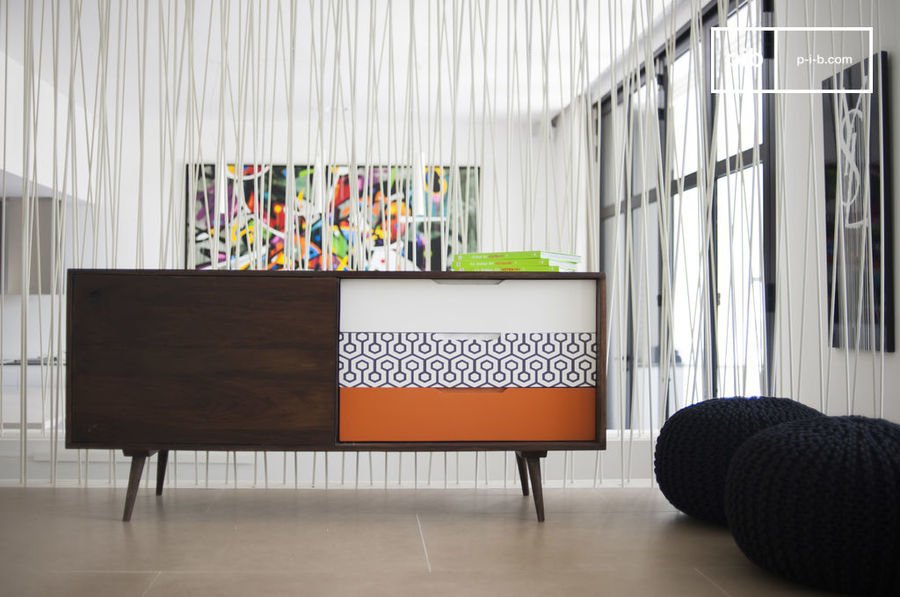 Londress sideboard

>