Patchwork chairs are the perfect fit if you're a fan of vintage and one-of-a-kind pieces! Charmed by hand-crafted furniture with original exuberant designs, then patchwork furniture will surely be on the top of your next wishes? list for your home.
The patchwork chair design
What is patchwork design?
These hippy-chic patchwork furniture pieces brighten up every dark corner of your home. This hand-crafted furniture with its vivid colors matches with every interior design. Patchwork or also "pieced work" is a form of needlework that sews together pieces of fabric into a larger design. Usually the larger design is based on repeat patterns built up with different fabric shapes with different colors. The shapes are cut itno geometric shapes which makes it easy to sew together. Patchwork fabric is very often used as quilts but can also occur on furniture, as on chair, sofas and cushions. Our beautiful neo patchwork armchair is a great example for patchwork used on furniture.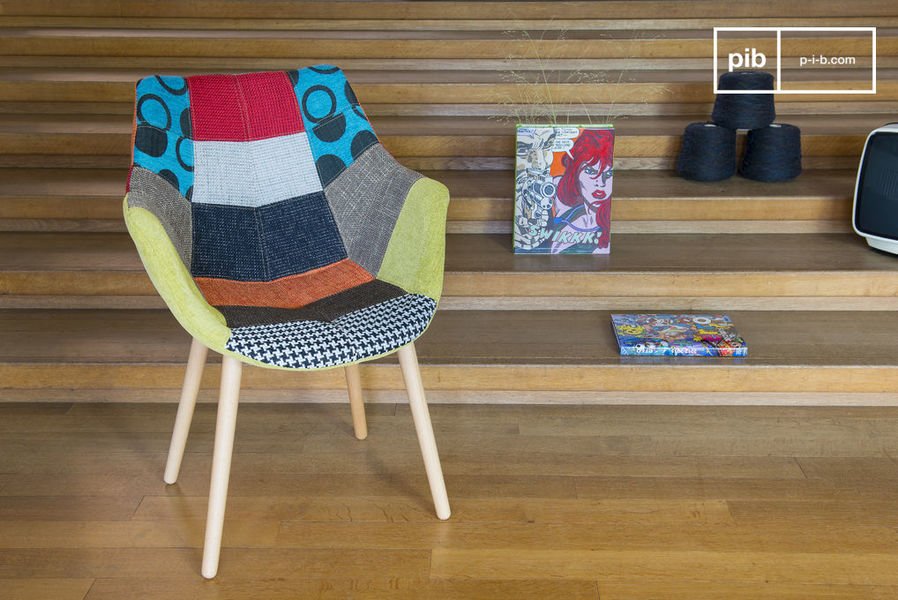 Neo patchwork armchair
History of the patchwork design
The sewing of small pieces of fabric together to create a larger piece has been found throughout history. The earliest pieces of patchwork fabric can be found in Egypt and China about 5000 years ago. Other data dates back to the Middle ages where layers of quilted fabric were used in the construction of armor. This kept the soldiers warm and protected. With this technique quilts in patchwork design began to appear in households from the 11th to the 13th century. Because the climate became colder in Europe many people started to use bed quilts. This is how the patchwork design developed: from the embellishing a simple cloth through the creation of pattern and design, along with the development of decorative quilts. The tradition of patchwork design was then taken to America by the Pilgrims.
Unique form of patchwork design
The great boom of patchwork design in America
In America patchwork enjoyed a widespread revival during the Great Depression as a way to recycle worn clothing intp quilts. Patchwork could be made out of every small and worn piece of material therefore it was very easy to produce patchwork. Today patchwork is made out of 100% cotton and new fabrics. In the US. patchwork declined after World War II and was then again revived during the American bicentennial. In 2003 the total value of the American patchwork quilting industry was at 2,7 billion Dollar. There are many patchwork design exhibitions and books about how to create patchwork. Patchwork design can be seen more and more on furniture, cushions and quilts.
How to integrate colorful furniture into your home
It is always good to use colorful furniture in your home! It brightens up every dark corner and gives your interior design a colorful touch. Patchwork chairs can be easily combined with any interior design and decoration. A patchwork chair in a living room for reading or watching TV is always a good idea. The bright colors of our neo patchwork chair spreads good mood and hapiness. Especially in winter this colorful chair can bring a little summer feeling into your home. In addition patchwork chairs are unique as the fabric has been cut individually for every chair. Therefore colors and pieces of fabric will vary from piece to piece. Combining a patchwork chair with a patchwork quilt make the perfect match in every home.
Patchwork a shabby chic style
Shabby chic and patchwork
The patchwork design belongs to the shabby chic style which is also very colorful. The furniture is often made with a vintage touch: broken varnish, asymmetrical and a used look. The shabby chic style is a very popular style and you can find a selection of these products on our website. As you can tell very quickly from looking at shabby chic furniture is the colorful design which can also be found in patchwork design. The combination of shabby chic furniture with patchwork chairs makes every home to an oasis of relaxation. The shabby chic decoration style can be easily combined with the Scandinavina and the modern interior design. Also in a home with very neutral colors a patchwork chair can be an eycatcher.
Combination of patchwork furniture
We love the combination of patchwork furniture! Combine a patchwork chair to a quilt and a patchwork sofa and add some shabby chic furniture for the perfect home decoration! Have a look through our shabby chic and patchwork chairs selection.